So in honor of successfully pulling my motor last night, I think its time to start an official build thread. I know its not a crazy build, but I want to keep track of everything here and post incase of questions, recommendations, etc. (I already know theres going to be a lot.)
Background:
So I ended up with this car in a trade, I didnít really know much about B5s at the time or Audis in general really. The moment I took it on the test drive, I was hooked. I loved pretty much everything about the car. The car was an APR Stage 2, it had 180k on the chassis when I got it, but was surprisingly clean. The owner claimed it had a newer motor with around 65k miles on it, but didnít have any paperwork to prove it. Iíve never had any problems with it, thus the reason why Iím going Stage 3. So far since Iíve had it, Iíve only done maintenance stuff and a few small mods here and there.
My goals for this stage 3 is to keep it moderate and reliable. Im going to be doing quite a bit of highway driving over the next year or two, so I want to have something fun but reliable. Also, I want to clean and detail the shit out of everything. It bugs be to have dirt and road grime everywhere. My goal is to have a showroom worthy car, I know it may sound far fetched, but a lot of time is planned for detailing and cleaning. Anyways, on to some details and pics.
So far installed:
APR Stage 2 tune
APR intake
APR Catback
Agency Power DVs
SSAC Downpipes
Samco boost hoses
Koni Coilovers
RS4 Clutch
ECS Tuning Drilled/Slotted Rotors
Podi AFR Gauge
AWE Vent Pod Boost/Vac Gauge
ARP Stud Conversion
Flat bottom Alcantara/Air Leather Steering wheel
Parts to install:
SRM RS6 K24s!
SRM Inlets
SRM Oil Feed lines
Bosch ev14
630
cc injectors
Walbro 450 fuel pump
SRM 85mm cold air intake
3 Bar MAP Sensor
Daz Tune
JHM Solid Short Shifter
JHM Shifter Linkage/Bushings
034 Street Density motor mounts
034 Street Density tranny mounts
APR Snub mount
Maintenance stuff:
JHM 01e Rebuild kit
ECS Ultimate Plus timing belt kit
Coolant Reservior
Porsche Coolant/oil caps
Brake master cylinder
Parts needed:
FMIC
Radiator
Ecodes
JHM 4:1 Center Diff
Future:
BBK
Bi-Pipes
W/M Injection
Heres a quick overview of some stuff Iíve done.
The day I brought her home:
First things first, get rid of all that ugly plastidip: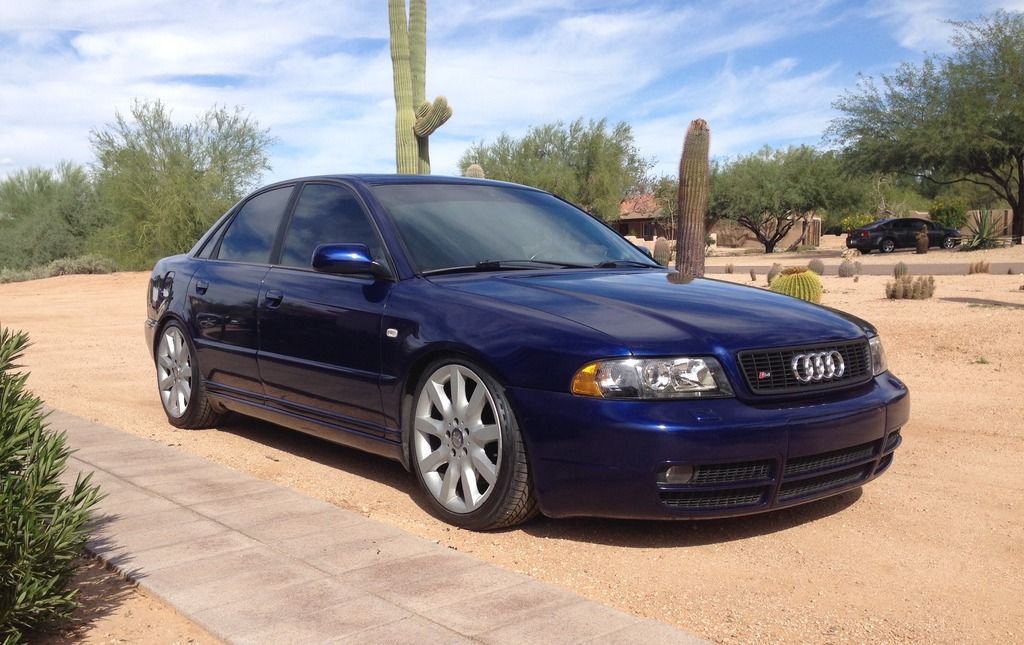 RS4 bumper mod (I like the look of it, more subtle than a full RS4 front end.)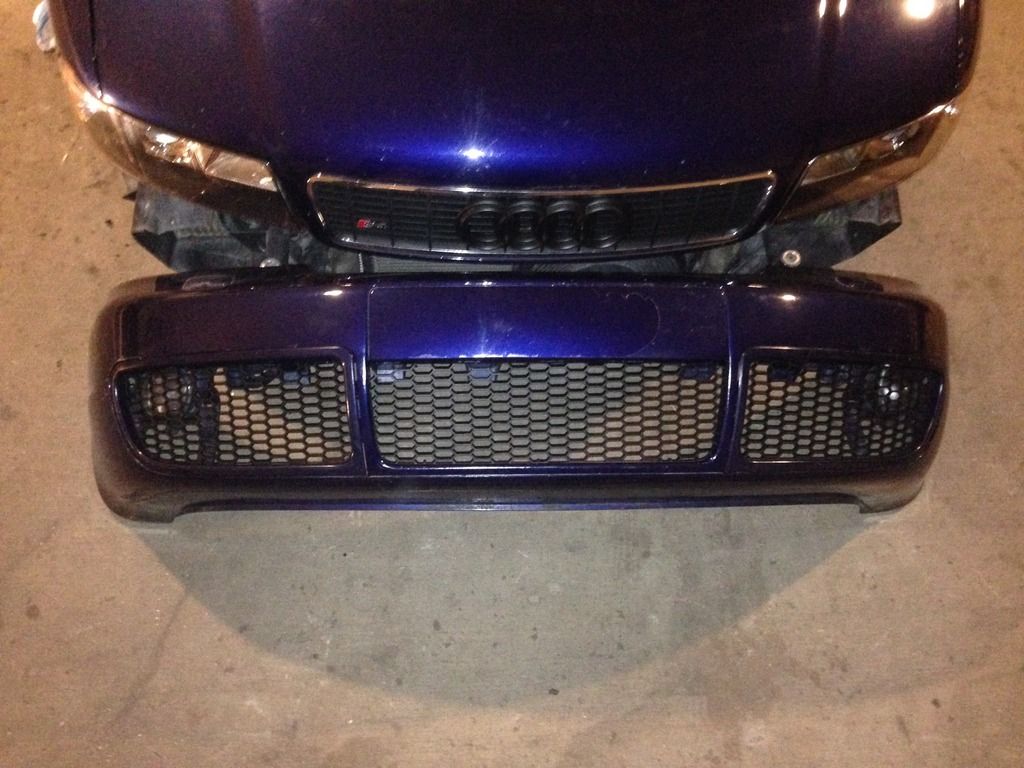 New wheels:
And how sheís been sitting for a while now:
And an interior shot: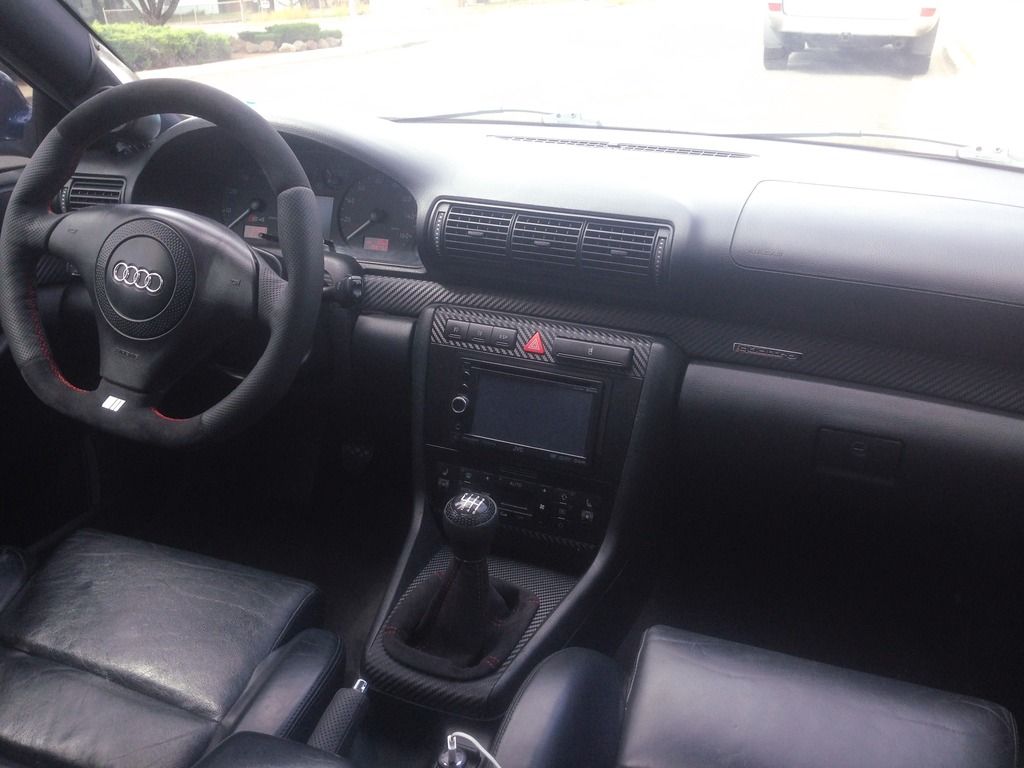 Right before surgery: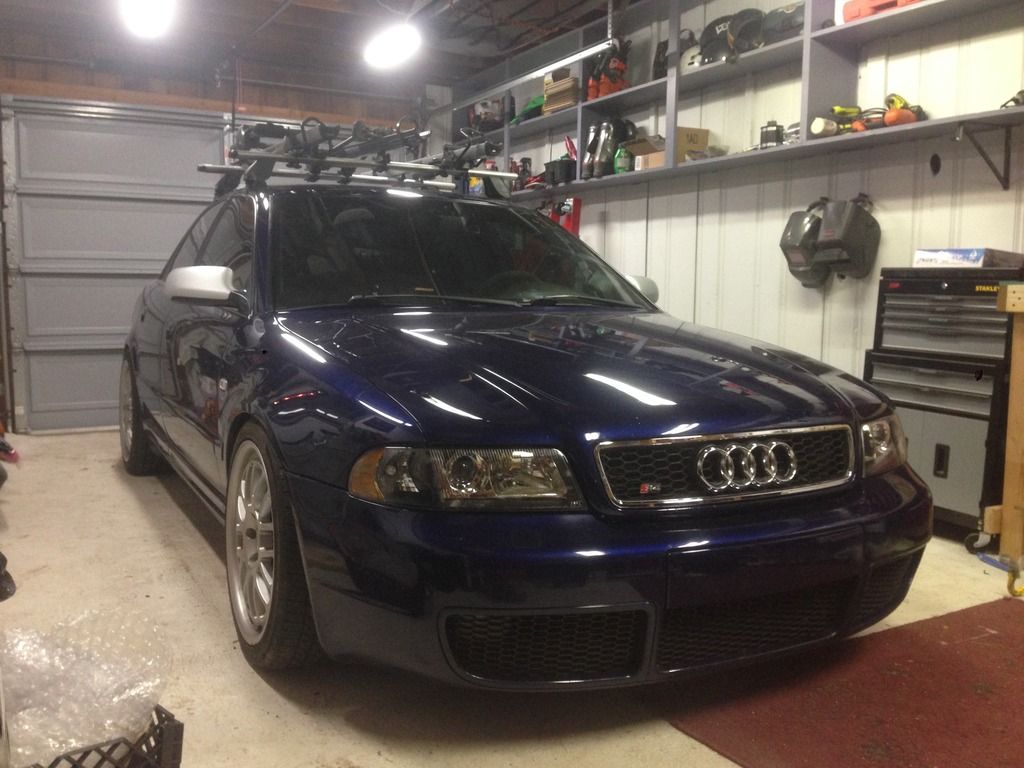 Overall, the motor pull really wasnít that bad. It was my first time pulling a motor, and it actually went really smooth. It was just a lot of checking over little things. Took us about 3-4 hours total. Forgot to start the go pro at the beginning, oh well..
Timelapse of the motor pull: