I've seen a few posts regarding the Rev9 intercooler option for the B9 S4/5 (I, myself, have brought it up as well) and even a few posts where some mentioned making the purchase. Well, I thought to give a very quick and high level review of the product, why I chose it, the install, and show the results/improvements over the factory intercooler in a FAQ/Q&A -ish fashion. Here we go....
Why did I purchase the product?
Mandatory:
if you're going beyond the factory tune. Any option besides the OEM unit will most likely yield better results. Nearly 100% of the time. Heat soak is not your friend.
Size:
It is roughly the same size as the other offerings from AWE,APR,IE, etc. I believe the only unit aftermarket unit that is smaller is the CTS unit and perhaps the ECS unit
Design:
It's the only option, besides the Wagner unit (which this unit's design maybe nearly and entirely based off) that is anodized in black for a stealth look. Granted the other options look great and show off nicely behind the grille but I wanted something that could easily hide in the shadows. Built-in internal louvers that direct airflow even throughout the core. Only one downside is that it's core is also offset towards the passenger side as the CTS unit but since it's black and hides almost completely, you would never know.
Price:
At $349, why not???
The install:
Pretty straightforward and involves the usual steps - which is good cause this unit does not come with any installation instructions. Couldn't find anything online either. Anyways, the procedure:
1. Remove the bumper
2. Remove the crash bar
3. Remove inlet and outlet intercooler pipes.
4. Remove the OEM intercooler
5. Install Rev9 unit in its place
6. Secure the intercooler to the crash bar bolts using the supplied brackets
7. Attach the intercooler pipes and tighten the hose clamps
8. Button everything back up
Some comparison photos to the OEM unit: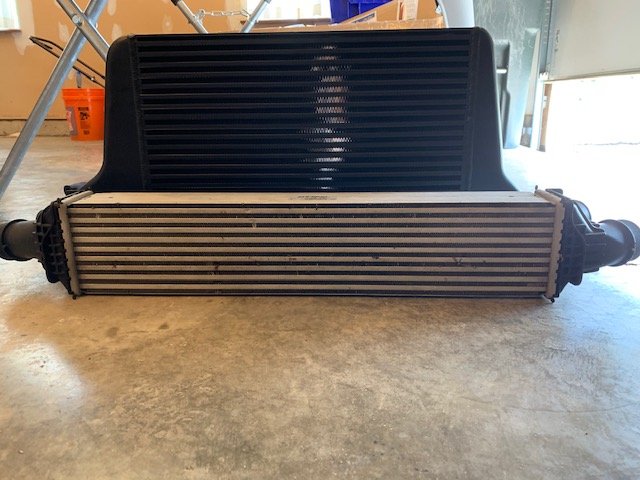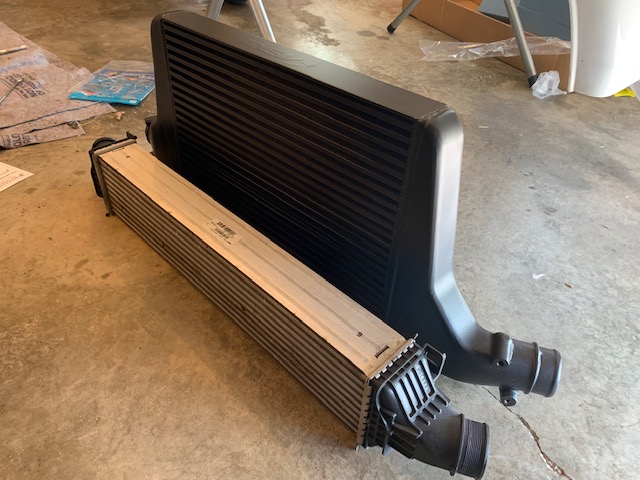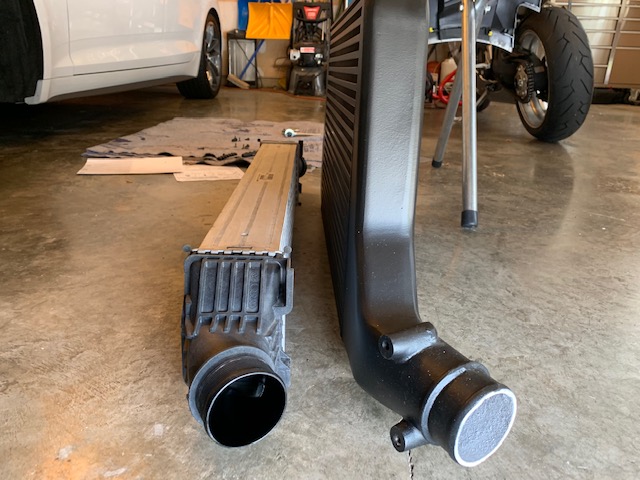 The results:
Data points:
Ambient temps: 92F
JB4 with BCM
Custom map (Map 6)
E40 (e85/93) mix - a bit too much e85 in the mixture which caused a slightly higher fuel trim reading