There are several different ways to connect an external wastegate. The ideal way for your car depends on your goals and equipment. Using both ports is often recommended for better control and other benefits. These "dual port" connections are more often used when incorporating an electronic boost controller.
The simplest way is to run in "single port mode" like you are currently doing.
PROS: Simple to connect. Very fail-safe (most any failure will result in minimum boost).
CONS: Possibility for softer boost onset. Increased wear on diaphragm. Only good for about double spring pressure.
An alternate way is "dual port mode" with a MBC. In this mode you apply full pressure to the bottom (side) port, and apply control pressure to the top port from an MBC or electronic control solenoid.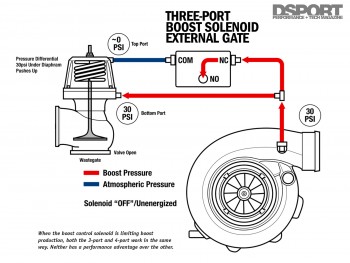 The advantages here are not huge. At max boost request, you apply full pressure to the top port. At the same time, full pressure is already on the bottom port. So the forces cancel and resulting force is just the spring holding the gate closed. This is exactly the same as the single port mode. So it is still only good for about double the spring pressure before your exhaust pressure is high enough to blow the gate open.
Pros: Possibility for quicker boost onset. Decreased wear on diaphragm.
Cons: More things to connect. May not work well with all MBC types.
For the best flexibility and range of boost control, you really want a setup that can utilize both ports to their full extent. This means a minimum boost setting where pressure is applied only to the bottom port, and a maximum boost setting where pressure is applied only to the top port. In this way you can run up to 4 times the spring pressure (ie: run 40 psi of boost on a 10psi spring) without having trouble with exhaust pressure blowing the gate open. This nifty setup requires an electronic boost controller with a 4 port solenoid.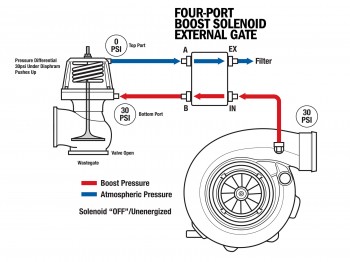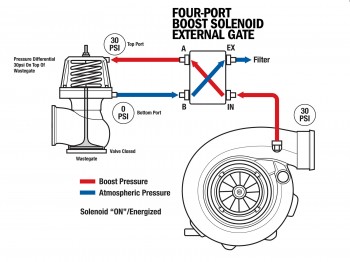 Here's the article where the above photos are from. It explains things pretty well:
https://www.dsportmag.com/the-tech/e...t-1-solenoids/
The long and short of it is that using your existing MBC with a different connection method is not going to drastically change the amount of boost you can run above your spring pressure. You might gain a little bit better control and possibly a slightly quicker spool. To make a drastic change you will need different control hardware or a heavier wastegate spring.
**Note: The above is not expert information. I do not have experience with an external gate at the pressures you are running. Please defer to members who are more experienced in this area.