Sounds like you are having some slack on the "front" side of the belt. That is, the side opposite the tensioner mechanism. As soon as you touch the key (or otherwise roll the engine forward), the front side of the belt will become tight and all the slack will move to the back side, where the tensioner will take it up.
Slack being on the front side can come from the crankshaft being rotated backward. This can happen when parking on a slight grade, nose uphill, in 1st gear (manual trans) and the weight of the car rotates the engine opposite its normal direction. When the engine is asked to rotate backwards it will try to pull against the tensioning mechanism, which can result in slack being deposited on the front side run of the belt.
It can also come from the engine shutting down in a specific position where the camshaft is loaded by the valve springs such that it wants to "spring forward" a bit. This constant pressure from the cam will pull against the hydraulic tensioner. It can give up some slack and allow the cam to roll forward slightly, leaving some measurable slack on the front side.
Both of these events are normal. It is not necessary to be alarmed about this finding. Since you are a little worried about it, I would advise the following:
- Make sure the t-belt receipt shows all parts were replaced: belt, main roller, hydraulic tensioner/damper, and water pump. (If it is the very new Litens type, it will not be hydraulic and the parts list will be slightly different)
- If you are unsure about the above, you can post a picture of your receipt or post the part numbers/prices and we can determine if anything was skipped
- Make sure the "eccentric adjustment" looks good. This is possibly a little difficult, but on the hydraulic setup, there is an important adjustment on the main roller. If the adjustment is left at the maximum "I don't know what I'm doing so I'mma just let it do whatever" position, you can be left with inadequate tension on the belt.
- Basically you want to check the "tensioner gap" (the protrusion of the hydro piston) at TDC. You can kind of eyeball this by just removing the front cover. A mirror or smartphone camera might be helpful here.
Pic of tensioner gap and eccentric adjuster:
Tensioner gap should be 6-10mm after a slow, clockwise approach to TDC.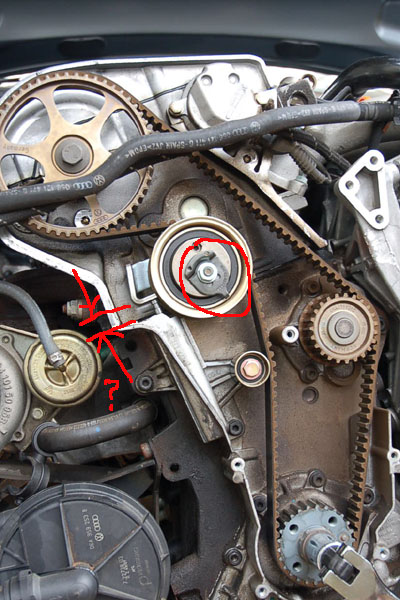 If both of those things look good (all parts replaced, roller is adjusted within reason to achieve an adequate tensioner gap), then I wouldn't worry. You're good to go.