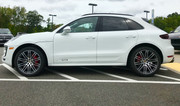 Picked up my S6 replacement today. Drove home 115 miles from the dealer on highway, mountain highway, and some twisty country roads. Here is the comparison
Engine: S6. No contest here. The TTV8 easily trumps the TTV6, but I knew this going in. The Macan is quick, but not nail-you-to-the seat fast like the S6. The Macan, however, has no perceptible lag whatsoever, especially in Sports and Sports plus mode.
Transmission: Macan. No contest here. The PDK is simply magnificent. Works very nicely to keep the Macan making torque. Really nice response to throttle inputs.
Exhaust: Stock vs. Stock it is a toss up. The S6 has the lower more thunderous sound, but it is simply subdued compared to the growly Macan. Macan has a much bigger difference in sport and non-sport modes than the Audi exhaust
Interior: Macan, by just by a bit. This however, is not a fair comparison. The Audi interior is basically configured one way. I ordered my Macan with some serious interior upgrades
Seats: S6 seats are better. Macan seats are tighter and sportier. Very adjustable, but not quite the comfort, for my body, of the S6 seats as a daily driver
Steering: Macan. No contest here. Steering precision in the Porsche is miles ahead of the Audi
Suspension/Chassis. Macan. Again, no contest. The overall handling, stability, responsiveness of the Macan in GTS trim just blows the S6 away. Ride quality is more luxurious in the S6, but not glaringly so.
Brakes: Macan. Much more confidence inspiring feel
Sound system: Macan. I have the Bang and Olufsen in the S6. Magnificent. I have the Burmester in the Macan. Very comparable to the B&O but significantly better bass response
Wow factor: In GTS trim, at least, the Macan gets serious attention. The S6 got attention from people "in the know". At least on this one drive, everyone wanted to race me in the Macan. Much more than in the S6 and even more than what I have experienced in my Cayman.
In the end, a very different vehicle than the S6. Definitely not as fast, but much more dynamic and tight overall. If you want an SUV, and like the sports car feel, this is the ticket for sure.