Hello Gents,

Please allow me to introduce myself. My name is Jeff Ritter, and for the past ten years I have been the High Performance Division Mgr. at

Essex

Parts Services

. Prior to that, I was the sales mgr. at StopTech for roughly 5 years. I've been autoXing/tracking cars since 1999, and my stable over the years includes or has included: '98 Integra Type-R, '03 350Z, '03 Z06, Lingenfelter C6, Miata (91,92,01,02), '04 CTS-V, CLS550, S2000, MR2, etc. I've also been participating in online automotive forums since roughly 1999. You can find my posts under the screen name jritt across a wide range of forums: honda-tech, my350Z, corvetteforum, ft86club, or Rennlist. You can

read my bio here

. Chances are, there is someone on this forum who I've helped with brakes at one point or another.

I've also authored several articles and videos about high performance brake systems. Hopefully you'll find them helpful. You can

see the videos on the

Essex

YouTube Channel

.

Essex

Parts Services Background

Essex

Parts Services is located in Charlotte, NC and has been in business for roughly 35 years. We are the exclusive importer and distributor for a number of high-end European brands including: AP Racing competition brake products, CL Brakes pads, Ferodo brake pads, Mintex Brake Pads, Spiegler SS brake lines, and several others. You can

read more about us here

. Historically our focus has been on professional racing. More recently however, we've been working on bringing the technology from our professional racing experience into the aftermarket, and making it available to the enthusiast and club racer. Many of the exclusive products we sell have either been used in professional racing, or contain a number of features that in the past have only been available at the higher echelon of racing.


Competition Discs and Competition Brake Kits Background

Roughly five years ago we began developing a line of 2-piece discs and complete brake systems geared towards heavy track use. We call them our

Essex

Designed 2-piece Competition J Hook Discs

and

Essex

Designed AP Racing Competition Big Brake Kits

. We currently have applications for a host of popular racing/track day/AutoX/time trial cars: Porsche GT3/GT4, BMW M2/M3, Subaru STI, BRZ/FR-S, C5/C6/C7 Corvette, S2000, etc. Our systems are designed with the sole mission of making you go faster, and use the latest racing technology to improve performance. They focus on ultra-low weight, extremely durable materials, and inexpensive and readily available spare parts (pads and discs). They are built around components by

AP Racing

, arguably the top performance brake manufacturer in the world. Below is a graphical illustration of the championships that were won in 2017 using AP Racing brake or clutch products.
Over the past few years we've been translating that type of success in professional racing into success at the club and grassroots level all over the world. Our

Essex

Designed Competition Kits have had a lengthy list of NASA and SCCA race and championship wins, time attack victories, and lap records. Below are links to a few threads from some other platform forums on which we participate. They will give you some insight into how our customers feel about our products and company. You can also see lots of news about our success in professional and amateur racing, as well as

owner reviews and feedback on our

Essex

Blog

.

BMW M3
Subaru/ Scion FT86 Corvette C7 Z06 Porsche 991 GT3 How Did we Arrive on Audizine?

The only Audi-related products that we've offered in the past are our front and rear 2-piece J Hook discs for the R8, coupled with Ferodo Racing pads (sourced from Italy). We have several exotic car fleets around the country running that setup, and they found out quickly that our products last 3-4 times longer than our competitors' products. That said, we felt like we just weren't seeing that many Audis at the track relative to M3's and Corvettes, and we just couldn't prioritize the development of additional Audi products. However, the latest RS3 and TTRS are vehicles that really caught our attention as great alternatives to the other popular track day platforms we currently support. We were also contacted earlier this year by a TTRS owner who destroyed his expensive carbon ceramic front discs and pads in only two days at the track. After a little research two things became obvious: 1) These cars have some serious brake issues that have been causing the owners fits, and 2) We have the ability to eradicate those problems and save these owners a lot of time, money, and headaches. We therefore decided to delve deeper into the Audi market.

What are we Working On Now?

Over the past couple of months we've been working towards bringing our solutions to the market, and we are quickly approaching the launch of our first wave. As mentioned above, the TTRS was the first car to hit our facility, and we've come up with some brake solutions unlike anything that has been available to Audi owners before (unless they bought a factory racecar). In other words, Audi enthusiasts have been without the good stuff for far too long!

We are currently developing three unique front brake upgrade options. Since all of our options use the same discs, they offer the flexibility of a staged upgrade path.

The 2-piece discs can be added first, followed later by the calipers and adapter brackets. Option #1, 2-piece

Essex

Designed AP Racing J Hook Discs Our TTRS & RS3

Essex

Desgined AP Racing 2-piece J Hook disc kit

is the first major stage of the upgrade path. We replace the OEM 370x34mm front discs with incredibly stout 372x34mm AP Racing J Hook discs that have 84 internal vanes. AP Racing J Hook discs have repeatedly proven themselves to be the coolest-running, longest-lasting discs in the industry, winning countless races and championships across a diverse array of motorsport venues. Our discs shave 13 unsprung lbs. vs. the OEM iron discs, and they only push the caliper out 1mm further towards the wheel barrel vs. the OEM discs. That ensures that proper brake bias is maintained, and wheel fitment remains virtually unchanged vs. stock (an important consideration for those running 18" track wheels). Even though you won't be changing them often, it's comforting to know that our replacement iron rings are a very reasonable $399 each. For reference, OEM carbon ceramic replacements retail at roughly $5500 per pair! If you're worried that they're not big enough, that definitely should not be a concern. We have lots of 700-1000 HP C7 Z06's running our 372mm discs with great success. Efficiency is just as important as size when it comes to brake discs!

As mentioned above, starting with our 2-piece discs leaves future brake upgrade options on the table. When you crack the ceramic piston caps or decide you want to strip even more unsprung weight from the nose, you can convert our discs into a complete Radi-CAL Competition Brake Kit.

Options #2 and #3,

Essex

Designed AP Racing Radi-CAL Competition Brake Kits

Our two front brake kits feature the same Pro5000R Radi-CAL calipers that Audi and VW use on

their factory RS3 LMS racecar

, and the

Golf GTI TCR

.

Essex

also worked closely with Ford to apply these same calipers to their recent factory Mustang racecar project,

the Shelby FP350S

.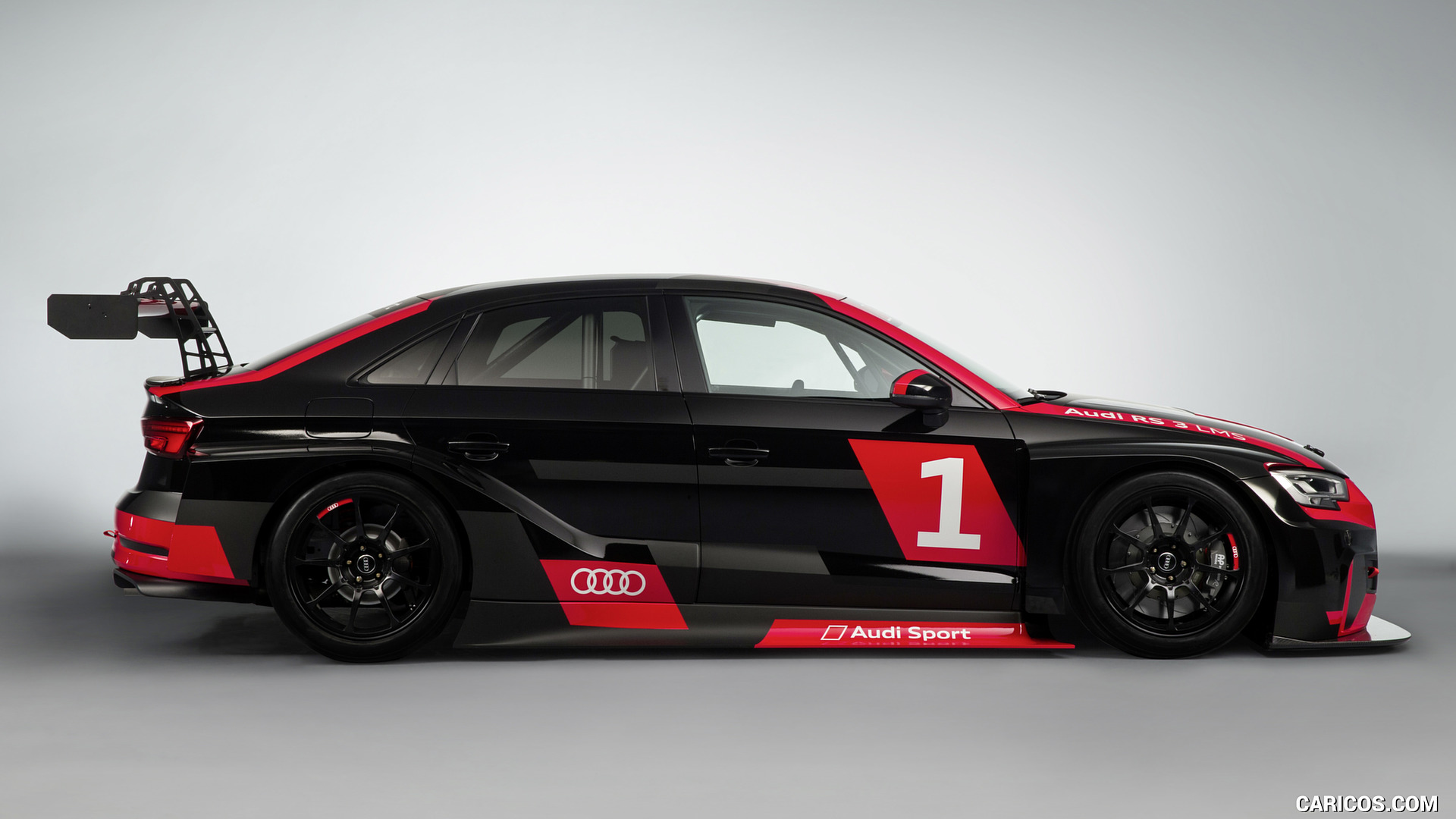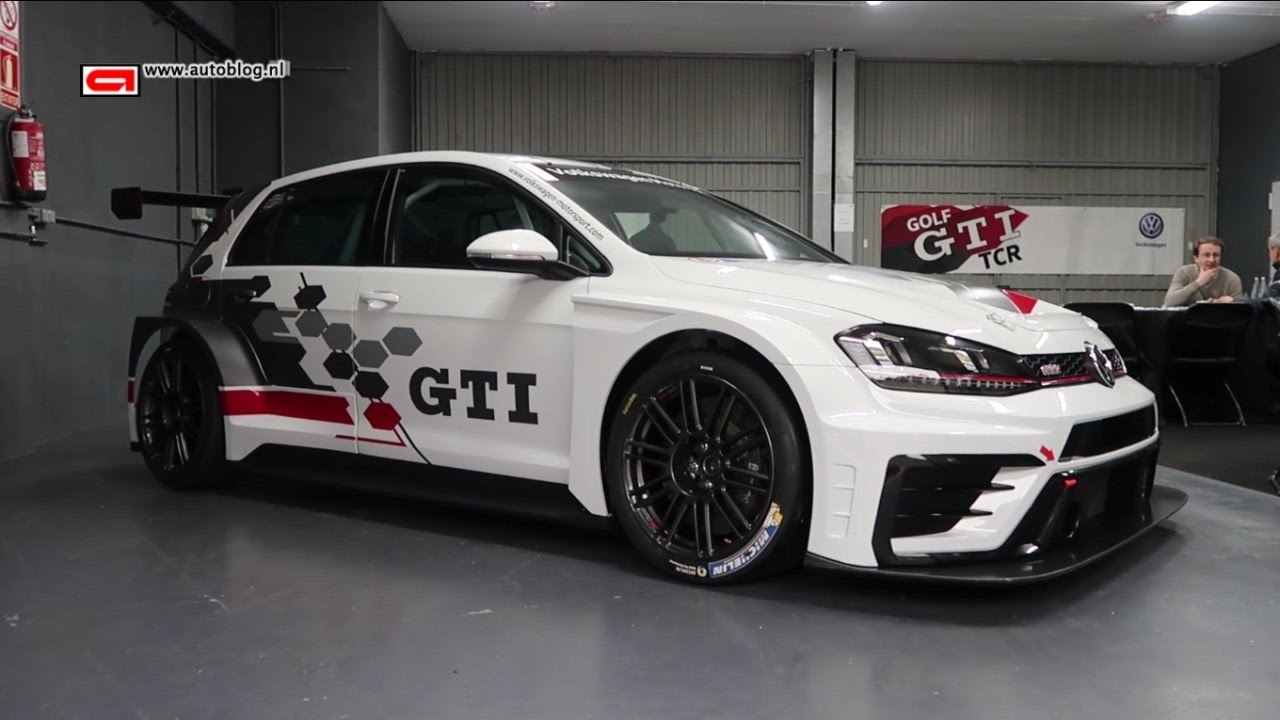 AP's patented Radi-CAL is stiffer, lighter, and runs cooler than any other caliper on the market. They have been proven over many miles of endurance racing, have won at all levels, and are unlike anything else available on the market at any price. To learn more about how the Radi-CAL has revolutionized racing brakes, please check out the video below:
The videos below highlights some of the advantages of our system compared to the OEM components. In this case we were looking at the OEM calipers from a Gen. 6 Camaro, but many of the comments hold true vs. the factory TTRS/RS3 calipers.
Both of our front brake kits will feature our 372x34mm AP Racing J Hook discs. These discs provide 84 directional cooling vanes, a fully-floating aluminum hat, and AP's patented J Hook groove pattern. Again, these are the same discs in our Option #1 above, so if you start with the discs, you can always add the calipers later, after you fry the factory ones.
Both kits offer nearly the weight savings of the carbon ceramics, without all of the pitfalls of CCM discs (cost, fragility, heat limitations, poor pad choices). The 9660 and 9668 calipers both feature a removable bridge, which makes pad changes a breeze. The CP9668 even has a quick-change bridge clip option that allows for pad changes without any hand tools. With either of our kits it will take longer to raise the car and remove the wheel than it will to change pads!
Both kits will also fit inside a wide range of 18" wheels, allowing for lighter wheels, and a huge range of less expensive track rubber. Finally, both use a commonly available pad shape that has been around for a very long time. Just about every manufacturer makes this shape in all of their compounds, and you don't need to buy one box per caliper like the OEM shape, which can reduce your pad costs.
The first front brake kit is our
CP9660/372mm Kit
. The CP9660 Radi-CAL weighs almost half of what the OEM calipers weigh (6.1 lbs. vs. a whopping 10.75 lbs), and use an 18mm thick pad. They also eliminate the four pads per caliper issue while offering plenty of heat capacity.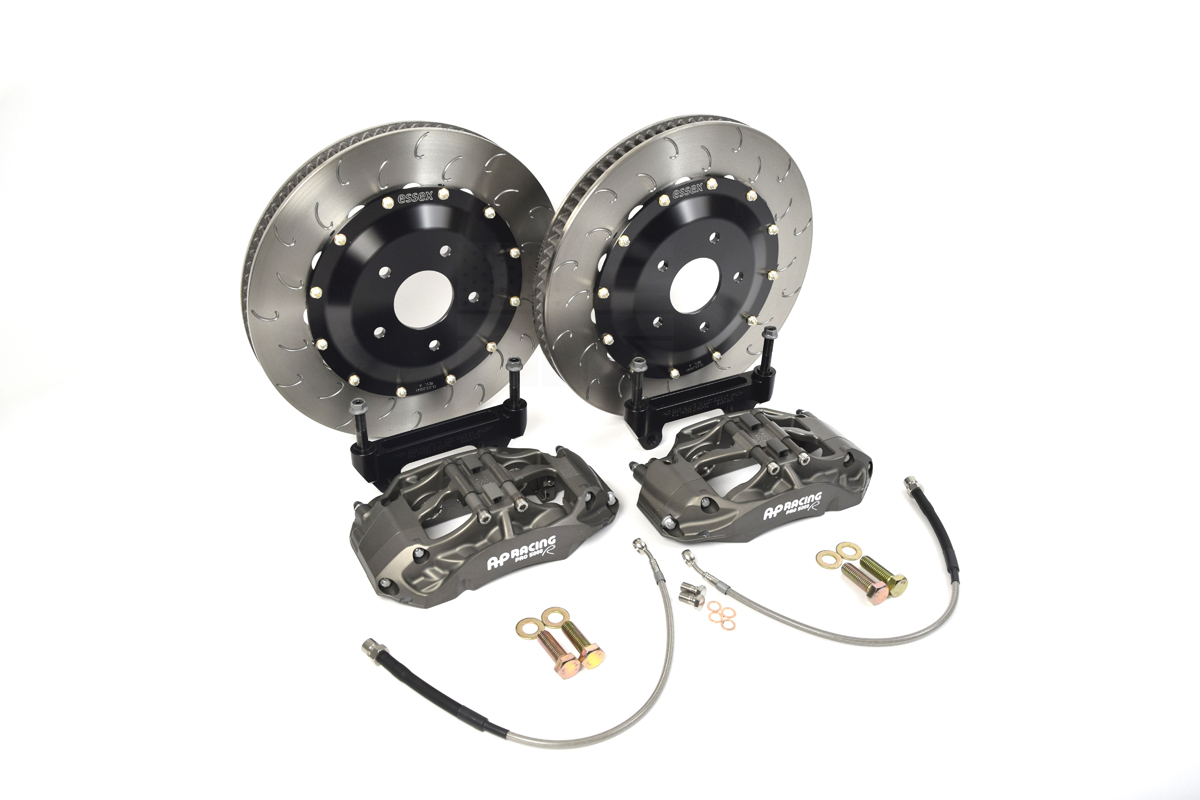 Our second brake kit is the
CP9668/372mm
, which leverages the 6.9 lb. CP9668 Radi-CAL. The pads that are a full inch thick (25mm)!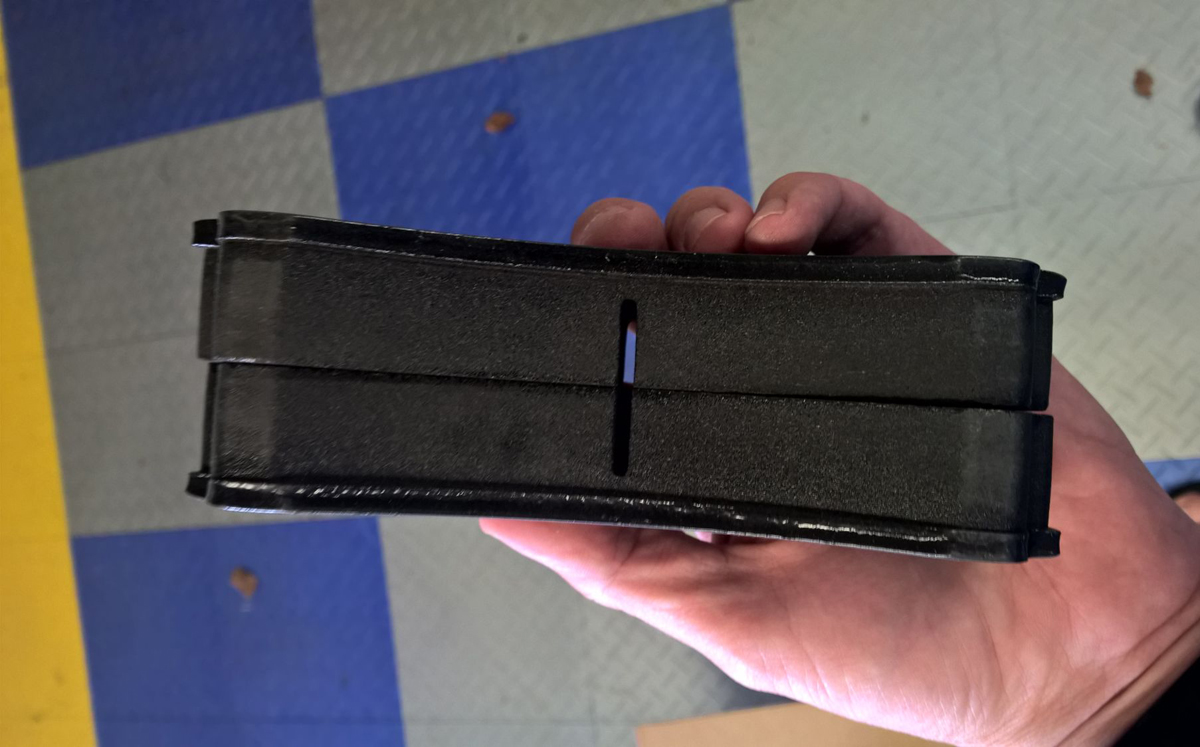 Comparison to OEM
We took a close look at the OEM calipers from our customer's car, just to see what kind of damage was done in a very short period of time (eight sessions at Sebring, five of which were in the rain). The piston dust boots were completely fried and are now useless. You can also see that the caliper body got extremely hot and started to change color in numerous locations. Our calipers hug the disc with a much tighter envelope, allowing for greater wheel fitment options, and you can also see the massive difference in thickness between the pads our CP9668 caliper uses vs. the OEM pads.
From left to right: CP9660, OEM, CP9668: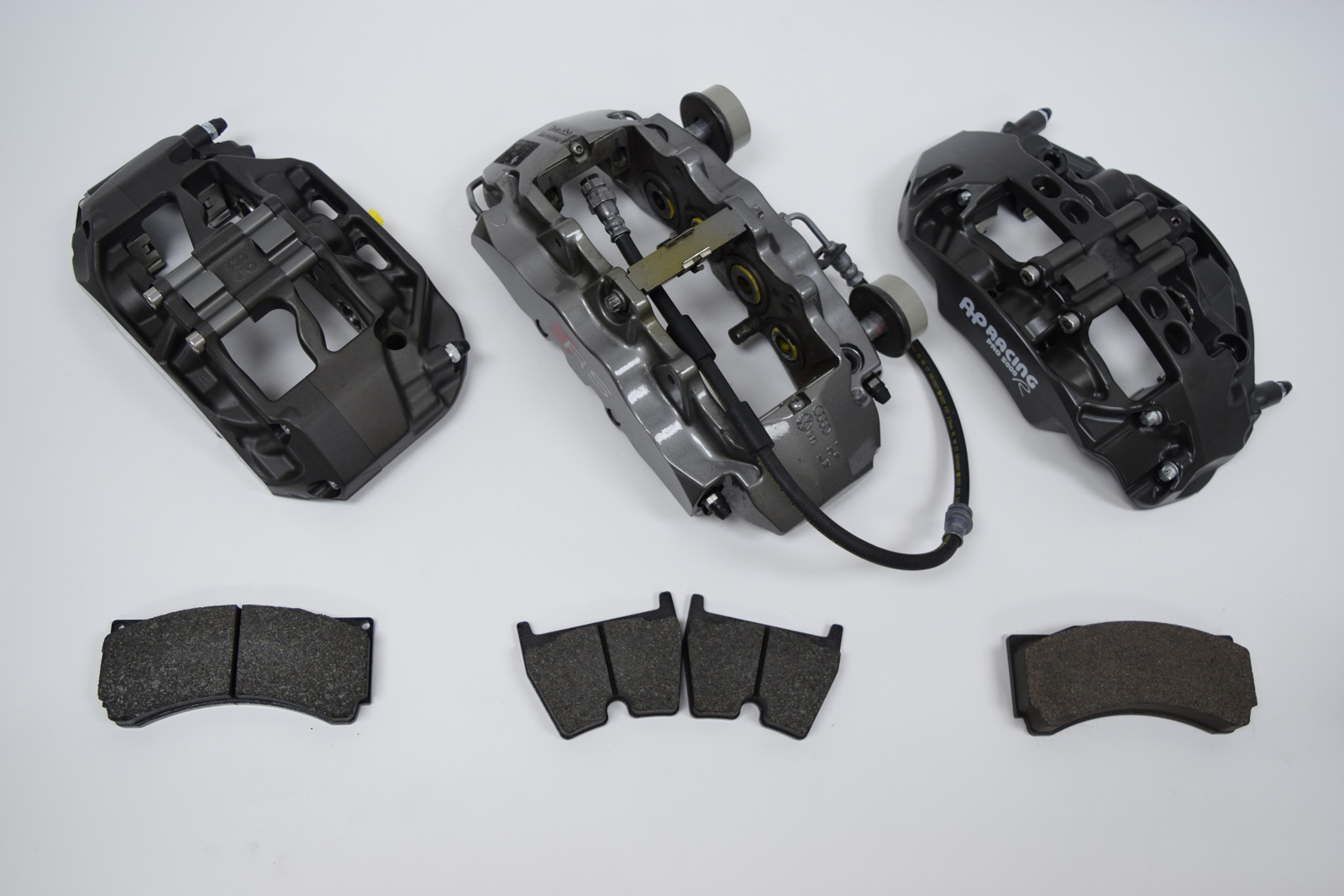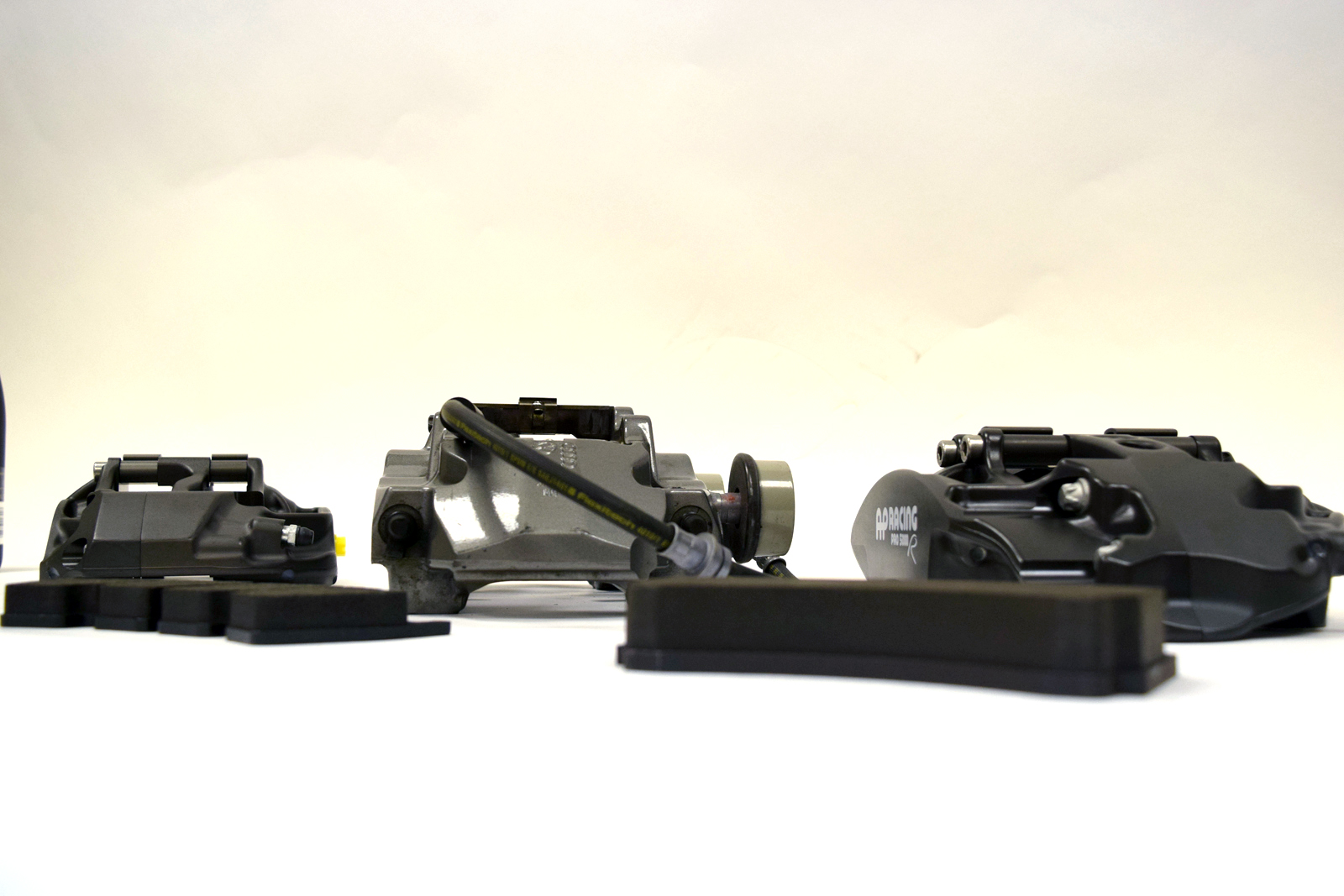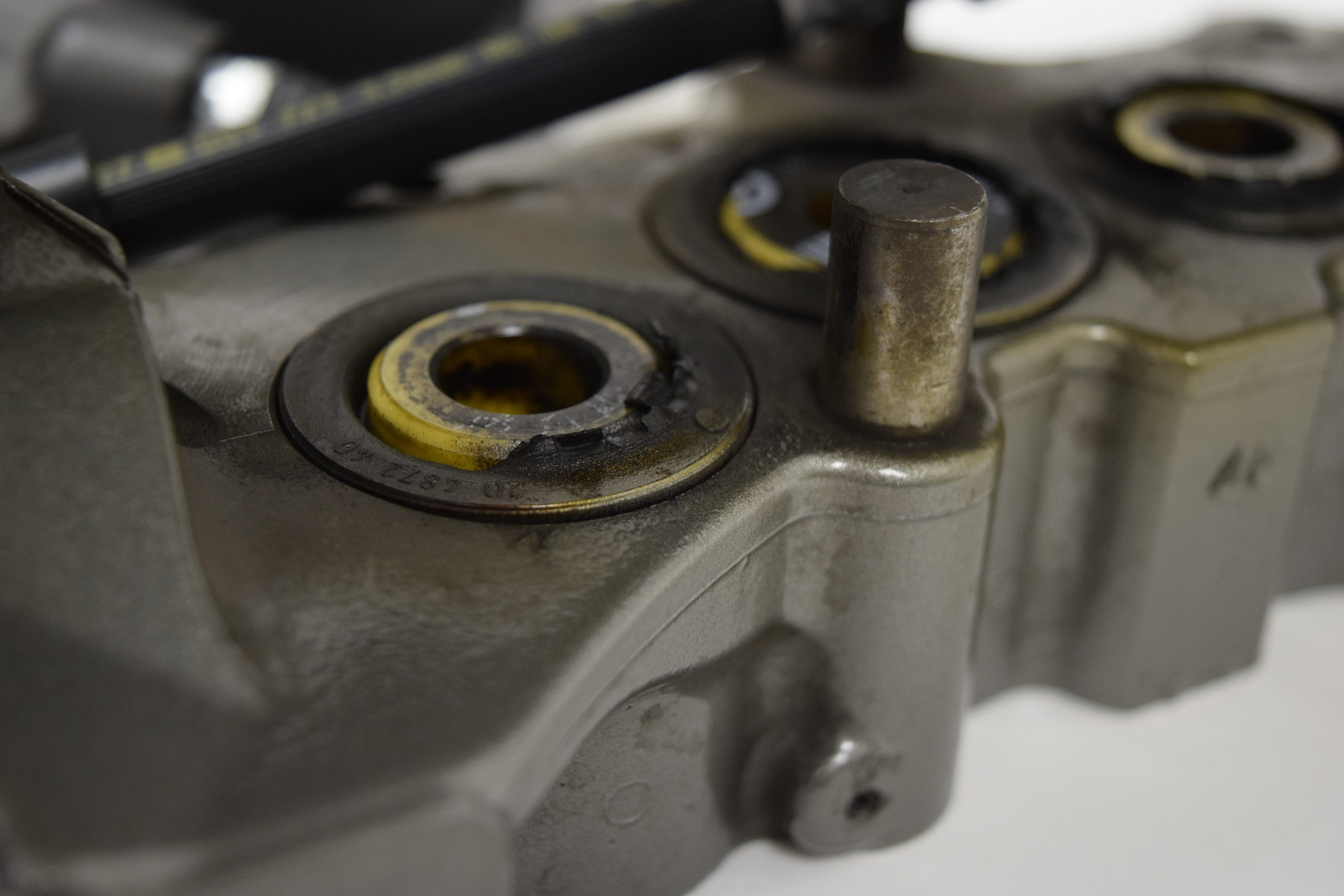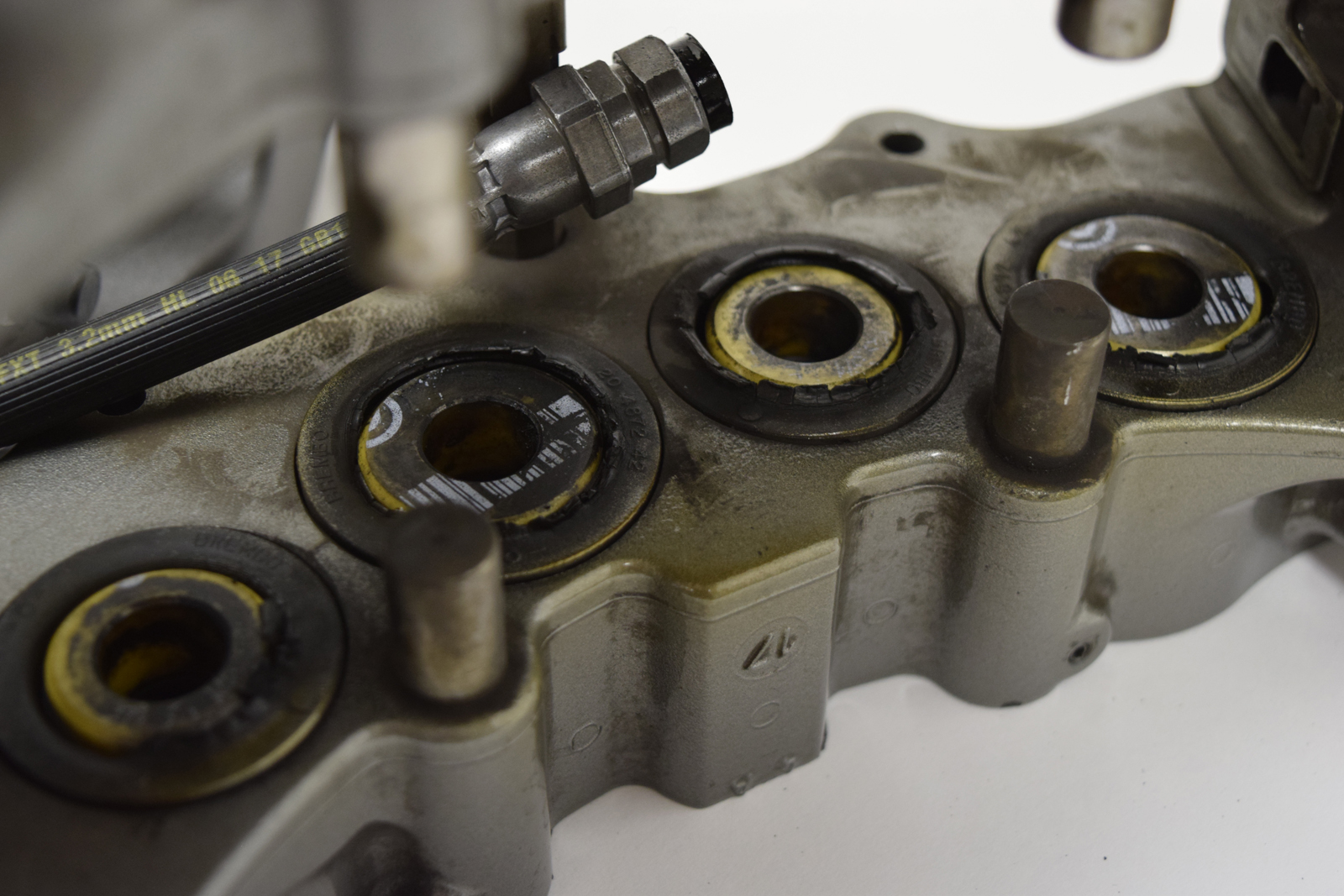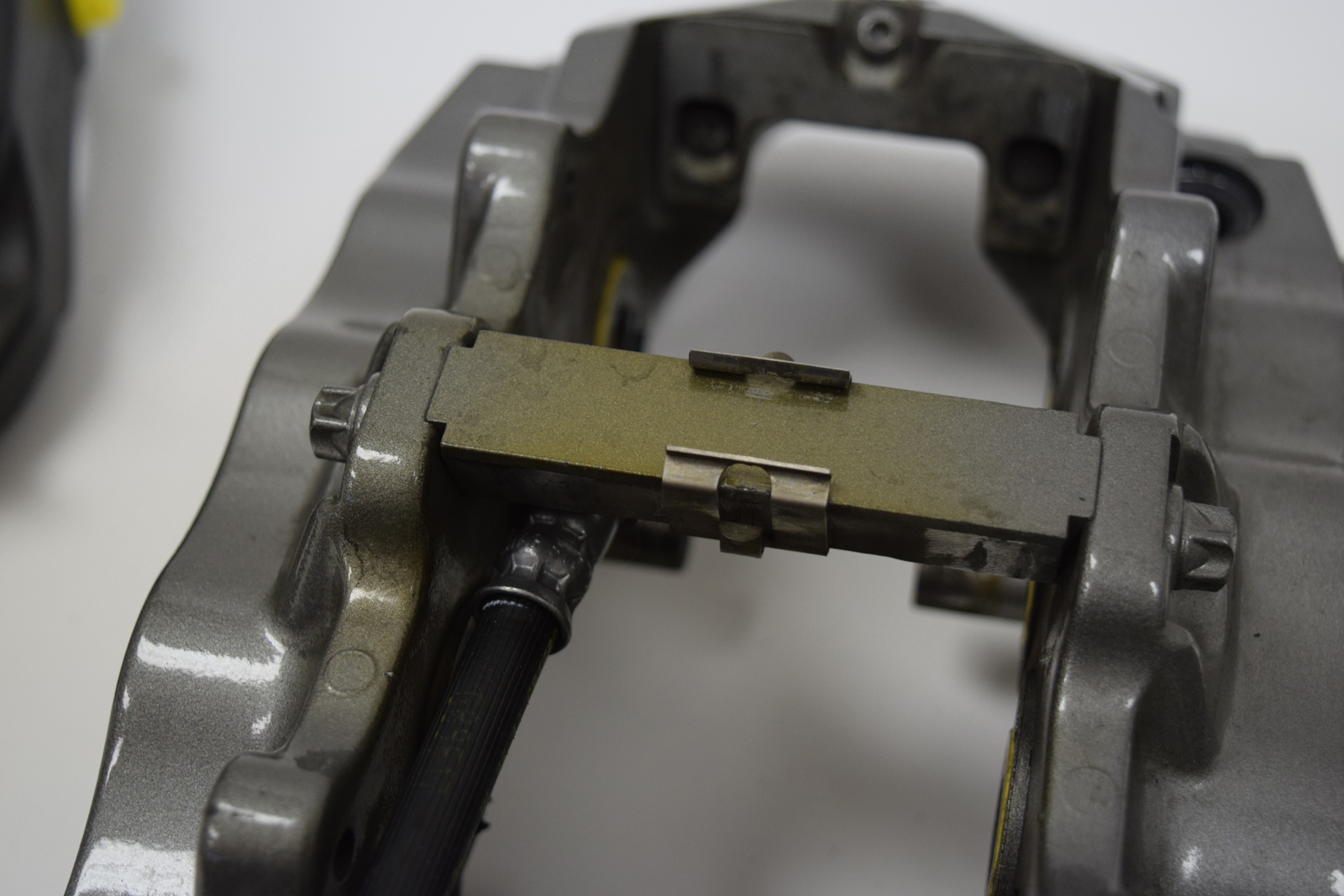 CP9668 pad vs. OEM pad.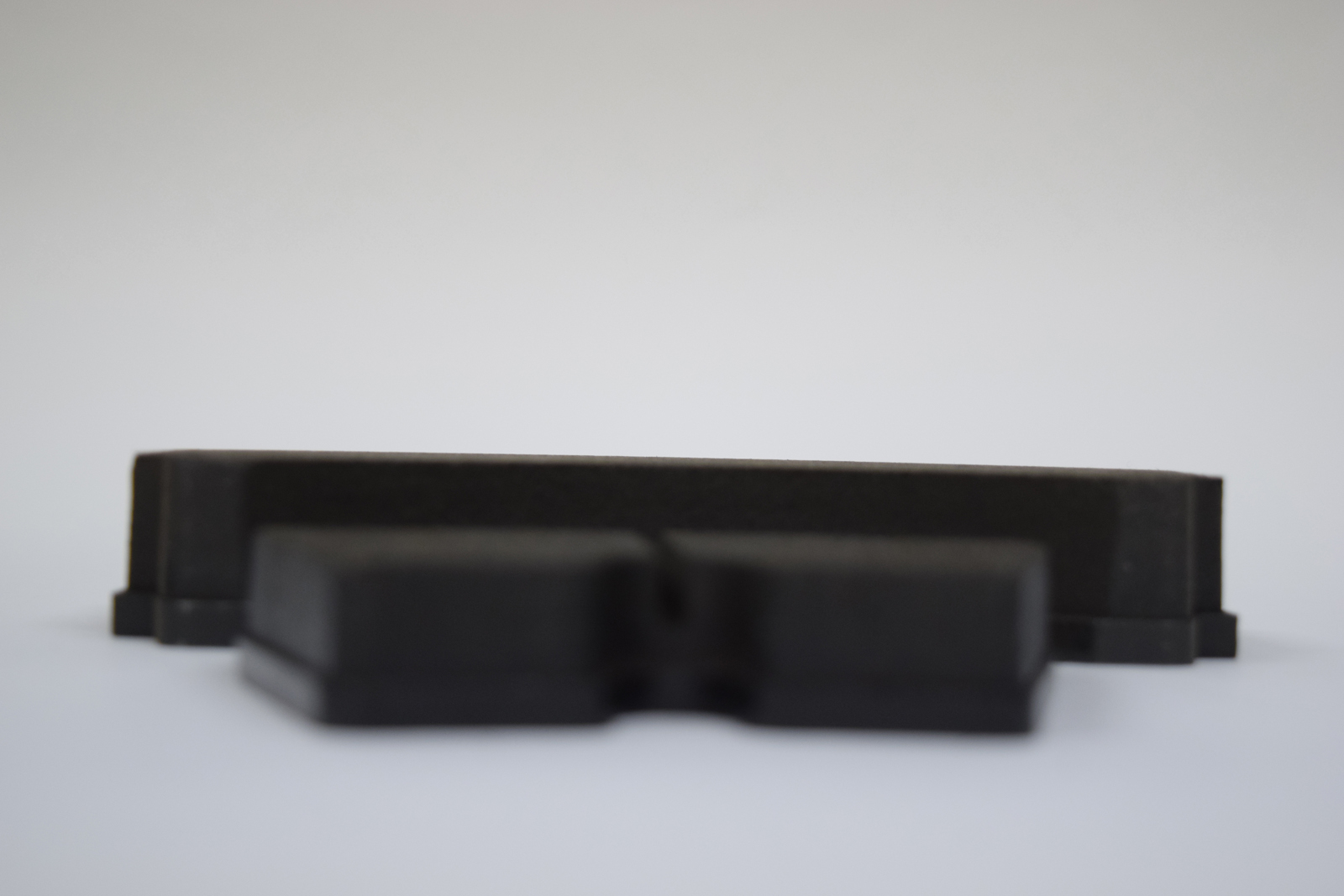 The OEM calipers have large weights/vibration dampers hanging off their sides to combat NVH.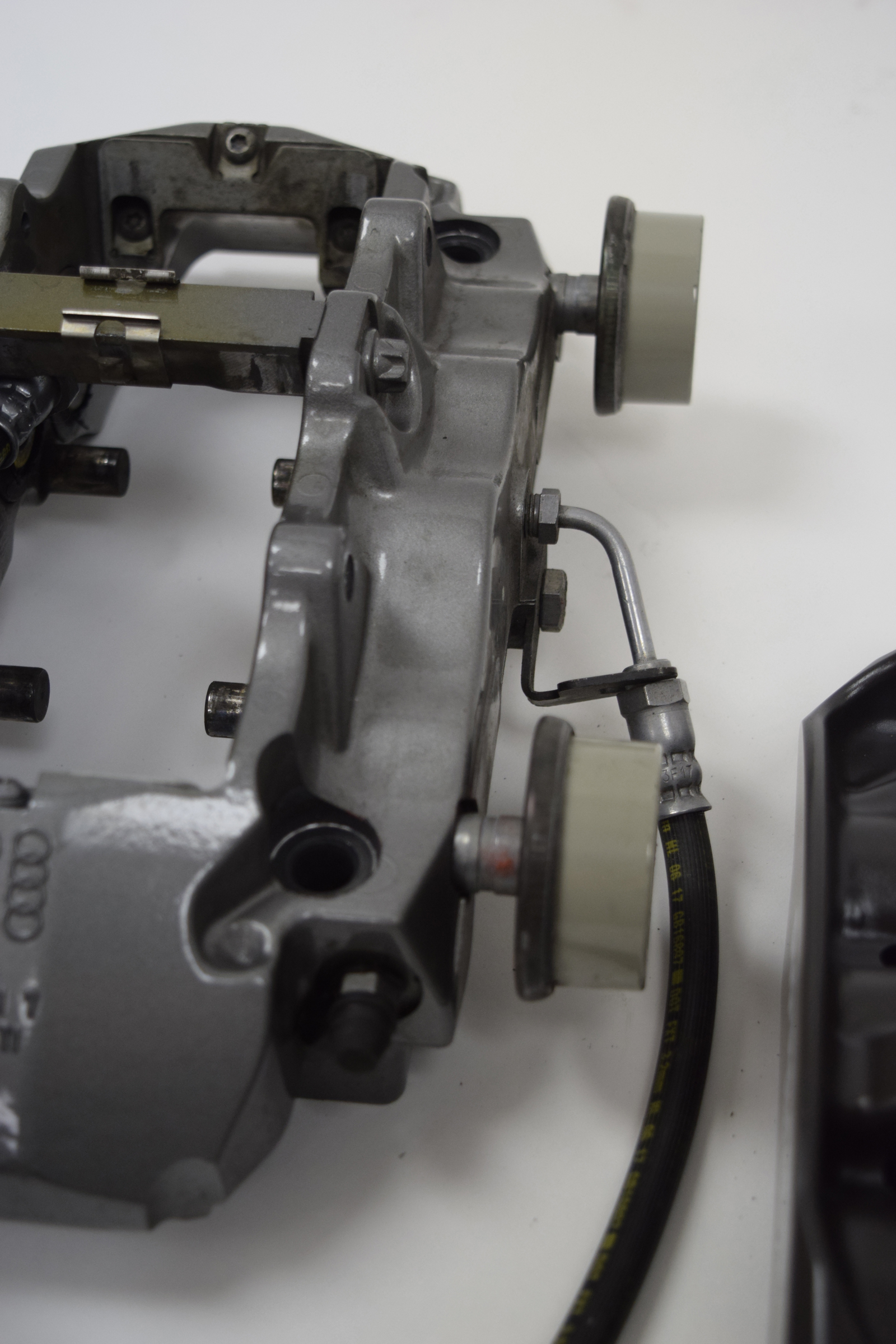 Here are the pistons on the AP Racing Radi-CAL Pro5000R: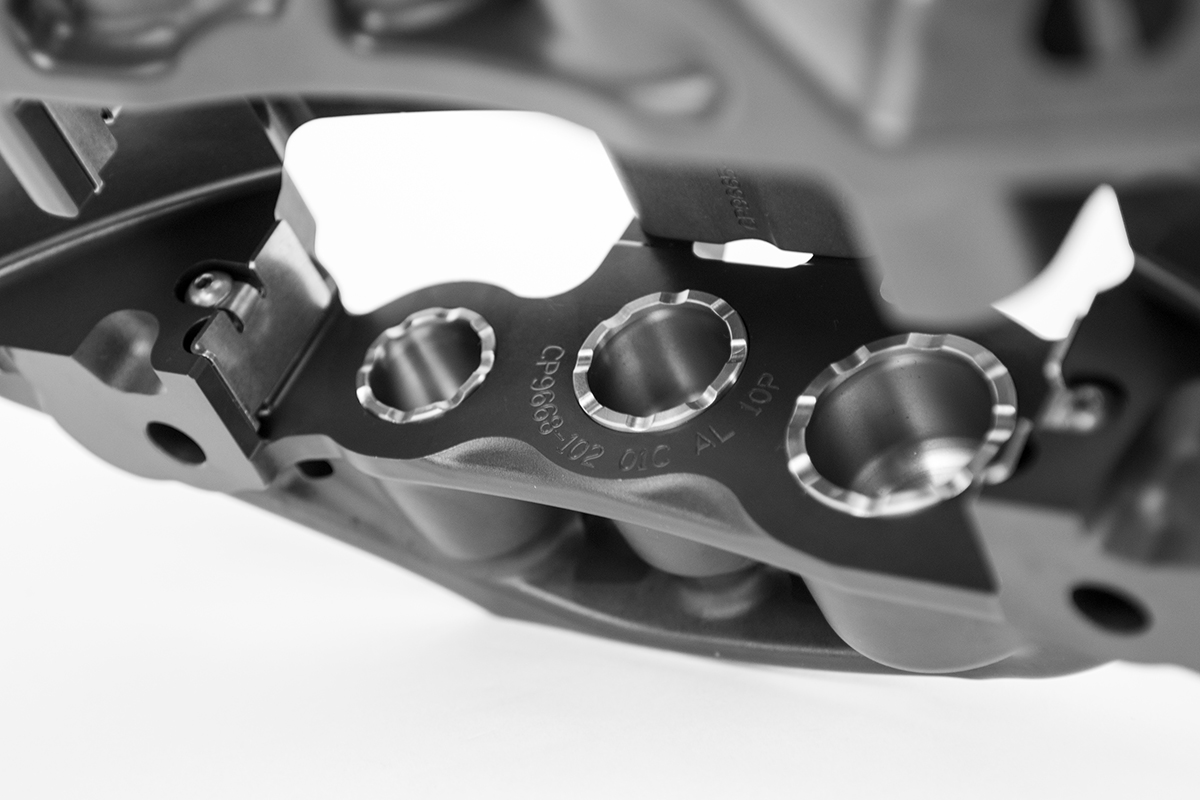 CP9668 quick-release bridge: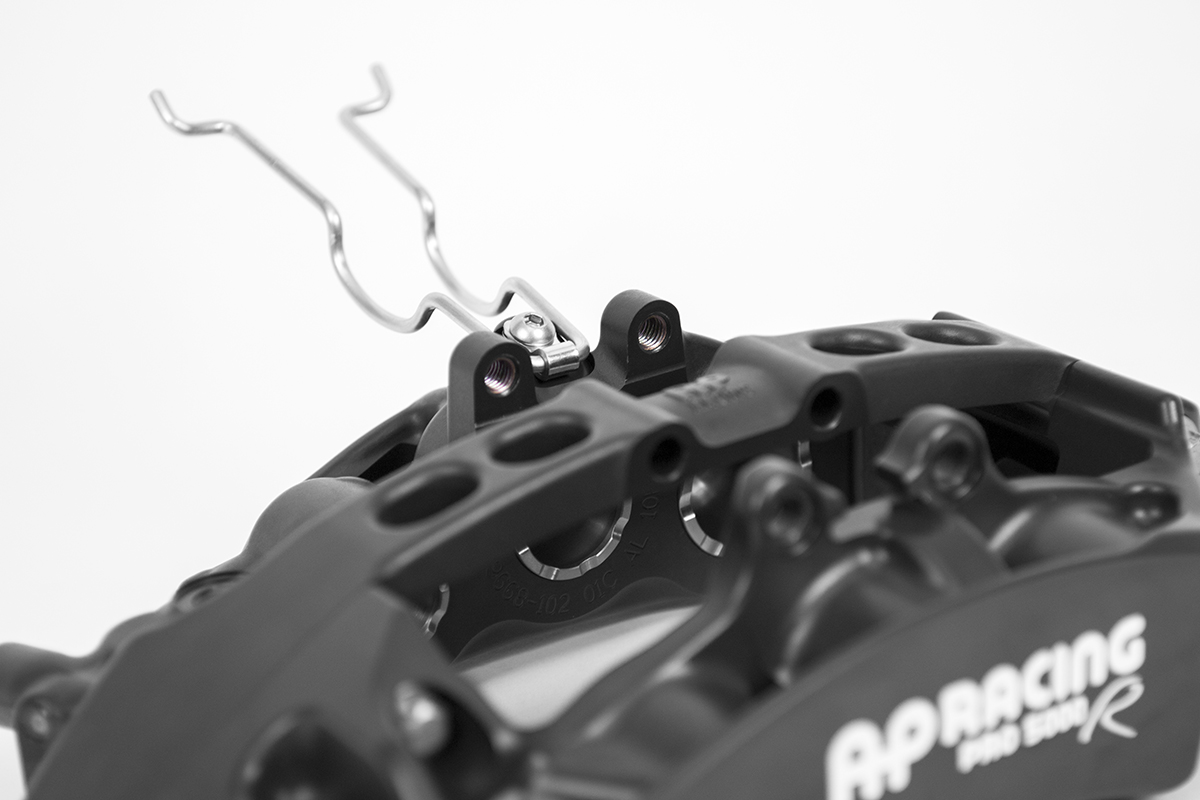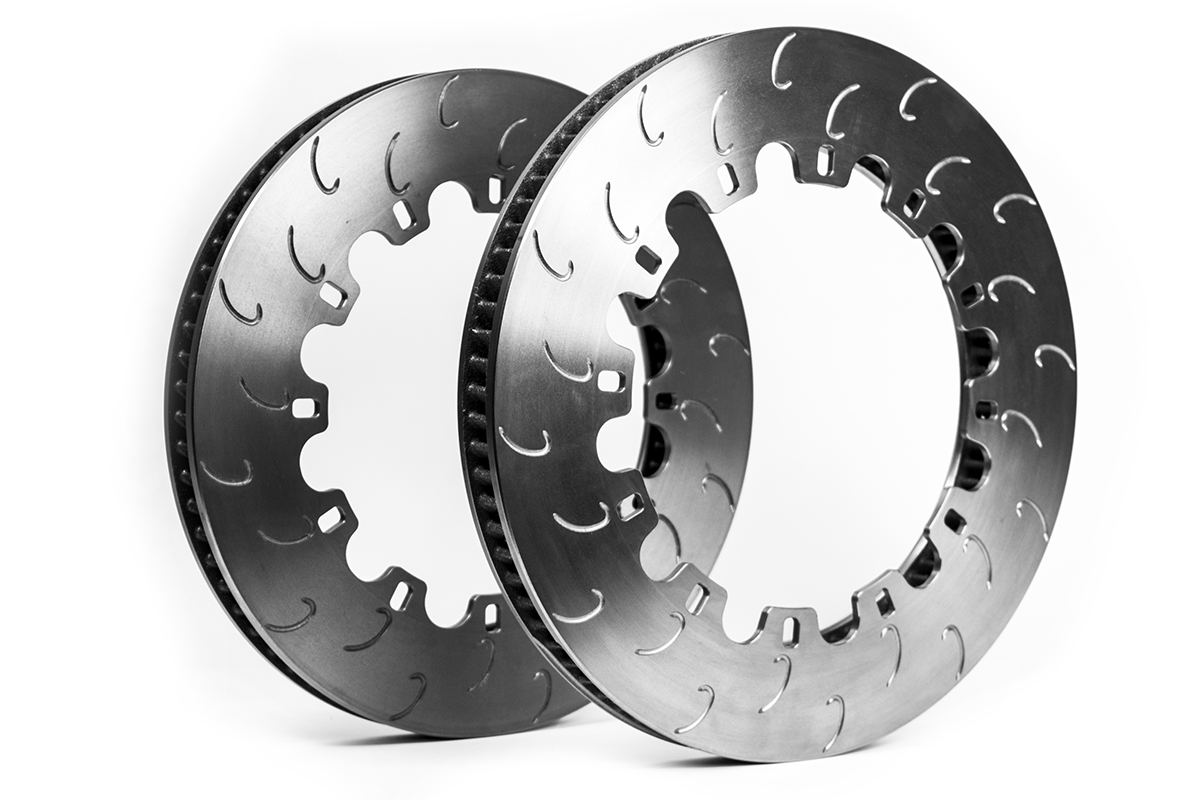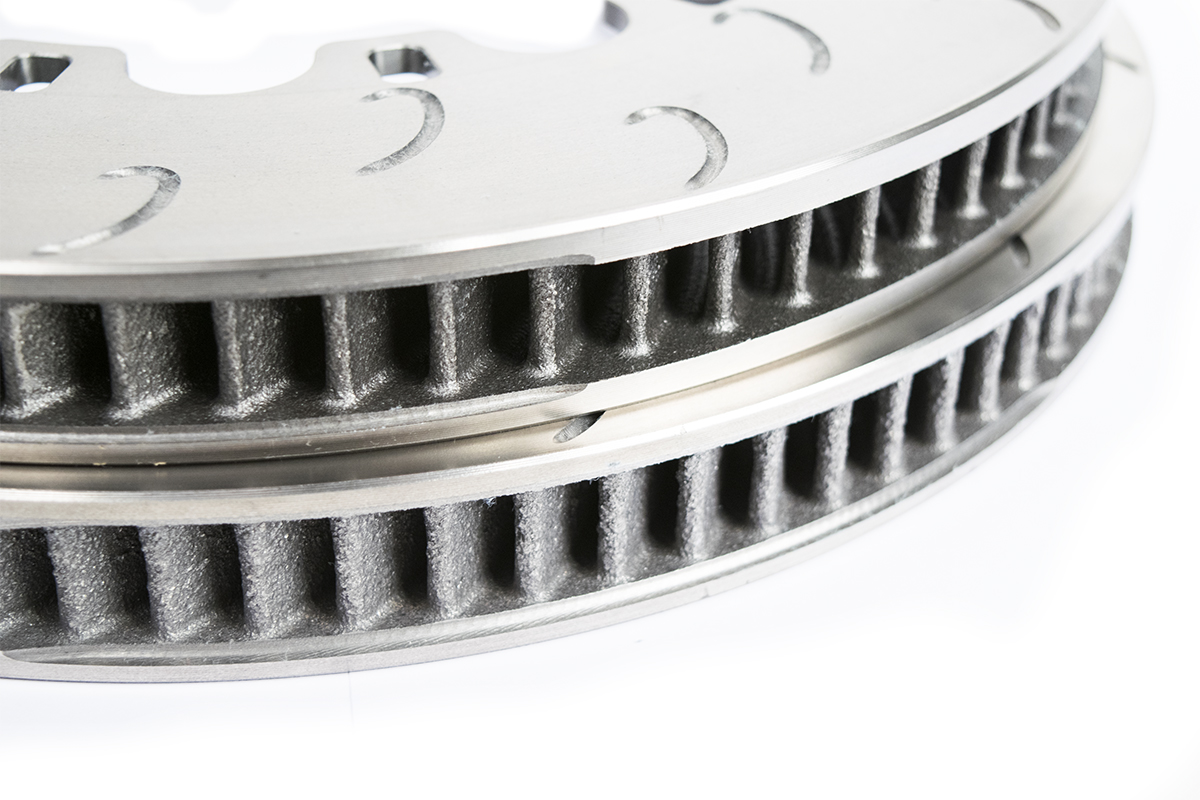 FAQ
Q: Why aren't the discs bigger?
A: Short answer: Because they don't need to be! Long answer: Our systems are built from a racing mentality. In the pro racing world, teams scrap and scream to remove ounces of weight from the cars. Anything that is larger than necessary to get the job done is simply dead weight to drag around. That is how we approach our design. If you want to go faster and a 14" disc will work, a 15" disc will simply add weight, increase the moment of inertia, and hinder wheel fitment. Sure it will look pretty behind 20" wheels, but that's not what this product line is about. Our 372mm discs have been proven many times on a lengthy list of very fast cars in endurance racing and at track days.
Keeping the discs at 372mm allows for 18" track wheels.
Q: Are these kits road legal?
A: All of the kits
Essex
sells are designed for off-road use only. If you read the fine print on any aftermarket big brake kit, from any manufacturer, you'll find the same thing...for off-road use only. We don't design our kits to meet any DOT standard, etc., as there is no such standard or requirement in the USA (there is however a DOT compliance spec on brake lines, which all of the Spiegler brake lines in our kits meet).
Q: Do your kits require more maintenance than other big brake kits on the market, due to the lack of dust boots, anodized caliper finish, etc.?
A: Short answer: Absolutely not! Long answer: We always get a bit of a chuckle out of this one, because it makes no intuitive sense. Stop and think about that one a moment. If you have a product that is specifically designed to handle the extraordinary high-heat conditions of track use, why would it require more maintenance when used under those conditions vs. brake components that were designed to piddle around on the streets at low speed?
When using your brakes on the track, dust boots are pointless. I've seen many people burn them up in a single session. Once that happens, you're just driving around with some tattered, burnt rubber bits attached to your pistons. We skip making that mess for you to clean up.
Also, many people confuse piston seals with dust boots. All calipers have seals. They're the little rubbery rings inside the piston bores. If a caliper didn't have a seal, your brake fluid would leak out around the pistons! Our calipers use special high-temp seals designed for track use. That means they are less likely to get brittle and wear out when used under high-heat track conditions, therefore increasing the service life of the caliper!
The anodized caliper finish we use also holds up better to track heat than paint or powder coat finishes, which shrink, crack, and change colors. Ever hear the term "Brownbo's" thrown around at the track? The anodized finish will also fare better to a nice splashing of brake fluid, which we all know happens occasionally during bleeds.
To further reduce the maintenance load on our customers,
Essex
offers a complete rebuild service for the life of the product. You remove your calipers, drain the fluid, and ship them back to us. As AP Racing's only authorized caliper reconditioning center in North America, we rebuild stacks of calipers each year. We will put your calipers through our full reconditioning process. The average cost is roughly $100 per caliper, a very modest price to save you the time and effort, and you'll have the peace of mind that the job was done by a pro.
I've had a few rally customers ask me about foul-weather performance (check out our blog to read about a rally win on our kit last weekend). IMO any aftermarket BBK will require similar maintenance and present the same problems in foul weather conditions. The most vulnerable area for problems is the attachment point between the iron disc and aluminum hat. That's why you don't see a whole lot of OEM two-piece discs using an aluminum hat. Most , like the M3, use a dual-cast iron design with as few moving parts as possible. What happens is, that road salt and other gunk gets wedged between the hat and iron disc ring, and it is essentially impossible to remove short of taking the disc apart. The salt eats away at the aluminum hat, eventually flaking, chipping, etc. We saw this a lot while I was at StopTech, particularly when we were selling a lot of brake kits into the B5 Audi S4, Lancer Evo, and STi markets, etc...where the guys run their kits all year through everything! Again, this is a problem that will be encountered on ANY aftermarket big brake kit. Also, the same sort of things happen with the caliper brackets on just about ANY aftermarket BBK. They're almost all anodized aluminum.
Q: Are spare parts available and reasonably priced?
A: Being a company brimming with racers and track junkies, we're very aware of the costs of running a typical event schedule for the year...event fees, gas, hotels, tires, etc. It all adds up quickly. When we put this product line together, availability and long-term running costs were of paramount concern to us. We did a couple of things to address these issues. First we're buying loads of spares and keeping them on the shelf in our warehouse. Buying in bulk also brings the cost down, so we can pass them along at prices that may surprise those of you who are familiar with AP Racing's premium pricing. Our 372x34mm discs are $399 each. When you look at the specification of our discs vs. the competition, their racing heritage, and the longevity you'll get from them, they are a bargain. Most of the competitive discs on the market are 48 vanes or less, weigh more, have less optimized vane design, inferior metallurgy, and have never been proven under the same conditions as the AP Racing discs. Many of our race customers have run an entire season or more on a single set of discs.
Pads are another area of concern for us. We know that brake pads are a very personal choice, and that everyone wants to run something different. As such, the calipers we're using in our systems use some of the most commonly available shapes on the market, produced by just about every manufacturer in every flavor under the sun.
We also stock spare pistons, seals, springs, and other hardware components so they're available when needed in a pinch.
Q: When can I buy these kits, and how much will they cost?
A: The TTRS front discs and entire kits have been designed, prototyped, and are nearing the end of the first production run. We expect to be shipping TTRS kits within the next couple of weeks. We will be bringing a local RS3 into our facility within the next couple of weeks. We expect that our discs and kits for the TTRS require only one small tweak to make them fit properly on the RS3. Once that change is made they will go immediately into production, and should be available for purchase within 6-8 weeks of that date.
I think that's it for the first pass. Feel free to fire away with questions. Thanks for taking the time to read this, and we're looking forward to solving some of your brake issues and contributing to this community moving forward.