Today's direct fuel injection systems have taken engine performance to a new level, but there's a drawback. With no fuel vapors to clean valves, oil particles will deposit themselves onto the valves and ports. Over time this will result in an excessive carbon buildup, resulting in lost power and poor drivability.
ECS now has the solution with our Performance Baffled Oil Catch Can System. In-house engineered, our system is designed to collect toxic blow-by gasses, reduce carbon build-up and reduce concentrations of acids, oxidants and water within the engine oil.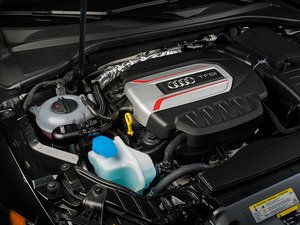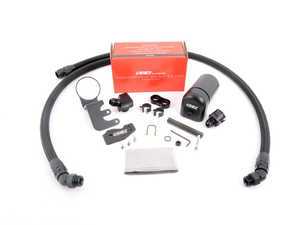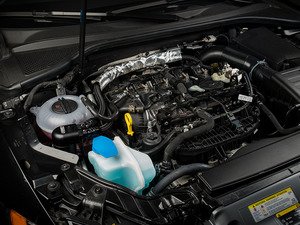 Key benefits of the ECS Tuning Performance Baffled Oil Catch Can System:
Highly Efficient Oil Separator (Catch Can):

*Strategically positioned 4 chamber baffle system maximizes oil / air separation
*Engineered to create multiple changes in the direction of airflow within the separator to cause oil droplets to fall out of suspension before exiting the catch can
*Knurled and black anodized integrated oil dipstick makes inspecting oil volume of the reservoir clean and simple
*Fully serviceable for routine cleaning and maintenance; Includes 2.5mm allen key to remove baffle plates for cleaning
*-10AN ORB (O-Ring Boss) fittings for leak-free fitting connections
*6061-T6 billet machined body, anodized black for lasting protection and appearance
*Easy to drain reservoir, simply un-threads from the oil separator for quick draining or cleaning


The OEM Audi fine oil (cyclonic) separator is retained. Due to the retention of this component, the catch can will not have to be emptied as often, as its focus will be on capturing the ultra-fine oil vapor*
Engine cover fitment is maintained with no modifications needed
Completely reversible installation, as no OEM components are permanently modified
OE style appearance once installed
Engineered and manufactured in the USA, you can expect the very best performance, quality and longevity with our superior Oil Catch Can System from ECS Tuning!
Caught in the act
Click HERE to order or for more information
Fits:
Audi 8V S3 (2015+)
Be sure to check out our ----->
Installation PDF
<-----
Let me know if you have any questions.
Jason