I'm waiting to take delivery of a "like new" used 2015 Audi A5 2.0T S-line automatic in Tornado Grey Metallic with black leather interior, brushed aluminum accent panels, flat-bottom steering wheel, black headliner, and 5-spoke rotor wheels.
I'd been casually looking around and browsing on-line for over a month for a low-mileage and nicely appointed 2013--2015 Audi A5 ... not in a tremendous hurry to part with my 2003 Acura 3.2 CL Type-S 6-speed manual sport coupe, but knowing I was soon wanting make another decade-leap-forward-in-time, automotively speaking. The moment I came across the on-line classified ad description and photos of this car, I knew from my weeks of searching that this one "checked nearly all the boxes" I was looking for, and the seller's asking price was just too good to pass up. But before pulling the trigger on the purchase, I researched the history on this car (which was clearly described -- with photos -- by the seller, an auto-body shop not far from Chicago, in the listing and on their FB page), I verified with Audi USA the seller's statement that this car was still covered under the remainder of Audi's 4-year / 50,000-mile New Vehicle Limited Warranty (NVLW), and I purchased the CarFax report that verified all the salient information provided by the seller as well as provided a few other non-essential details. Since everything checked out, I decided to buy the car.
So here is the car's "auto"-biography as I now understand it:
This 2015 Audi A5 was manufactured and shipped in July 2015 to an Audi dealership somewhere in TX, where it was purchased about 6 months later (just 1-year ago now) with the help of a car loan from a bank.
But sadly, just 3 to 4 months later (and with less than 6,000 miles on the odometer), it was "vandalized" by some individual(s) who poured paint stripper over part(s) of each of its body panels, and who furthermore gained access to the interior where he//she//they scored the dash and door panels with a sharp metal object that was also used to puncture holes in the front + rear leather seats and to crack the Navigation screen and the glass over the speedometer dial. Overall, a real tragedy for this nearly brand new car.
While for all we know this could have been a senseless random act of vandalism, to me it somehow seems more likely to have been a "personal" attack on the first owner's property (maybe even their "most prized" possession?) ... not just the exterior but the interior as well ... possibly by a cheated- or jealous- boyfriend or girlfriend or ex- husband//wife//lover or business associate, or victim, or ?? ...I'll never know, but it was most likely a result of some Bad Karma, one way or another. So if there's a moral lesson here, it is a reminder to "Be Kind" to those close to you and treat them how you'd like to be treated --- nobody wants or deserves this sort of Bad Karma (or at least, I shudder to think what bad deed(s) might have prompted someone to vandalize a person's car in this manner, whether "deserved" in any degree or not ....).
All speculation aside, within weeks the original owner's bank lender and insurance company had settled with the car being declared a TOTAL LOSS, and a Salvage Title was issued. Four or five months later, the car was sold at auction in Indiana. It was purchased by an auto body shop outside Chicago, hoping they could attract a buyer to whom they could sell the car in "as is" condition and then be hired by that buyer to restore the car to "like new" condition. But when no such person stepped forward, the owner of the body shop decided they would do the work themselves anyway, then advertise it for sale once the work was complete. They performed this work in-house over the next two-and-a-half-months or so, including purchasing another Audi A5 S-Line (severely collision-damaged in this case) at auction to use as a donor-car to replace the damaged interior portions of the vandalized one. It's obvious the team at the shop takes pride in their work and paid great attention to detail in the process of this refurbishing and repainting effort -- the final result is very nice indeed, essentially restored to "like new" condition again, both inside and outside: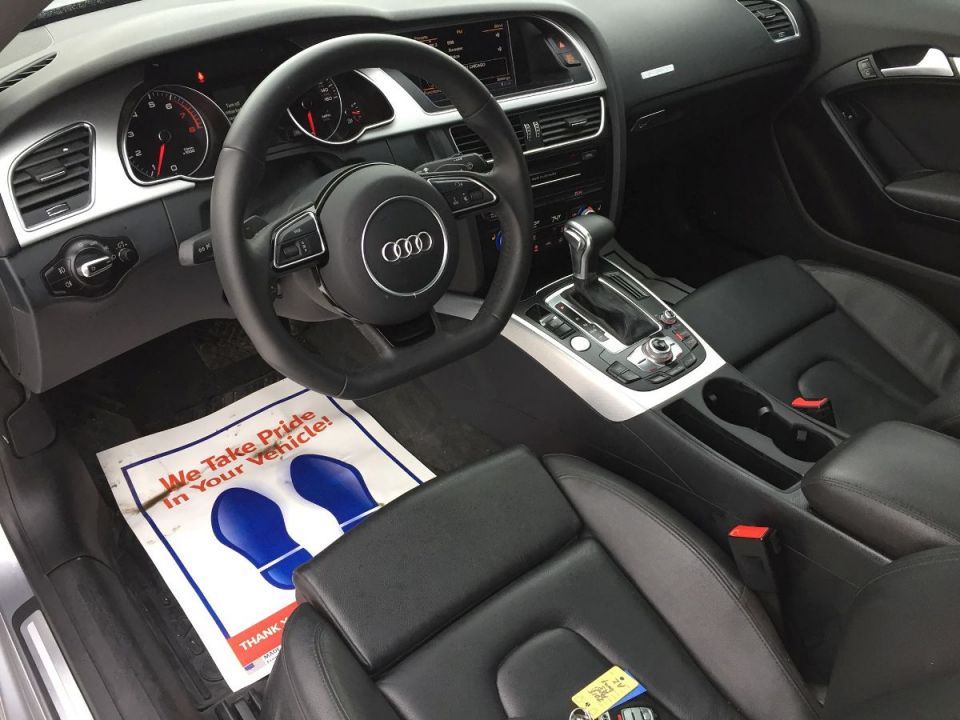 (Since the front grill of the vandalized car was damaged by the paint thinner, and the parts "donor car" used to refurbish the interior had suffered front-end damage also, the team at the body shop decided to install an aftermarket RS5-style front grill as a replacement ... a smart choice, and I for one am not complaining
...). The car now carries a Rebuilt Title following the Salvage Title it had prior to being sold at auction.
This refurbished and repainted Audi A5 had apparently been listed for sale for almost 2-months (albeit half of that was over the period between the Thanksgiving and New Year's holidays), with a few drops in the asking price over that time, before I discovered it and purchased it. Due to its history and the "branded title" it will have for life, maybe most buyers were not interested (possibly with an eye to its resale value when it comes time for them to trade-it-in or sell it), but
my habit with the used cars I've owned
is to hang onto them and drive them for 10+ years, so the impact of a branded title on the resale value of a 2015 model A5 in 2027 or 2030 doesn't strike me as a major concern. And since the vandalism damage was all cosmetic, with no mechanical damage to the drive train, frame, or suspension, etc., this seemed to me like an opportunity to purchase a newer-model-year car with far fewer miles on the odometer than would otherwise be possible at that price. Having spent a month shopping around, I would estimate that my savings on this vehicle was around $10K compared to what an equivalent low-mileage 2015 model would have cost ... so overall I'm very happy to have found this car still for sale, and in such outstanding refurbished and restored "like new" condition.
In this first year since the car was originally purchased, obviously it's had quite a tumultuous start to its life. Hopefully its next 10+ years with me behind the wheel will be extremely "boring" and "uneventful" by comparison --- for starters, hopefully no need for any future visits from any insurance adjusters, or visits to any auto body shops (and most of all, no Bad Karma prompting someone to take retribution out against the car for a second time
...). For any remaining unexpected problems, I'm definitely glad to have the car with still 3-years / 44,000-miles of coverage left on the original Audi NVLW factory warranty....
Wishing all of you a future filled with only Good Karma as well !
-- Jim