I already blame myself enough and am aware what I did was stupid by not taking my car to a more trusted shop or doing the work myself but i'll share this post anyways and be ready for the flaming :(
I was looking through Groupon and happened over a $49 deal to get a full synthetic oil change at the Valvoline Instant Oil Change place. [edit] Note, I usually do the oil changes myself but its been a little hectic lately. We are selling the house, things are packed up, yada, yada. So I figured, why not do an added 5K interval change at such a cheap price and i'm driving around anyways near there. I cant buy the parts that cheap and it's Valvoline so whats to lose right? ...and there is where my mistake lies and what turned into a 4 hour ordeal that involved police.
I pulled up to the oil change place and stayed in the car. A couple minutes into the change I feel a jarring / ripping sensation through the floor of the car. I'm thinking, "Hmmm, I hope they know to slide the aero belly pan to the rear to let it drop down instead of pulling on it." ...I make a mental note.
So now they are at the stage where the person up top starts to pour in the motor oil. He starts to poor it in and stops pretty quickly yelling to the guy below to make sure he drained it all out as it is overflowing. ... Mental note number two. Hmm.
A few minutes go buy and I call the manager over and mention to him that I would appreciate it if he make sure all the 1/4 turn fasteners are put correctly back into place because they are very expensive to replace. He smiles and assures me he will make sure that happens.
Now the oil is supposedly back in the car and we are about to close our transaction. I'm standing at the front of the car and i'm staring at a 1/4 turn fastener sitting on the ground under the front of my car. I'm waiting...waiting..waiting for someone to pick it up to put it in or to tell me "You're all set." ....and sure enough I hear..."You're all set; you are good to go." So I bend over and pick up the 1/4 turn fastener and ask to talk to the manager.
The manager comes over and I point out to him that his person just left $20 worth of fastener of mine on the floor and I'd like to go into his pit to see what else is missing. He takes me down into the pit where I see this...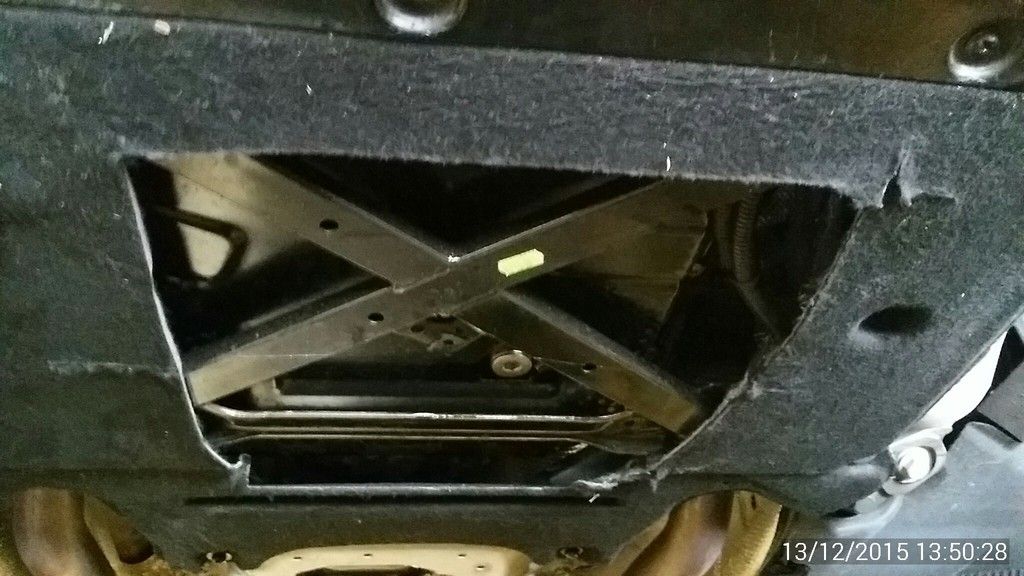 I'm looking up at the car at first and I see the DSG drain plug right there and there is DSG fluid all over it and dripping. I'm thinking "Why can I see the DSG drain plug? Theres supposed to be an aero pan covering this?" and i'm also thinking..."Oh crap, they drained the DSG fluid."
As I keep looking up my brain starts to register what it is seeing. Holy crap, this guy cut my car into pieces. My aero pan has a huge hole cut into it. I'm standing in the oil pit now with the tech and the manager and I ask the tech if he did this to my car and if he drained my DSG fluid. He says absolutely not. Well since I am under my car every week and I know no one else was under my car I'm finding that very hard to believe. So I took it upon myself to walk around their oil pit until I found two of these..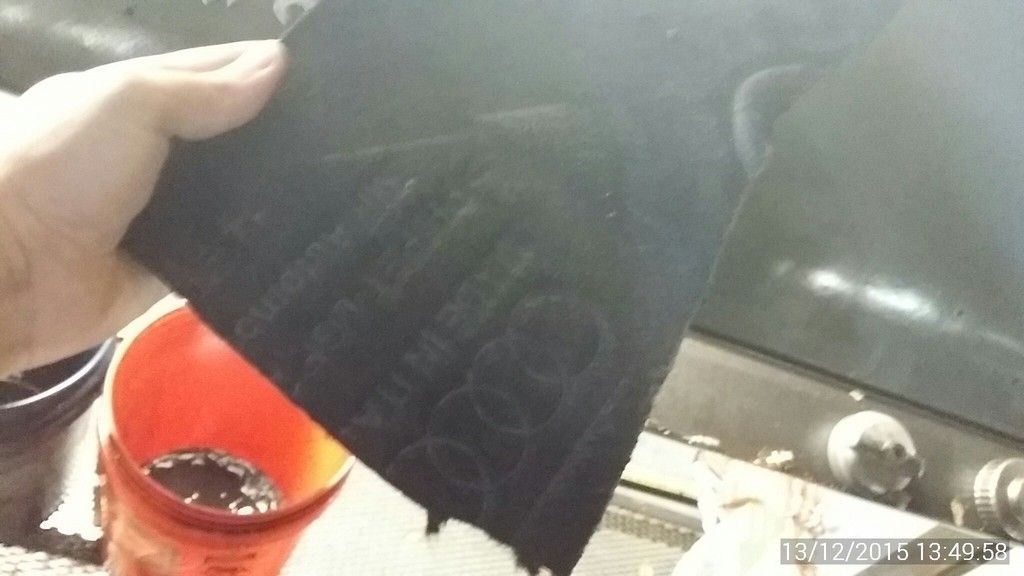 Yeah, sitting in their trash can are two pieces of my aero pan he cut out. At this point i'm thinking that I need witnesses, and alot of them. I call my wife and I called the police so I could at least get a report.
It looks like this is what happens...
1. Employee cuts hole in transmission aero pan and drains DSG fluid.
2. Tech tries to put in motor oil and it overflows all over the engine because no engine oil was ever removed.
3. Tech and manager were going to let me drive on my way with no DSG fluid and massively overfilled engine oil in which case id likely be out an engine and transmission.
I had the car flat bedded to Audi and will await the damage on MON. I'm worried they tried to cover up their mistake of draining the DSG fluid and put some no name brand automatic transmission fluid in the DSG in which case I dont even want to know how I can get Audi to test the fluid in there to see if it is non OEM.
I have learned my lesson. This sunday sucks.
Mike
.................................................. .................................................. .................................................. .......
UPDATE 1:
On 12/14/2015, after business hours I sent the following letter to Valvoline...
Good Evening,

My name is Michael XXXXXXXXXXXXXX, owner of the 2015 Audi S4 that was damaged at the Valvoline Quick Oil Change center at 9012 FL A1A Alt, Palm Beach Gardens, FL 33403.

The following occurred on 12/13/2015

1. I pulled my car into the right side service lane. While sitting in the car I felt a sharp jarring motion of the car.
2. A few minutes passed and the technician on the top floor came over to my car with two large jugs presumably filled with motor oil. He began pouring the motor oil into my car and stopped relatively quickly shouting below indicating the oil was overflowing.
3. I was asked to step out of my car so they could raise my car up in the air in order to remove the front (engine) belly pan.
4. After a few minutes the technician poured the rest of the oil into my engine.
5. I asked the manager to be certain all 1/4 turn fasteners were re-installed as they are quite expensive.
6. While standing in front of my vehicle I was told my car was completed and ready to leave. I was advised to start my car to check for oil pressure and I complied by starting my car and revving the engine lightly. I was advised I could drive my vehicle home.
7. I noted a 1/4 turn fastener located on the ground under my front bumper and brought it to the managers attention. I asked him to view the bottom of my car with him to inspect for further neglect.
8. Upon going into the oil pit and looking up at my car I located an exposed DSG transmission drain plug with wet transmission fluid leaked around it as well as on the lower chassis brace next to it. I noted the transmission aero belly pan had been cut into and destroyed. See attached pictures.
9. I asked the technician why he did this damage and he claimed he did not. I looked into the garbage can down in the oil pit and found the two pieces of my car that were cut from my car in this trash can. See photos.
10. I contacted police who responded: See North Palm Beach Police Department report# XXXXXX
11. I was advised by officer XXXXXXX that he had secured a confession from the technician admitting to damaging my aero. The shop manager and owner later admitted to "cracking" the DSG transmission drain plug. I was advised by North Palm Beach Police I have the right to press charges.
12. The vehicle was flat bed towed to Audi of West Palm Beach. The technician found the DSG transmission to be missing all but 1/2 quart of fluid. The engine oil was not filled completely as 2 quarts had been poured into the engine prior to the Valvoline technician draining the engine oil (he had instead drained the DSG fluid). Please see the invoice for which I have paid in full.


Please submit to me payment in full within 7 business days. Please confirm receipt of this email.

My address is:

Michael XXXXXXXXXXXX
XXXXXXXXXXXXXXXXX
XXXXXXXXXXXXXXXXX

I can be reached M-F from 7:30am until 4pm at XXXXXXXXXX and after 4pm and weekends at XXXXXXXXXXXX. My preference is email communication.

Thank you.

Michael XXXXXXXXXX
On 12/15/2015, the following morning, I received this reply....
Subject: Transmission Drained

Updated Information:

Hello Michael,

Thank you for taking the time to contact Valvoline Customer Care and your patience in addressing this matter. The documentation for your claim has been successfully received. It has been attached to your claim (claim# 1-227256) and you will be issued a reimbursement check in the amount of $1,442.48. You will receive the check in the mail within 7-10 business days.

If I may be of any further assistance, please don't hesitate in contacting me.


Sincerely,

Melissa

Valvoline Customer Care

vioc_customer_service@ashland.m

800-327-8242 opt# 2
859-357-5227 fax

Thank you,
VIOC Customer Care
UPDATE 2:
On 12/18/2015 I received a phone call from the Valvoline regional manager. He stated he was aware a check had been issued but he wanted to follow up with me regardless just to make sure an apology had been appropriately expressed to me and wanted me to know that the employee had been terminated. He wanted me aware that Valvoline does not tolerate this kind of service. I expressed my appreciation for him reaching out.
As far as responses go from corporate, I am impressed with their response time and their response itself. It appears that as long as you do your diligence and make sure you document document document and make sure you observe observe observe as any errors are made, Valvoline is willing to step up and provide compensation for their errors. Reflecting on this, I suppose that can be a positive aspect of going to a quick lube that is backed by a more reputable company. You actually do have the opportunity to observe the oil change as it is happening. If I were at a shop and this was done back in a bay on a lift somewhere out of my sight, I may have never noticed the issue until my car stopped running days later. I know I dodged one this time.
Mike