(not so) Deep thoughts by 100Daily:
What is wrong with official state of Colorado "Share the Road" license plate?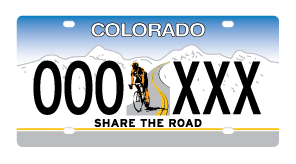 Lets see... They are raising money from bikers to promote "sharing the road". Good cause. Road safety. I get it, so for a logo they decided on....
A BIKER RIDING DOWN THE DEAD CENTER OF A CURVY ROAD
Of course that would be the opposite of sharing, and I laughed because of course it's such an accurate portrayal of reality. Ahh the irony.
Why not a version for cars that just shows a car driving down the middle of the road? lol
Why can't the logo be a bike and car
sharing
a road like "share the road signs" from the good old days?
I thought this was dripping with irony and I found it amusing.
Be safe.