I thought I would share this with the forum for those who are considering doing LED conversions to their front/rear turn signal bulbs. I will lay out my process as best I can, and hope members may find some value in this journey
As we all know, if you just replace the bulbs straight out for the filament bulbs, you will incur 'hyperflashing' - a state where the lamps will blink at a very fast rate. This feature is to alert the operator that one or more of the bulbs in that circuit has failed - a safety feature. Normal blink rates are commonly accepted as being between 60-120 blinks per minute AFAIK.
Most people commonly install 'load resistors' in parallel with the new LED bulbs so that the flasher relay is fooled into believing that there is a proper amount of 'load' on the system and therefore not invoke the hyperflashing. Typically, the bulbs for our AUDI's are 21W so for bulbs it is common to place a 3 ohm 50W resistor at one of the lamp assemblies in order to create 'load' to fool the relay. This works, but has a flaw in that it creates a ton of heat to dissipate (temps of these resistors can exceed 400F), and it defeats the purpose that LEDs are efficient (you are now creating little heating elements somewhere in the cowl of your AUDI!). I had searched for an alternate solution in the form of a LED replacement flasher relay for AUDI that would be 'plug and play' and remove the need to hang heaters off of my vehicle
If you are handy, and have $0.65 to spend, you can modify your stock relay to solve the blink rate problem while still retaining the natural clicking audio and the 'bulb out' safety feature
In shortly here is the procedure how to fix fast turn signal issue with LED amber turn signal lights like this bought cheap from ebay.
Well here is how I did it...
You need to modify the hazard switch. So to take it apart you need to remove the metal retaining clips either side. Once these are removed you can begin to weasel things apart. I found the best was to use a small jewelers flat blade screwdriver to hook under and unhook the metal tab from the back of the unit and slide them out. Once you've done this, you can get a screwdriver in the back of the unit to unhook the plastic lugs that the metal clips hooked into. Then just pull the red hazard button off.
My car is A6 C5 preface lifted Euro model 97-00 so turn signal hazard switch look like this (part number 4B0941509) the same or similar are also on A4
It is preety basic mechanical switch with bimetal
The facelifted model 01-0X has different switch and this flasher is electronic, and features two independent relays to toggle to current out to the four corners. It also is responsible for the 4-way hazard lighting as well.and look from inside like this:
Here are some basic formulas you need, but you wont, cause I will tell you what to do: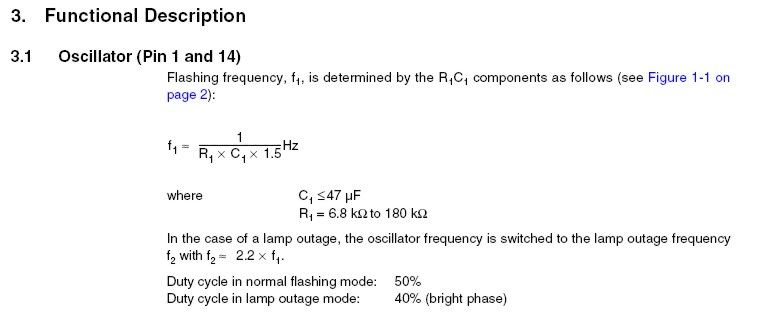 So with this trick you have :
1. Clear look headlamps
2. Energy saving
3. No need for any resistors in headlamp so there is no wasted heat with resistors before the headlight, and everything is made directly in the relay.
4. Currently switching on / off
5. No fast flash
What we need to mod is so called SHUNT RESISTOR which is special wire and found that the R(shunt) resistance is what actually measures the loads for the bulbs, and the threshold set by this value will determine at what point the unit will invoke the hyperflashing. On the board itself, the shunt resistance is provided by this item: ( U SHAPED METAL)
FOR PREFACELIFTED
FOR FACELIFTED MODEL look at few pictures above
I know, it doesn't look like your 'typical resistor', but the length of it in addition to the wiring harness plays a role....go figure.....
Nonetheless, what I am trying to achieve is to modify the load sense circuitry so that rather than expecting l(lamp) being an average of 2.7A for filament bulbs, is to 'tune it' so that it now is looking for 800-900mA loads as the norm (VLEDS list the CK switchback at ~ 450 mA, the 7443 is in the same neighborhood).
At the end of the day (and some math), the shunt resistor would now need to be tuned to a value of 0.1-0.1 Ohms rated for at least 1 watt. This would result in normal flash rates for the following scenarios:
[2] regular filament bulbs running - if one filament fails, no hyperflash. If both fail, then hyperflash
[1] LED and [1] filament bulb running - if LED fails, no hyperflash. If filament fails, then hyperflash
[2] LED bulbs running - if one or both LEDs fails, then the unit will invoke hyperflash
SO WHAT YOU ONLY NEED IS TO BUY 0.1 Ohm resistor
at least 2 W or more
Here is how mine look it is prety bulky so I need to take of the ceramic coat to fit into the standard case of hazard switch relay
So next step i did is that I cut the top of U shaped shunt resistor and to soldier wire that 0.1 OHM resistor to get more load.
Excuse the crappy soldering job, but I was in a hurry
Anyway, the key here is to remember that the length of the resistor leads will have an effect on the resistance values seeing as we are dealing with such small tolerances.
The IC chip is very well rated, and will not be harmed by something warm touching it - currents at the board level are so small, that heat dissipation will not be any concern or problem.
The relay goes back into the harness as per normal and you are done!
Testing:
So I tested and found that the relay now operates with 2 filament bulbs at exactly the OEM blink rate. Same audible click we have all grown to love. One LED in the rear and filament in the front produces the same result. Two LEDs is also consistent.
Removal of one of the LED bulbs is confirmed to invoke hyperflashing to alert you that one of the LEDs has failed. The modded relay does not generate any tangible heat, and functions normally for both turn signal functions as well as Hazard warning lights.
I hope you find this write-up helpful! Remember - this information is for information only, and any warranty/liability blah blah blah entirely up to you
I plan to source out locally a proper single resistor and replace my test ones later on down the road.
Will update with few pictures how they work
Cheers and enjoy!
Bruno