You must have
sw260
and Vagcom
Pn# 1J0 972 977 G --Housing
(x1)
Check your rns-e before you order this part. You may already have it.
Pn# 000 979 009 E --Wire set
(x2)
Radio shack 3.5 jack and wires
Step 1:
Find a location where for the aux outlet. DO NOT DRILL ANY HOLES YET!!! It will be a PITA
if this DIY doesn't work for you.
Step 2:
Cut both of the wire set in half and then measure the length of wire needed to reach the outlet and connect them together.
Step 3:
Solder the wires to the aux outlet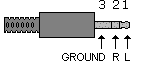 Step 4:
Push the pins into the housing.
Aux Right- pin 6
Aux Left - pin 22
Aux Ground - pin 21
Step 5:
Plug it into the rns-e to test it out.
Recode the RNS-E to enable Aux input using vag-com
XXXXX?X
? = 5 to enable AUX
? = 7 to enable AUX and SAT radio
Step 6:
Wrap the wires with black electric tape.
Step 7:
Drill a hole for your aux outlet and mount it.