The purpose of this thread is to create one central location for information, questions, answers, and discussion concerning the timing chain system used in the Audi B6/B7 S4.
General Information
Does my B6/B7 S4 have a Timing Chain or Timing Belt?
The quick answer is
Timing Chain
. The B6/B7 S4 4.2 liter power plant is a chain driven system. Other variations of the 4.2 liter V8 are belt driven which can be found in models such as the C5 A6 4.2.
Location of the Chain Driven System
Unlike the belt driven system which is located in the forward section of the motor, the chain system used in the B6/B7 S4 is positioned at the
REAR
of the motor facing the firewall.
It's not your chain, its the Tensioners / Guides
When you hear of chain failure in the S4 motor it is in fact the cam adjusters, chain tensioners, and chain guides that wear out / break. There have been no issues to our knowledge of an actual chain snapping. Some cases include:
Bad Adjusters
Broken Tensioner
Worn / Broken Guides
Cold Start and the Infamous Rattle
During a cold start-up you might have heard a weird rattle coming from the engine at one point or another. Here is what the Audi TSB states for this issue:
The Camshaft Adjustment is hydraulically adjusted and controlled by the engine oil pressure. If the engine has been turned off for a long time, the oil pressure drops down and the oil partially flows back into the oil sump. To ensure an efficient camshaft adjustment right after an engine cold start, the oil pressure inside the camshaft adjusters must be built up as fast as possible. During this time, a rattle or knocking noise may be noticeable.

This noise is normal at engine start and will last until the oil pressure is fully built up, which takes about 1-2 seconds. There is no applicable production solution.
If you are hearing this noise it is considered "normal" by Audi. Whether us consumers feel it is normal for a 50k sports car, well that is up to you to determine. This does not necessarily mean that you will need your timing system serviced soon. However, it does hint that your tensioners might be worn.
How to combat the Start-up Rattle / Prolong Life of Timing Components?
Here are a couple tips to ease the start-up rattle / duration and to get the most out of your vital engine components
Frequent Oil Changes: A lot of members change their oil between 3,000-5,000 miles. Try and adopt a similar schedule , anything much over this range is considered too long.
NOTE: Frequent Oil changes will not PREVENT failure of the timing components, but help reduce wear on the guides


High Quality Oil: The oil is the life blood of your motor. It is recommend to use quality oil during oil changes. Our motors use 0w40 or 5w40. A couple popular brands include: Mobile 1 / Lubro Moly / Motul
Proper Care: If you want the maximum life out of your motor you have to take the necessary steps to take care of it. Allow proper warm up, don't beat on the car when it is cold and expect it to last forever. Keep up with scheduled maintenance and address issues as they arise.
Does this failure happen to all of the B6/B7 S4's?
The short and sweet answer is NO. Out of the thousands of S4's sold between the various platforms, only a small percentage of these cars have seen catastrophic failure resulting in service. However, although only a small number, it is something to consider and think about when purchasing this vehicle.
I have heard failure occurs at 100k miles, is this true?
There is no set mileage where failure is imminent. It is a case by case basis on these documented situations. We have seen some engines fail in as little as 40-50k miles and others well over 100k miles. There are a bunch of cars over 140k miles who have had no issues at all. However, several polls have yielded though that the mean average of failures from timing chain components occurs near or around the 100k mark.
Again, if you are considering a car with 100k miles this does not mean the engine is about to blow, but it is something to consider and keep in mind.
Symptoms / Codes: What needs to be replaced?
Cam Over-Advance Codes
If you are getting this fault code you will only need to replace the cam adjusters. This can be done WITHOUT removing the motor. It will be tight, but the cam adjusters can be replaced by removing the rear timing covers when the motor is still in the car.
Start-up Rattle
As stated before, Start-up rattle does not necessarily mean your timing components needs attention. Techniques such as frequent oil changes and quality oil can help this situation. However, if they progressively get worse the chances are they will attention in the near future.
Possible Causes-> Worn Tensioner, Failing Adjuster
Mis-Fires / Lack of Performance
If you start to experience lack of performance and Mis-Fires then the condition is progressively getting worse and will require attention soon.
Possible Causes-> Failing Tensioner, Failing Adjuster
Car is in limp mode
If your condition gets to the point where the car goes into limp mode than you have a serious problem that needs immediate attention. Stop driving the car and have it towed home or to a local dealer / indy shop. Further driving could result in more damage to your motor
Possible Causes-> Broken Tensioner, Broken Adjuster, Broken Tensioner Guide
Is you are having any of these symptoms please use this thread to ask any questions or make any comments. We will collectively try and help as much as we can with your issues. It is best to try and narrow down your problem before making decisions or assumptions.
Supplemental Pictures
Cracked / Broken Guides
Bad Cam Adjusters. Take notice to the second picture. The hole should be a perfect circle like the adjuster on the left. Notice the oval shape / wear created on the bad adjusters.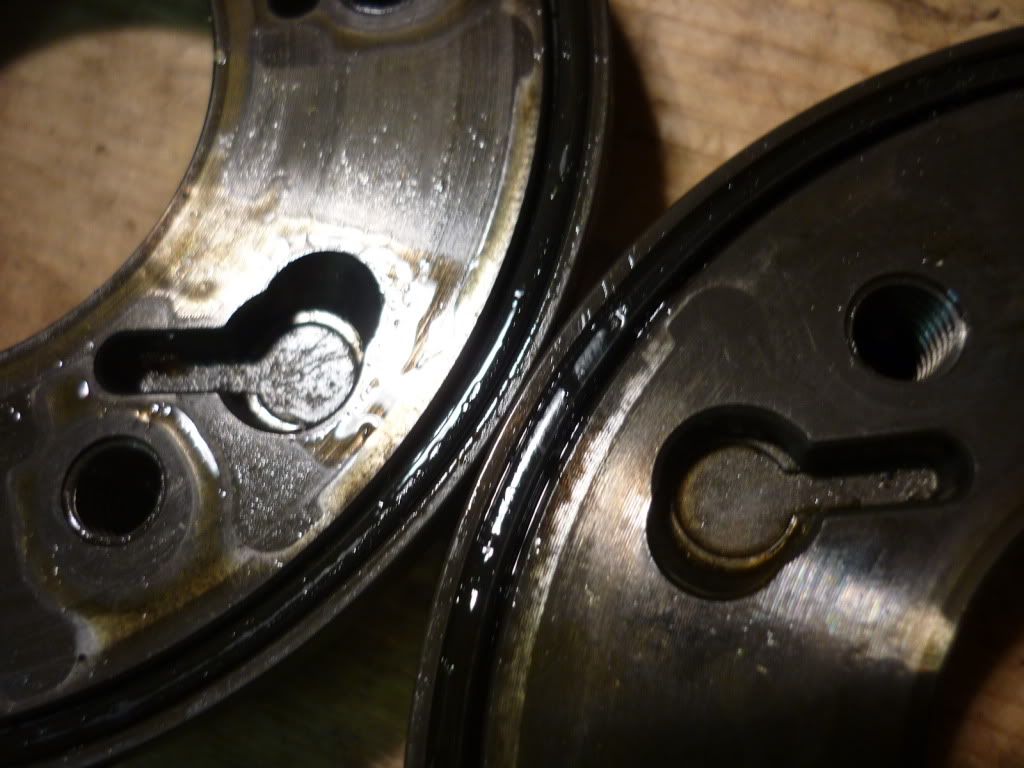 Timing Chain Service
Is a motor pull required to service the Chain System?
If you need to do a full chain service the motor will need to be pulled from the car. Since the chain assembly is located at the rear of the motor is makes it impossible to access while in the car.
There have been individuals who have only had to replace the Cam Adjusters in their motor. This type of service can be done with the engine still in the car.
I. DIY Approach
These guides will help you service your timing chain system if you wish to go the route of doing it yourself. Keep in mind this is not something that you can knock out in a day. Plan accordingly and assume it will take you longer than a full weekend to complete. With a few hands to help and all weekend allocated, I feel this is something that can be done in two days start to finish.
ENGINE PULL DIY
TIMING CHAIN DIY (Will be available once i am able to get my hands on one)
Cost of Parts
Depending on your situation and your mechanical ability, the timing chain service price can fluctuate. At the bare minimum you are looking at the cost of the new parts if you plan on doing everything yourself. Here is a list of the parts required for a COMPLETE overhaul. Please note that you may not need to do everything listed here, such as the Cam Adjusters.
079109087N — Cam Adjuster [2]- $975
N91086201 — Cam Adjuster Bolt [2]- $14
079109210H — Control Housing [Bank 1]- $650
079109204L — Control Housing [Bank 2]- $650
079109092B — Control Housing Gasket [Bank 1]- $3
079109091B — Control Housing Gasket [Bank 2]- $3
079109218D — Chain Tensioner [Bank 1]- $100
079109217J — Chain Tensioner [Bank 2]- $100
079109510E — Tensioner Chain Guide [Bank 1]- $35
079109514B — Chain Guide [Bank 1] $30
079109513C — Chain Guide [Bank 2]- $35
079109469AD — Center Upper Chain Guide- $32
079109469AA — Left Lower Chain Guide- $32
079109510F — Left Lower Chain Guide- $30
079109507G — Lower Chain Tensioner/Guide assy- $58
079109467AE — Lower Chain Tensioner- $44
06E905163 — Cam Position Sensor [Bank 1& 2]- $13 x 2 = $26
079109293C — Hydraulic Controller Seal [2]- $6
079131120A — Coolant/SAP Gasket- $8
079109139A — Center Lower Gasket- $5
079131120B — Kombi Valve Gasket [Pipe 2 timing cover]- $3
078131120K — Kombi Valve Gasket [Valve 2 valve]- $3
079105193 — Diamond Disc Washer [2]- $130
035906149A — Fuel Injector Seal Set [8]- $10
077129717Q — Intake Manifold Gaskets [2]- $70
077198025B — Valve Cover Gasket Kit [Bank 1: 1-4]- $55
077198025C — Valve Cover Gasket Kit [Bank 2: 5-8]- $55
079115111A — Oil Filter Housing Seal [Double O-Ring]- $4
N90959701 — Oil Filter Housing Seal [single O-Ring]- $3
********* — Rear Water Manifold O-Rings [2]- $2
Chains- Optional
079109229 — Timing Chain Center Upper- $98
079109229D — Timing Chain Center Lower- $88
079109229K — Timing Chain Upper Left- $98
079109229L — Timing Chain Upper Right- $98
REQUIRED SPECIAL TOOLS
To complete the timing chain service you will need a few special tools:
Crank holder / Pin
2 x Trim Wedge
1 x Multi-point Socket
1 x Pair of Camshaft Locators
1 x Setting Gauge.
Parts can be purchased
HERE
for $350 or rented
HERE
for $150
Based on the list prices above the Total Cost of a complete overhaul for
PARTS ONLY
(No Tools) will be:
A. Slightly above
$3,000
with the Cam Adjusters
B. Right around
$2,000
without the Cam Adjusters
Therefore, if you plan to do all of the work yourself you can have it done for the cost of parts you replace.
II. Shop / Dealer Approach
What should i expect to pay to have a shop do the labor?
The cost of having this job done is going to vary from place to place. Each shop has a different labor rate which will effect the amount you will pay to have it done. We have seen quotes for this service for as little as $5,000 and some quotes over $10,000. Again, it all depends on the shops labor rate and the parts being replaced.
One recommendation we have is to have this job done by an experienced Indy or Audi dealership who have done this type of work before. It is a very tedious and involved service that should be completed by experienced technicians. This job is far to costly and time consuming to have it done incorrectly or faulty.
This service seems really expensive, Can't I just buy a used motor for less?
In some cases it may very well be cheaper to buy a used motor to replace the current engine that needs a timing service done. However, be aware that there is no guarantee that the used motor will or will not need a timing chain service of its own in the future. A lot of people will pay the extra cost of the service for peace of mind knowing that their timing components are freshly updated. In the end it is up to you on which route you want to take.
Used motors with lower miles can be had in the range of $2500-$5000. The price will reflect the miles, condition, warranty (if applicable), and the components coming with the motor (bare or complete long block).
Buying a used motor instead?
Make sure the motor has a leak-down and compression test
Try and find a motor with low miles
Warranties are always a plus for used motors
My motor is out for the Timing Chain Service, what else should / can i do?
With the motor out of the car there is an opportunity to take care of maintenance, modifications, and other failing parts that are far easier with the motor out. Here are some items to consider with the motor out:
Maintenance:
Clutch and Flywheel
Motor Mounts
Engine Components (Starter / Compressor / Alternator / PS Pump)
Serpentine Belt
Valve Cover Gaskets
Spark Plugs
Modifications:
JHM Headers / Aftermarket Downpipes
JHM Intake Manifold / Spacers
JHM Oil Cooler
JHM Crank Pulley
Snub Mount
JHM Shifter Trio
RESOURCES AND GUIDES
ENGINE PULL DIY
Replacing the Bank 2 Cam Adjuster VIDEO
Please note that a bunch of this information is a collective effort from the community. Thanks to all for the helpful information to make this thread possible. If you would like something added please post up what you would like incorporated. If you feel something needs to be changed, feel free to comment.