This thread is pretty extensive now and over a few years old. Lately with the photobucket issue none of these old build thread pics work. Ill try and post up a few here and there with a different svc:
Newest on the list is:
*Turbo Concepts TC2-T Snails
*Vehicle Wrap
*35% Ceramic Tint
*19" D3 sport wheels w/ conti DW 275/35/19
*New front wheel bearings AGAIN
*034 Adjustable uppers
*New Arnott front struts
Down the Road:
*Alcantara headliner
Here is the old thread with broken photobucket links...
---------------------------------------------------------------------------------------------------------------------------------------------------------------------------------------------------------------------------
I figured that I should post my progress to my stage 3 build in one opposed to posting multiple threads. I have owned three audis before this and this is my first time really getting to know the ins and outs of how these vehicles work. As many of you know I bought an 02 allroad with a blown motor:
http://www.audizine.com/forum/showth...y-ideas-please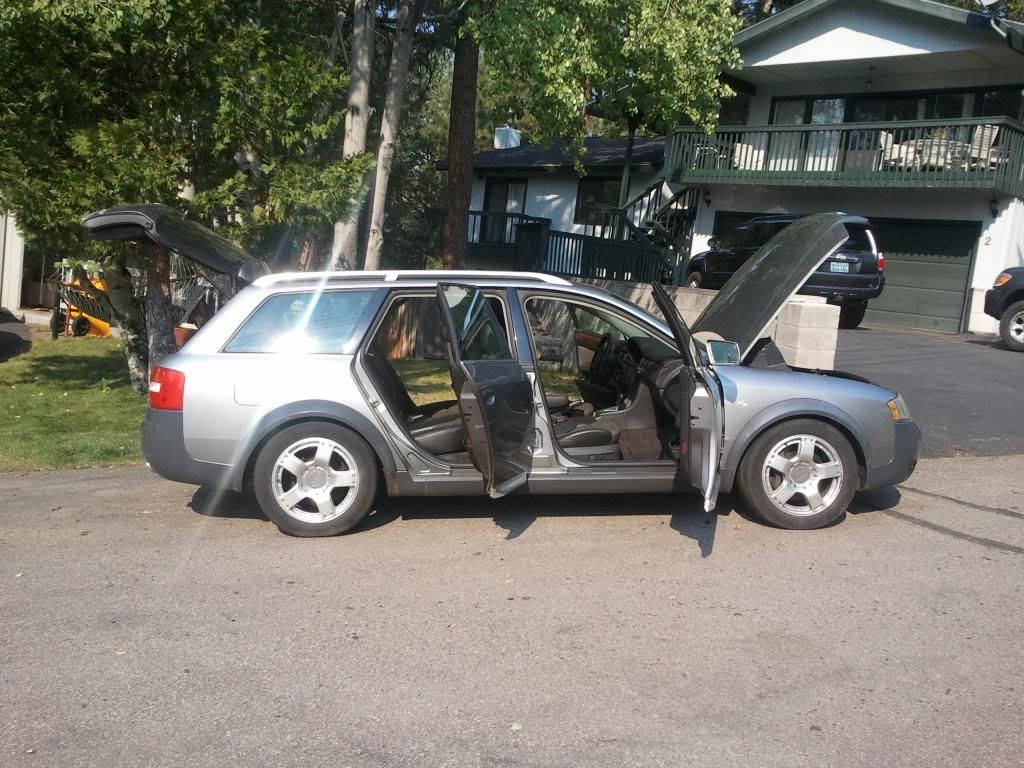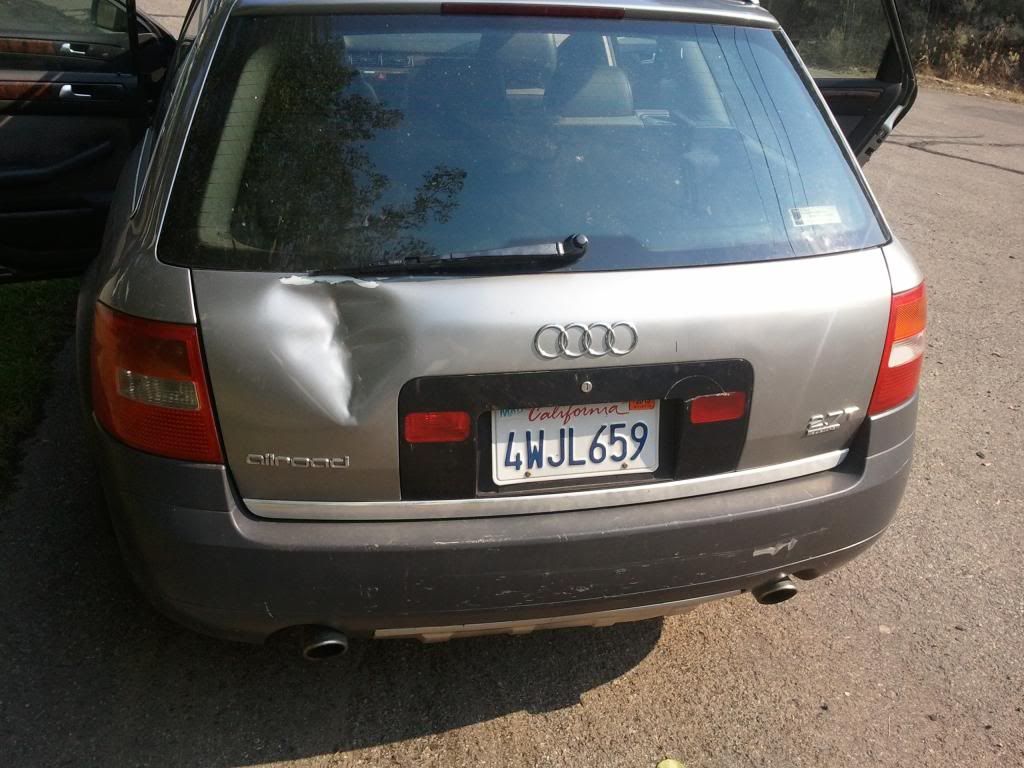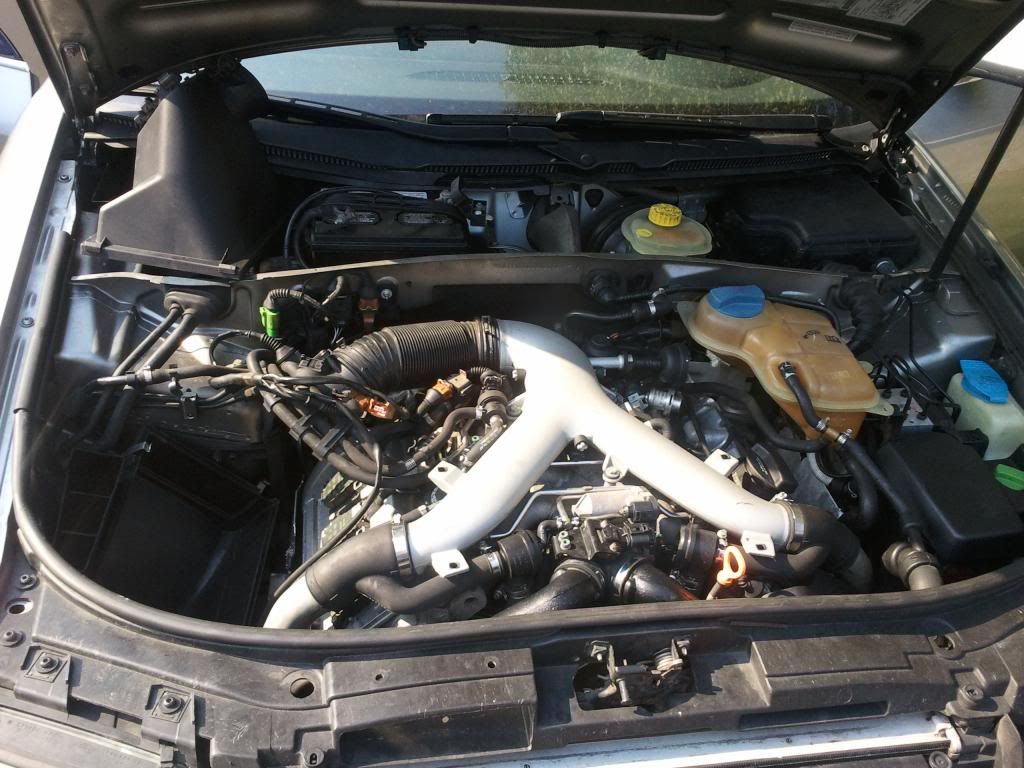 Needless to say the car was in extremely poor shape and is undergoing a complete rebuild inside and out. "Look at the exhaust pipes, someone ran over a rock or something and bent the exhaust support bar" The previous owner ran the car without coolant I believe thus the blown engine. Coolant bottle has 5" crack. Who could possibly treat a car with such dis-regard blows my mind. Since these pictures I have gutted the old engine and washed the engine bay. Purchased a new engine with 95k and used BW 04s with 35k (thanks to mbandit). I installed new valve cover gaskets, cam plugs, cam seals, etc. Also installed in new timing belt, pump, pulleys, etc. The turbos arrived this weekend and are now installed on the new engine with new washers and gaskets from turbo install kit. New exhaust manifold gaskets installed. The used 04s had heat wrapping on the exhaust manifold and all inlet pipes, this was awesome! SAI Delete plugs from 034 are installed and new vacuum lines have been installed on entire engine. 330 Ohm resistor was installed on new wiring harness for SAI system. New wiring harness was obtained from Korben007, in great shape (old wiring harness was burnt to a crisp from engine over heat). At this point I have gutted the pre and main cats and test pipes are ready to be wielded together (considering to put cutouts here instead, not sure yet). I also bought a rear lift gate from 3.0 avant "wrong color" and is going to be painted to match. PCV hoses were burnt to a crisp so I built a new system with silicone hoses and original plastic adapters.
Plans for 3 build include (will include pics later):
OEM K04s
Meth injection system
TDI Trans from Scotty
Air compressor rebuild from Bagpipingandy
Alcantara seats from an s6
IPP arms from Silva
Halogen to Xenon conversion with OE parts & 3k xenon fogs
Personally painting front and rear bumper, lift gate, and fenders with LY7Q
Shark Fin to replace broken rubber antenna
BBKs - front & rear
RNSE with extras
OEM Heated Wheel
4K hitch from justmtnb44
Drivetrane stabilizer, Stern engine and trans mounts, apikol rear diff mount and carrier
Interior trim wrap
After hours on the trim researching I decided to copy ricam78's idea and go with the wood grain vinyl. I really like the look of this:
http://www.audizine.com/forum/showth...-allroad/page2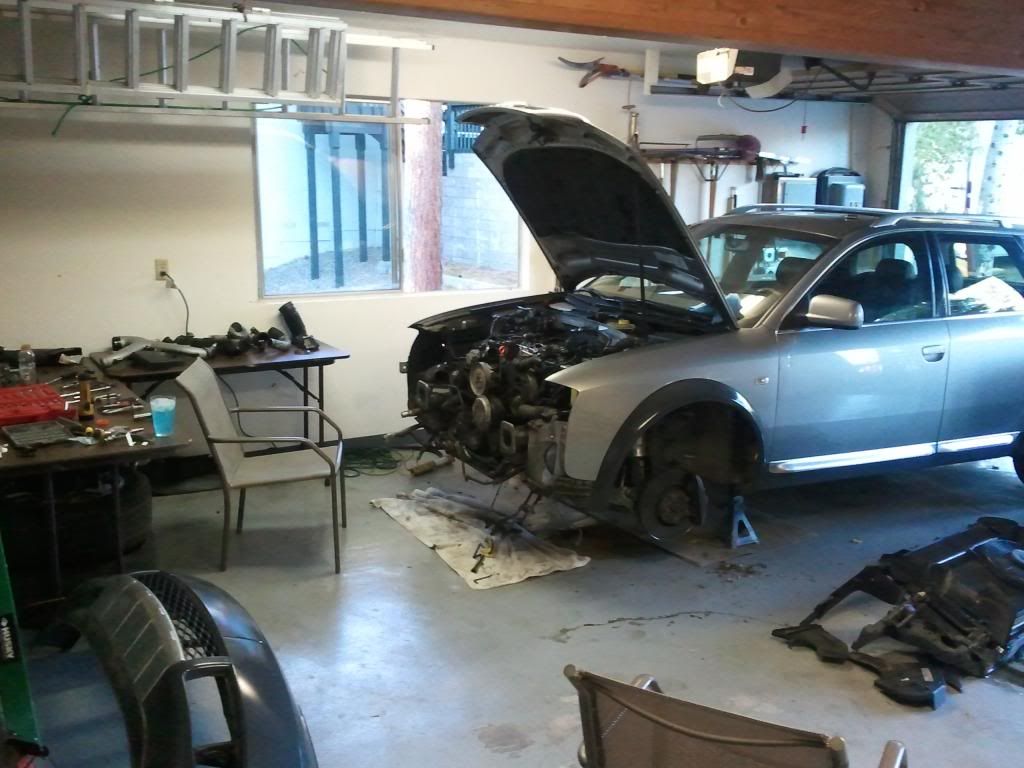 Day one before old engine pull, thinking chair to anticipate days ahead...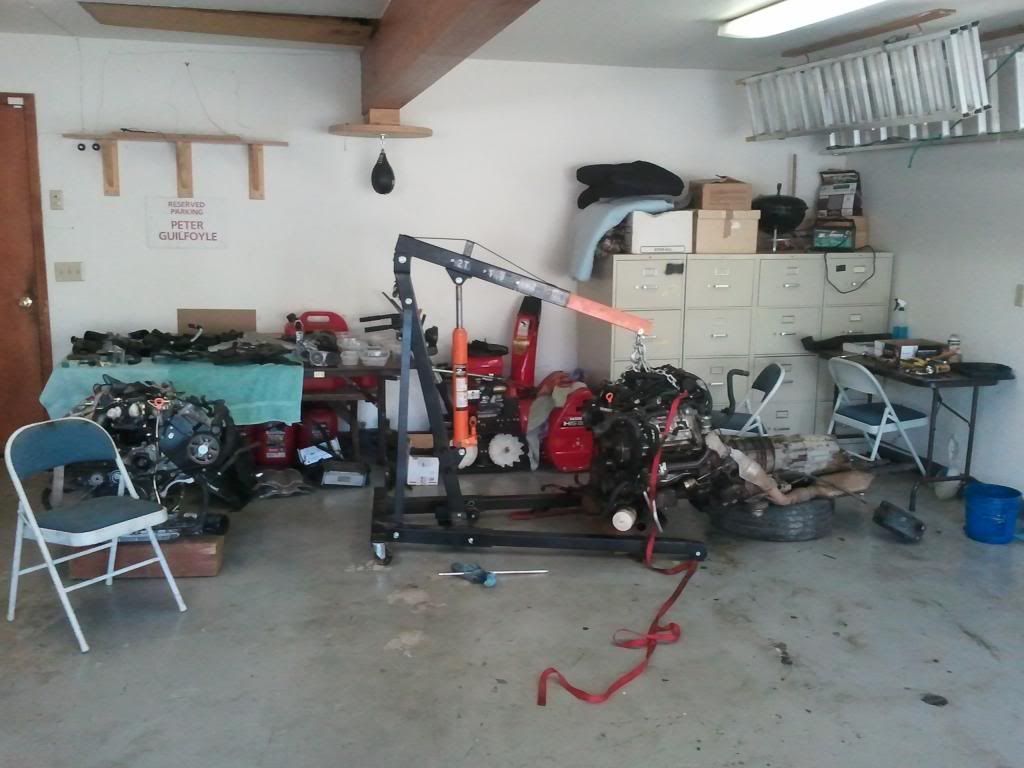 Old engine out, new engine on left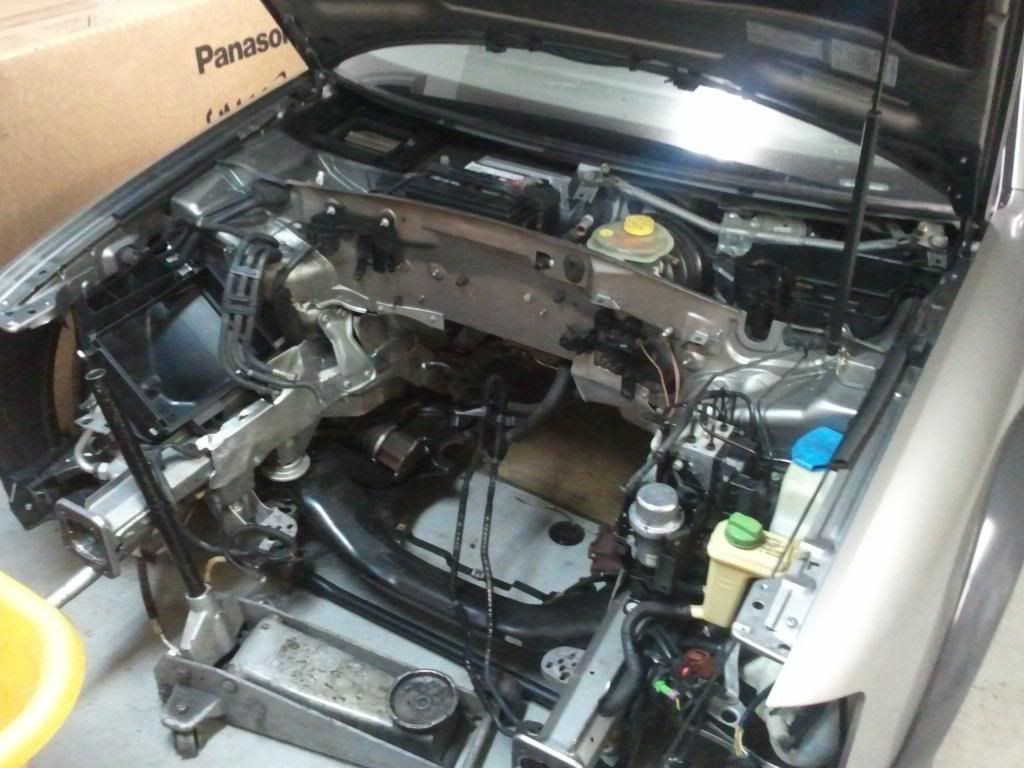 Engine bay cleaned and ready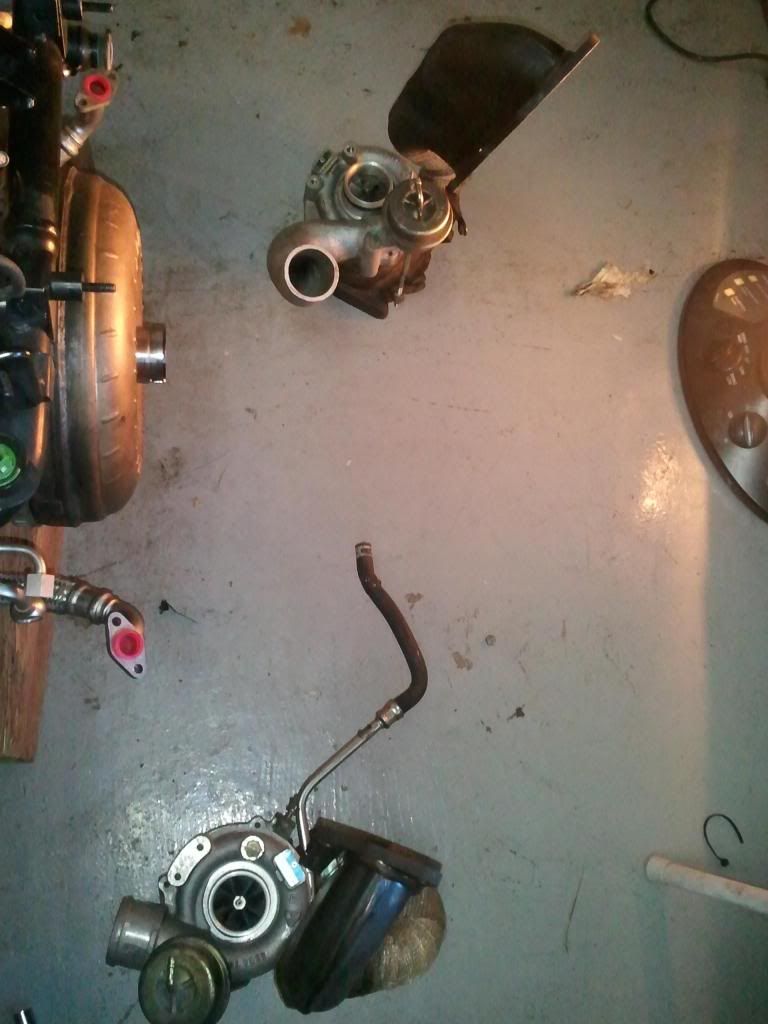 USED K04 Turbos - 0 shaft play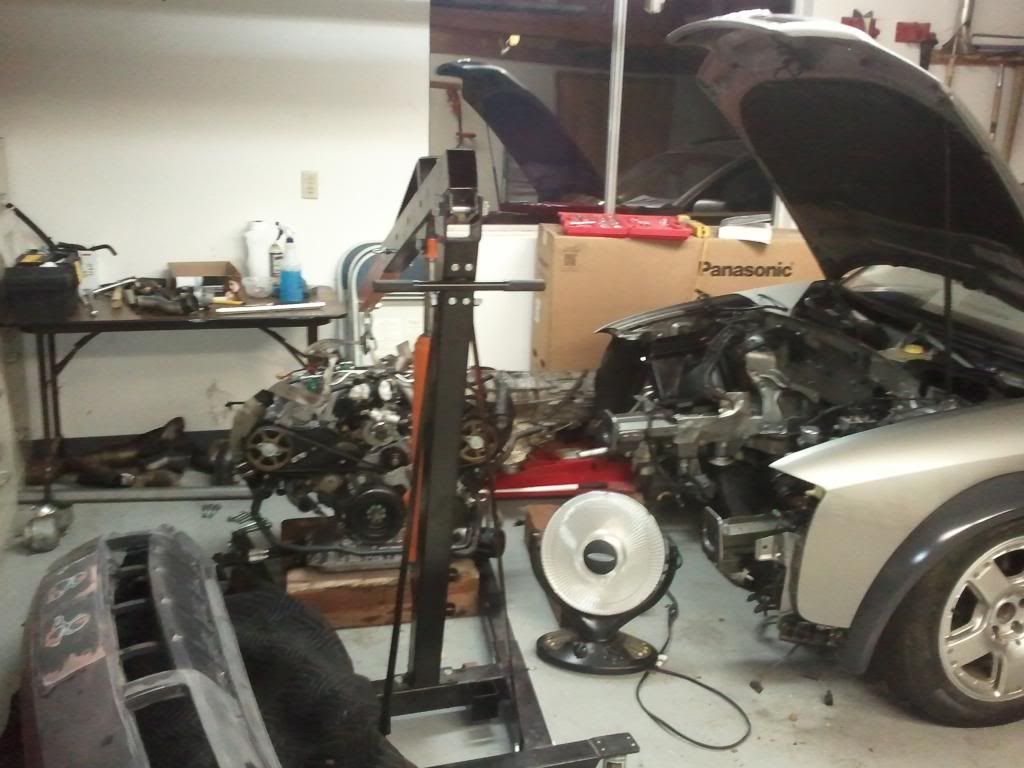 Front Bumper sanded, transmission ready to be put back on. AC compressor put on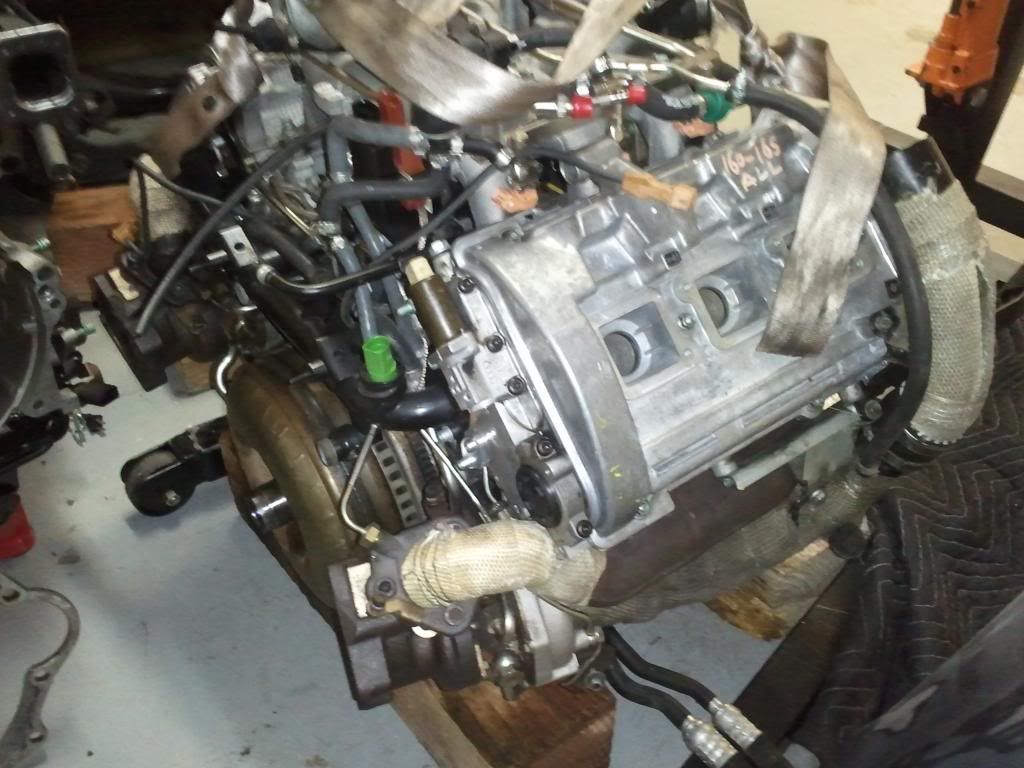 K04 turbos installed.
Next step is to install tranny. I know everyone is going to try and convince me to go with a 6mt, but $ does not permit for now thus my 3- tune. I will run a 300HP engine for now and be happy knowing there will be room for improvement in the near future. I love doing projects like this in the middle of winter ;). Thanks for the support and Ill keep this updated as I go.