Had the day off yesterday and decided to get my headlights finished, have always been wanting to do it just never had enought time (or energy) to remove bumper, headlights, heat gun, spray, dry, seal, and reinstall but bad weather forced me to do it... I used krylon matte paint and carbon fiber 3M DI-NOC wrap and sealed it with silicon aquarium adhesive. if anyone tries this a couple tips I have...
1. GIVE YOURSELF AT LEAST 4-6 hours
2. Heat gun, dont bake
3. Remove bumper, dont try n squeeze your headlights out
4. Learned this from a previous thread and DO NOT seal headlights with paint fumes, will fog up lamps so I left 3 hours by a fan for drying time
5. Make sure you clean the inside of the lens VERY good, I had to peel and clean off a smudge
6. Have a couple beers handy, I got a little frustrated lol
But here are some pics... hope this helps some people who thought about it or have done it before, sorry this isn't suppose to be a write up, just some friendly tips and few extra pics of what exactly I did...
Bumper removed and headlights out
Heat gun and lens taken off
Sprayed very light coat with Krylon matte paint for first couple coats and then added 2 additional, tape off anything you still want chrome but be careful cause chrome is very delicate.
Finished drying, wrapping carbon fiber, reinstalled lens but I let the headlight air out with a fan for 2 almost 3 hours so fumes were no longer strong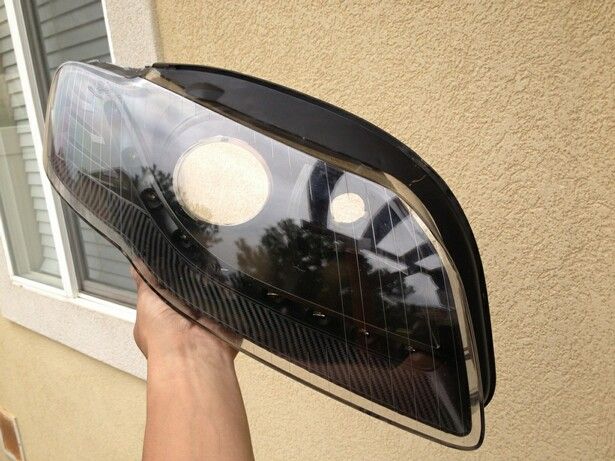 Installed