Hey Everyone,
I briefly posted about this problem in the general rattles section but wasn't very specific about it. I just got back from the dealership because my center armrest rattles when I go over bumps, is idling after cold start, or on rough pavement. It sounds like it is coming from the back right section of the armrest, and the rattle occurs when it is extended or pushed all the way to the back. After looking with a tech and comparing it to brand new cars on the show room floor, he concluded that it is just something that all the cars do (I guess it could be a design flaw).
First off, does anybody hear this similar rattle? I've tried to ignore it by turning up the radio, but unless I'm driving with one arm on the armrest, I notice it. My car is a 2012 and I have basically 940 miles on the car.
Here are some pictures I snapped when I got home. I've pointed out where I notice the rattle in the pictures, as well as some of the other possible rattles.(On a side note, does anyone have a good solution to getting all of the dust out of your car or a good recommendation for a dusting solution? It's everywhere already lol).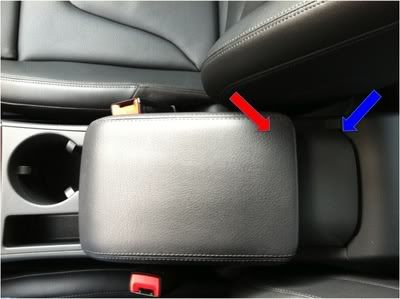 In this pic (above), the red arrow shows where I typically think I hear the rattle coming from. I can simulate it when the car is parked by lightly tapping on the arm rest - it sounds like a spring or something inside is loose. However, when I looked at it some more, it found that maybe it was coming from the piece where the blue arrow is pointing. I held the piece by the blue arrow on both sides and it seems to help stop the rattle. Maybe someone else can take a look at their car and see if they see anything similar. If it is the piece by the blue arrow, I'm not exactly sure what I can do about it without getting help from the dealer.
The picture below shows the underside of armrest, where the piece by the red arrow actually does make some noise when tapping on it, so it could also possibly be the cause. I think a piece of felt tape on the underside of this could help stop this rattle if this is the ultimate cause of the noise, the only problem with this would be it hindering movement of the armrest. Here is the picture of this: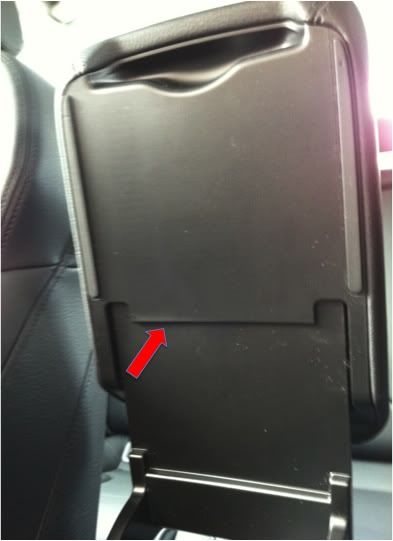 Sorry for having such a long post and I couldn't find anyone on here with similar problems posted, so any advice would be very helpful, I'm sure some of you know how irritating these rattles and squeaks can be in the car
. Thanks everyone