As many of you know, we have this dumb thing on our car called the PCV Valve. It is stupid, fails often, and causes numerous different issues when it goes bad ranging from loss of boost to whistling noises to poor idle speeds etc... All the while, never really doing the job it was intended for.
Here is said PCV:
For a little info on what we are dealing with here:
The blowby vapors that end up in an engine's crankcase contain moisture as well as combustion byproducts and unburned fuel vapors. The crankcase is sealed to prevent the escape of these gases into the atmosphere, but the vapors must be removed to prevent oil contamination that leads to sludge formation. The positive crankcase ventilation (PCV) system siphons these vapors from the crankcase and routes them into the intake manifold so they can be reburned in the engine.
The main component in the PCV system is the PCV valve, which is usually located in the valve cover. A hose connects the PCV valve to the intake manifold. The PCV valve is a spring-loaded valve with a specific orifice size designed to restrict the amount of air that's siphoned from the crankcase into the intake manifold. This is necessary because air drawn through the valve from the crankcase has a leaning effect on the fuel mixture much the same as a vacuum leak. So air flow through the valve must be controlled within certain limits. At idle, air flow is reduced because little blowby is produced. When the engine is cruising and vacuum is high airflow through the PCV valve is at a maximum to purge the blowby vapors from the crankcase.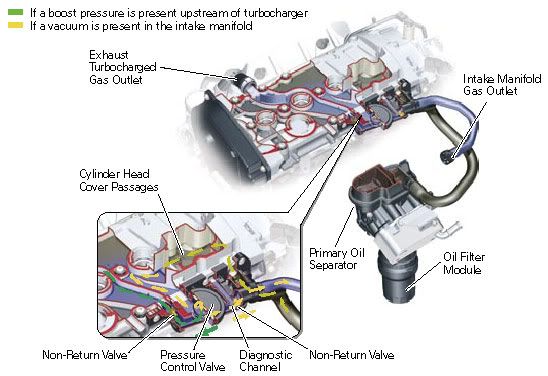 Sounds great, but it's stupid. It causes carbon deposits on the valves, and just is not efficient, along with many, many recorded failures by nearly everyone.
Possible symptoms caused by a faulty PCV include but are not limited to:
-Slight drop in boost pressure, ie. a ~2 psi drop across the board.
-Some oil will be pushed out through the oil filler cap, and onto the valve cover, and may possibly go towards the coil packs. There may also be some oil on the bottom side of the engine cover, where the oil filler cap is be some oil on the bottom side of the engine cover, where the oil filler cap is.
-There might be a slight decrease in MPG.
-Sometimes, strange noises like whistling from that area.
Easiest way to check if yours is bad is to remove this:
Once that is removed, try blowing into the flexible pipe. You should not be able to blow through this. If you can, you have to make a choice of three options.
1. Replace with OEM part # 06F129101P for roughly $75, risking the same thing happening again in the future.
2. Cheap and easy "PCV Fix" of which I will discuss the downside.
3. Look at your catch can options.
The PCV Fix
The PCV Fix is a quick, easy, cheaper way of fixing your broken PCV. Sounds great, right? Nope. This should only be temporary. Reason being, it is sealing the issues caused by a broken PCV, but also allowing everything that should be filtered out back into the engine to turn into sludge. Sure, use this as a cheap fix while you save for a catch can, but don't keep it forever.
The Catch Can
Catch cans consist of metal construction that won't break with age. They catch harmful moisture and groooooss oil deposits instead of returning it into the engine to be burnt into carbon deposits. It also seals any places left for our precious boost to escape.
There are two main types of Catch Cans. The closed-system, and the vent-to-air system. Both have their benefits, but only one is street legal.
Vent-to-air systems do just that. Vent all the nasties straight into the air. Mostly used in racing applications. It is bad for the environment, and can really make a mess. This is probably the best system for your car, but not really the one you should go with.
The closed-system instead of letting all the grossness out, uses a series of screens/baffles/filters to force oil and moisture to the bottom of the catch can where you can empty it out into a cleaner/safer depository. This is the most likely system for our cars.
There are many, many options for a catch can setup for our cars. You can even do custom setups from many ebay type options. There are also many full kits comprised of everything you need, which are the options I will lay out before you, in no specific order.
BSH is probably one of the more widely known companies for catch cans for our system. They have products ranging from just a block off plate that you can use with any catch can system, to stage 2 and even a racing staged version. Stage 2 is the most viable solution at this point.
http://www.bshspeedshop.com/bshstore...Catch-Can.html
Retails for ~$225. Very simple, yet effective.
PROS: IMO, best complete system for the lowest price
Most common/popular brand/model
Boost tap can be added to the block off plate for an extra boost source
Good quality, good reviews
All necessary hardware
CONS: Brass fittings look out of place
Not as good looking as other options
No way to tell how full it is without removing it
No interior baffles or screens to aid in gunk collection
You say you want something a little fancy looking? Look no further than Eurojet's option.
http://www.kmdtuning.com/index.php?_...productId=1861
A little pricier than most at ~$300, but you gotta pay for flamboyance.
PROS: Look how fancy it is!
Combines catch can technology AND vent-to-air in one system (confirm?)
Has a gunk level window for removal-free checking
Very high quality components
Larger than average tank capacity
Has a quick drain valve for non-removal emptying (confirm?)
CONS:Too fancy?
Pricier than other systems
Vents to air
Just judging from the picture, the block off plate doesn't look right, so you may need to source a different one? (confirm?)
Next up, let's look at BFI.
http://store.blackforestindustries.c...cacroils2.html
Priciest one of the bunch @ ~$400, but definately the most OEM looking of any I have seen.
PROS: Damn that looks OEM!
Very high quality
Looks like it has a quick drain plug as well (confirm?)
CONS:Holy shit it's expensive
As far as I can tell, no way to check gunk level without removing (confirm?)
On to my personal favorite, and a fairly new product from the guys over at 034.
http://www.034motorsport.com/engine-...i-p-21878.html
At ~$285, I feel this is the best bang for your buck as far as quality, look, performance.
PROS: IMO the most complete system available
Vortex (think Dyson) design to force oil to the bottom
Has an oil return line that can filter out oil and return it to the oil pan
comes standard with a boost tap on the block off plate
Very high quality for it's cost
Custom molded silicon hoses
CONS:Must be removed to check level
Engine cover must be cut to fit back on
Um, that's it? (confirm?)
There are numerous other options including AMW, 42DD, etc...that make great catch cans, but they leave you up to your own devices when connecting it properly to your engine. I also leave it up to you to find for yourself which is best for your needs. Keep in mind, certain catch can kits made for other various 2.0tfsi applications will also work, ie. Jetta, Golf, etc.
MAINTENANCE: Yes, you don't get off scot free on this one, but no worry, it is easy. They need to be drained from time to time. This may be easier on some models than others. Gunk will collect in there. Oil, water, etc. you will want to check it often at first. Once you see for yourself how much stuff accumulates, you can deem how often it's necessary. Also, if you live somewhere with winters, you will want to check it more often in freezing temperatures. Ice can form inside, harming components, blocking pathways, etc.
Feel free to add input or correct me on anything. Bear in mind, I created this entire thread on my phone over the last few hours. Yes, literally hours, so hopefully all links and pictures work properly, as I cannot tell until I submit. I will fix and update this evening as needed.