Believe it or not these engines can be saved!
If you experience excessive oil burning, alot of times it's caused by a bad pcv or bad valves seals, or even bad valve guides in conjunction. That is not ALWAYS the case however.
The Audi aluminum engines are made of an alloy known as AluSil. It contains 16~18% silicon. They aren't the only ones that use it either. BMW, Mercedes, and Porsche have used this alloy as well.
That silicon was added for cylinder longevity and resistance to normal wear and tapering. The cylinders are NOT resistant to carbon and contact with piston skirts. Another thing, silicon is highly abrasive and overtime will wear the piston rings down causing high oil consumption. Scoring can become an issue as well if it gets bad enough. We'll save that for another thread.
If your cylinders all measure out fine but you're burning oil, it might be time for fresh rings.
Tools Needed:
Standard 3-Arm Hone Available at many autoparts stores
Duct Tape
Hot Glue or Super Glue (gel kind)
Felt (try and find some that's 1/4" to 1/2" thick)
Sunnen AN-30 Silicon Paste
Lubricant (wd40, honing oil which is mineral oil, or ATF will suffice)
MANY RAGS
Acetone or some form of solvent for cleaning cylinders before and after
A plug or something to put down in the bottom of the cylinder to keep the paste from going on the crank
A paint brush
A drill (preferably one that is variable speed)
Setup Your Hone: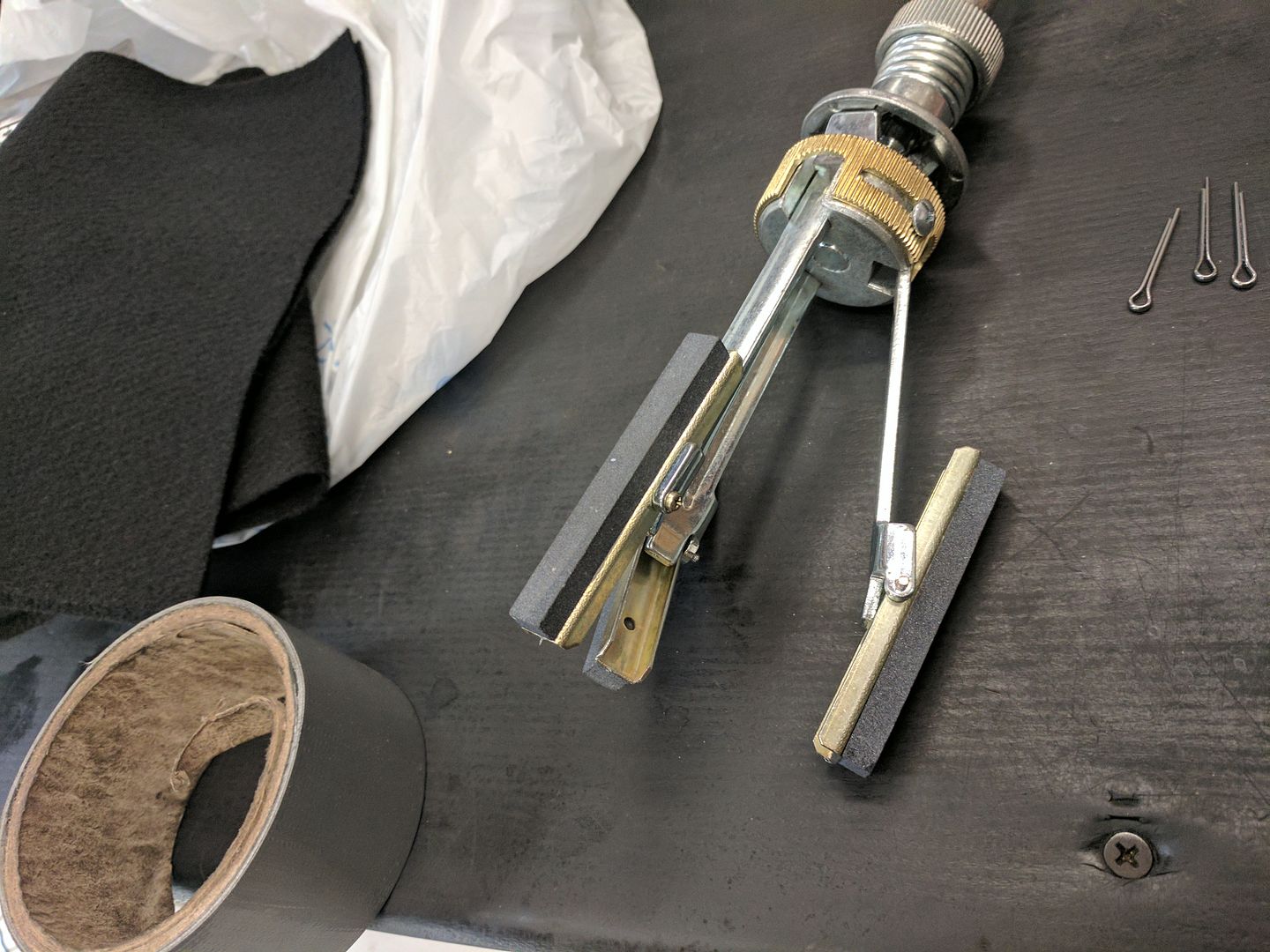 Apply the duct tape around the stones (so in case the felt rips off you dont rape your cylinders!)
If you have thin felt, fold it over so it's thicker and then superglue the felt to the SIDES of the stones.
Be sure to put some superglue between the layers of felt on the side for reinforcement.
DO NOT APPLY GLUE TO THE FRONT of the stones. This will cause a hard spot which means uneven honing (according to my brain lol)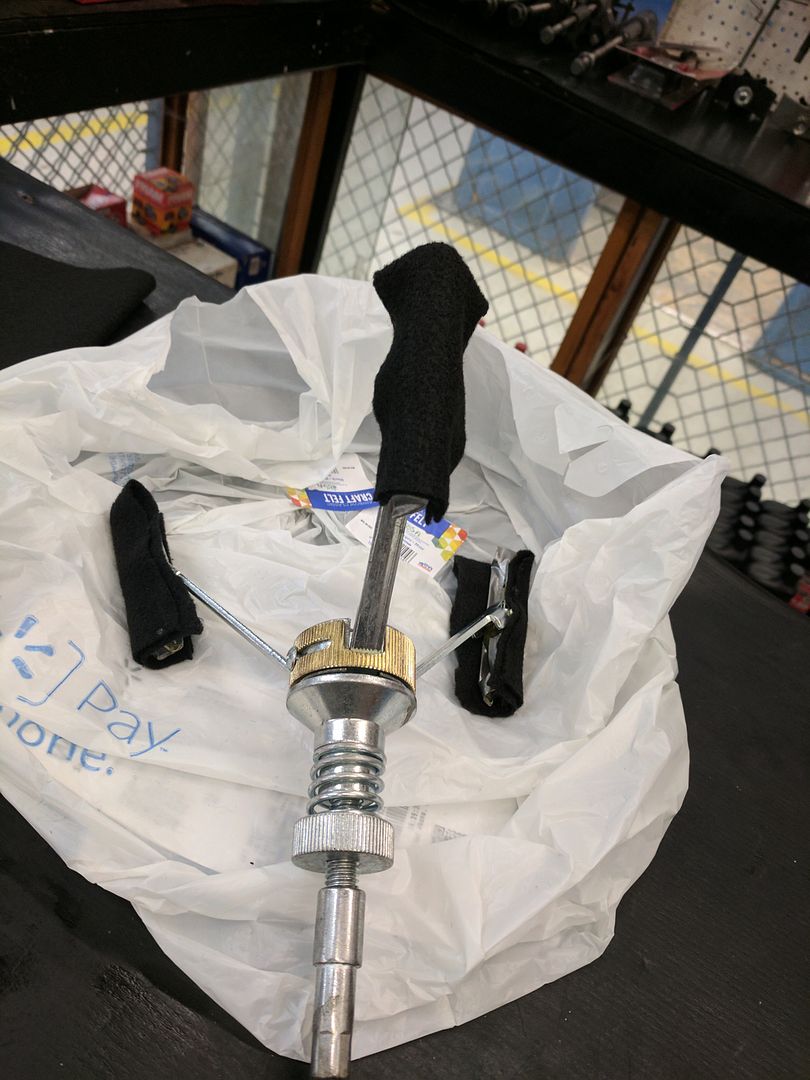 Here's the before shots of each cylinder 1 thru 8 from top to bottom:
Yes there is some scoring at the top of each cylinder sadly. A couple cylinders have a score that runs a little longer. I can feel them with my finger nail. I am taking one for the team here as i dont have TIME to source another engine or get this one nikulsil plated. The story is this engine (i bought used) did NOT burn oil...we'll see about that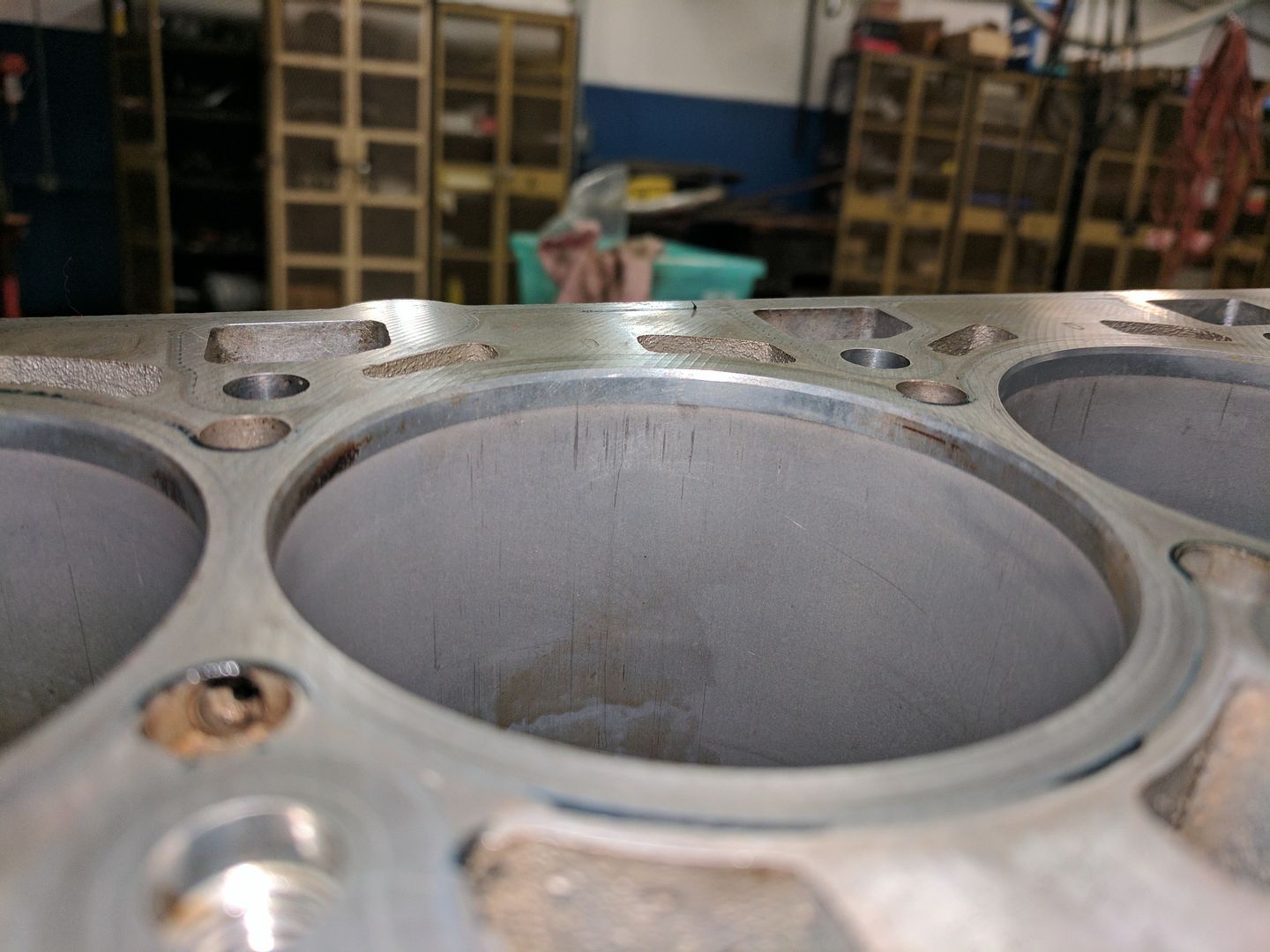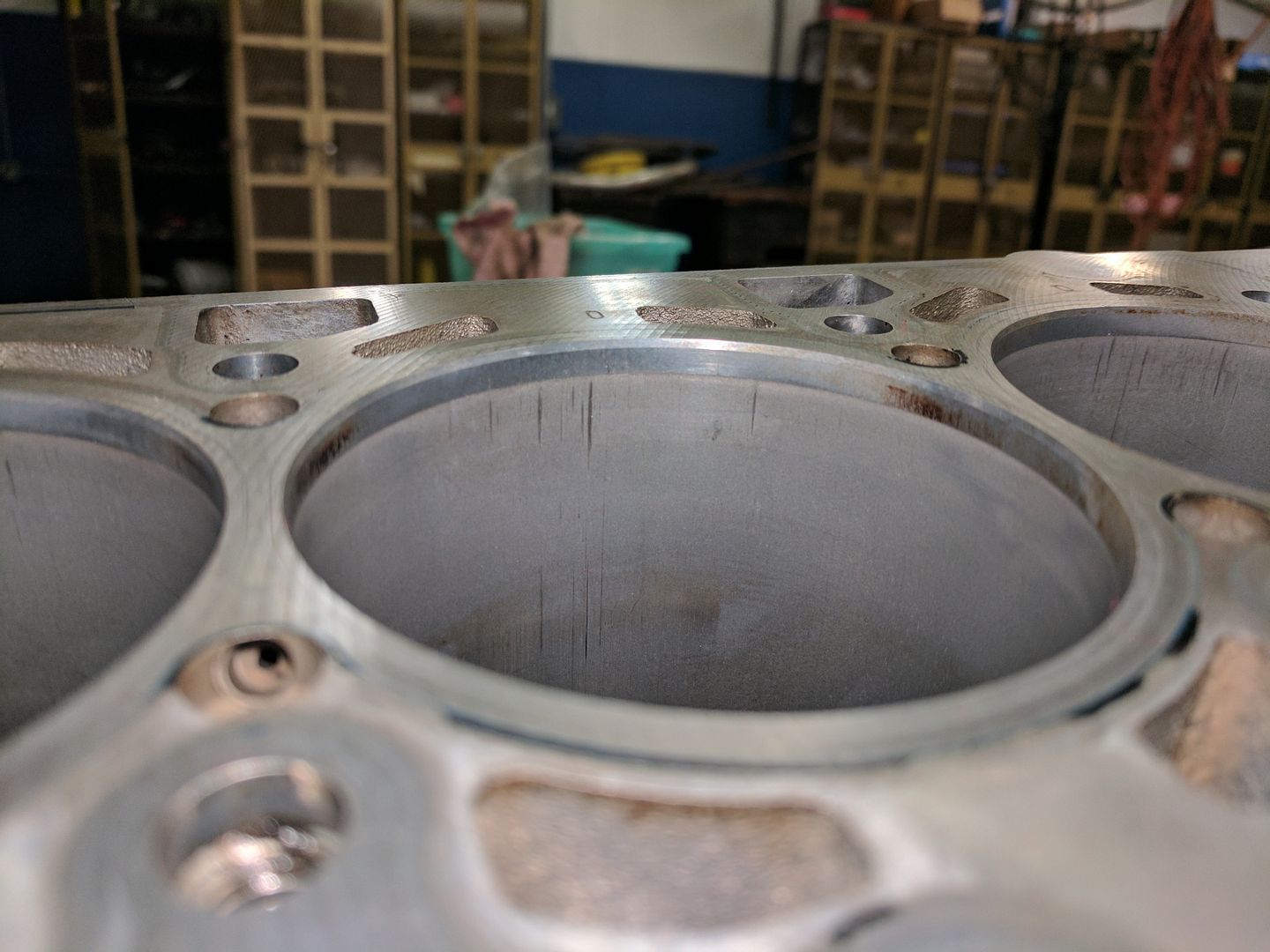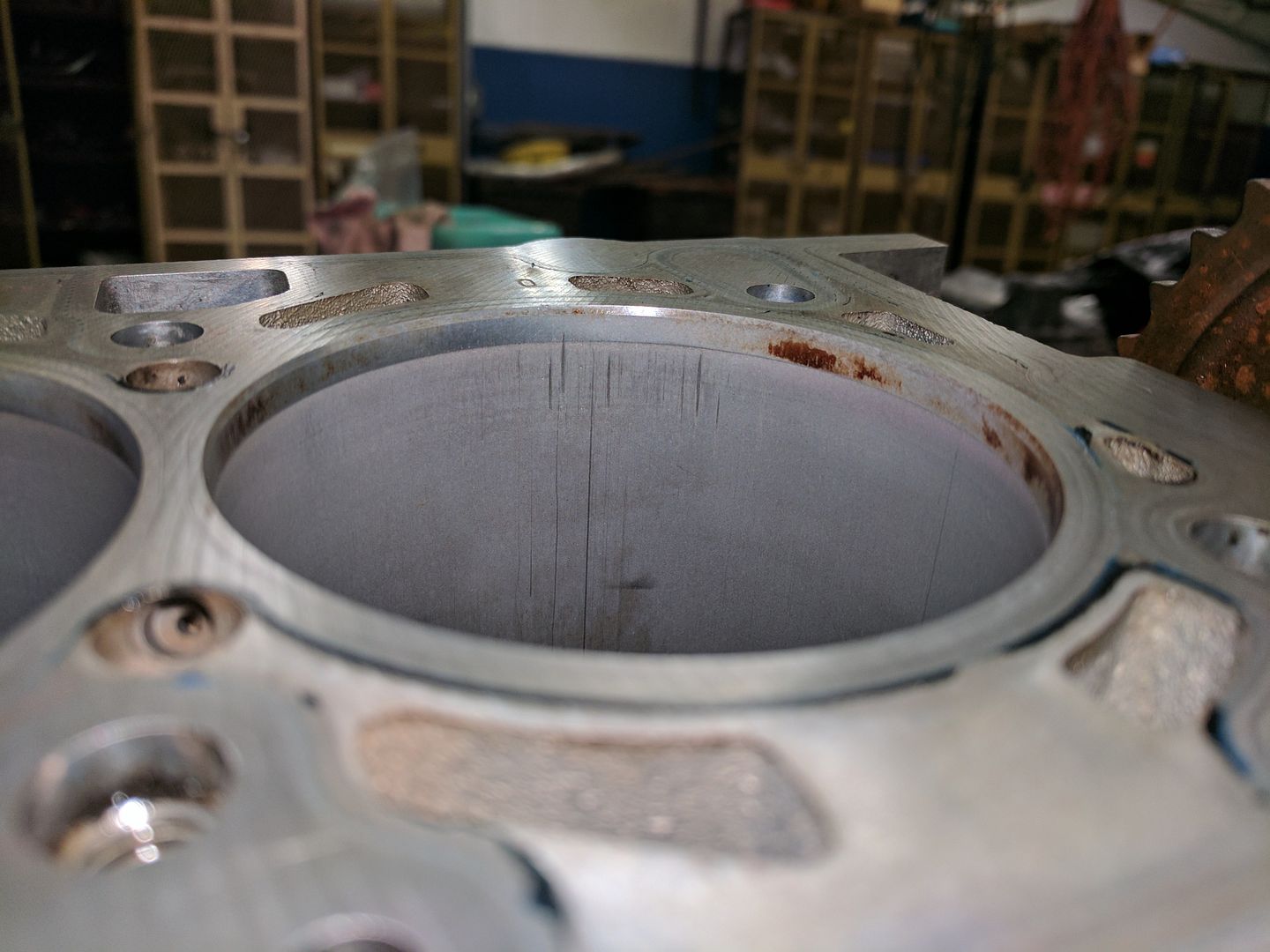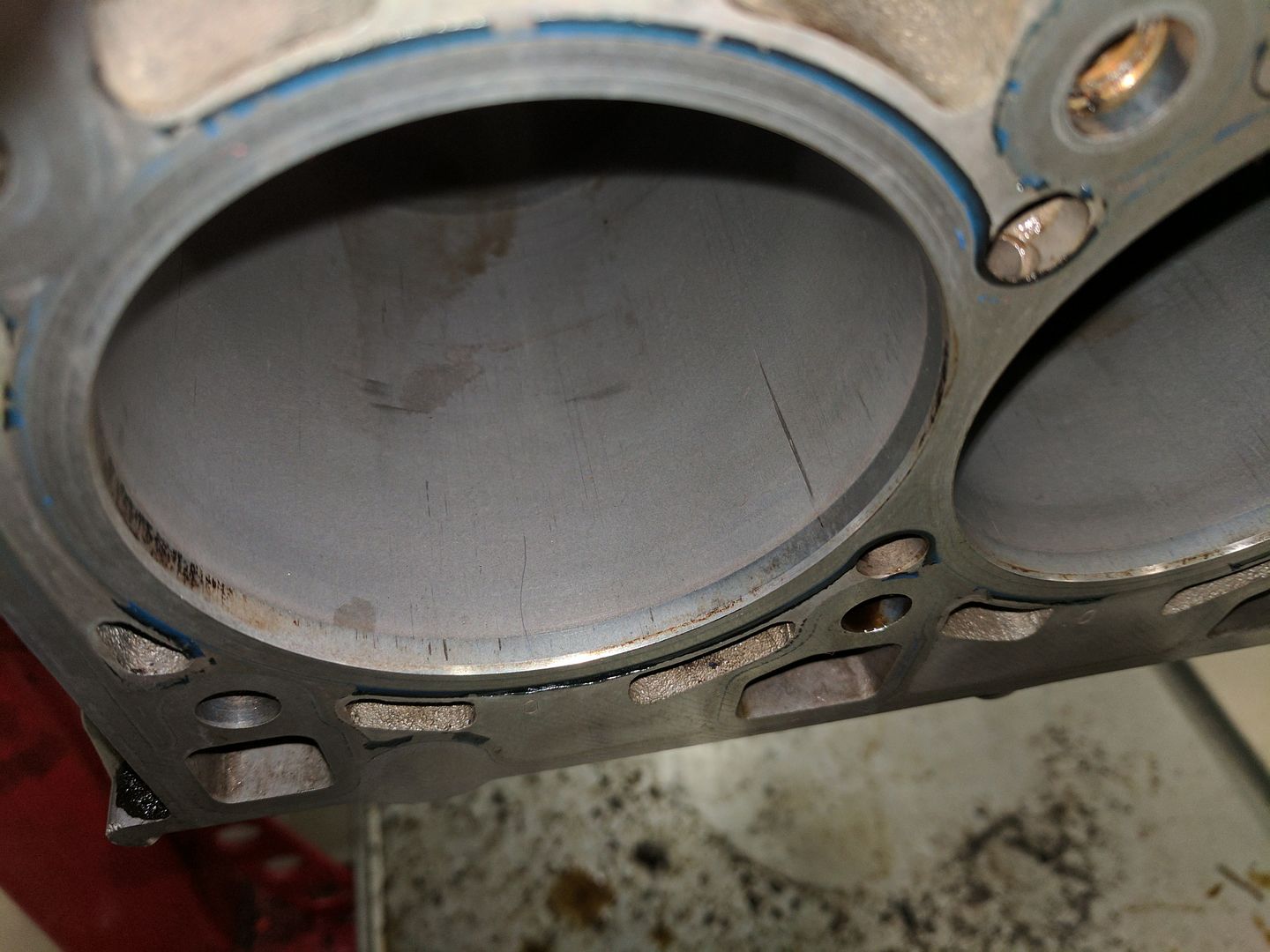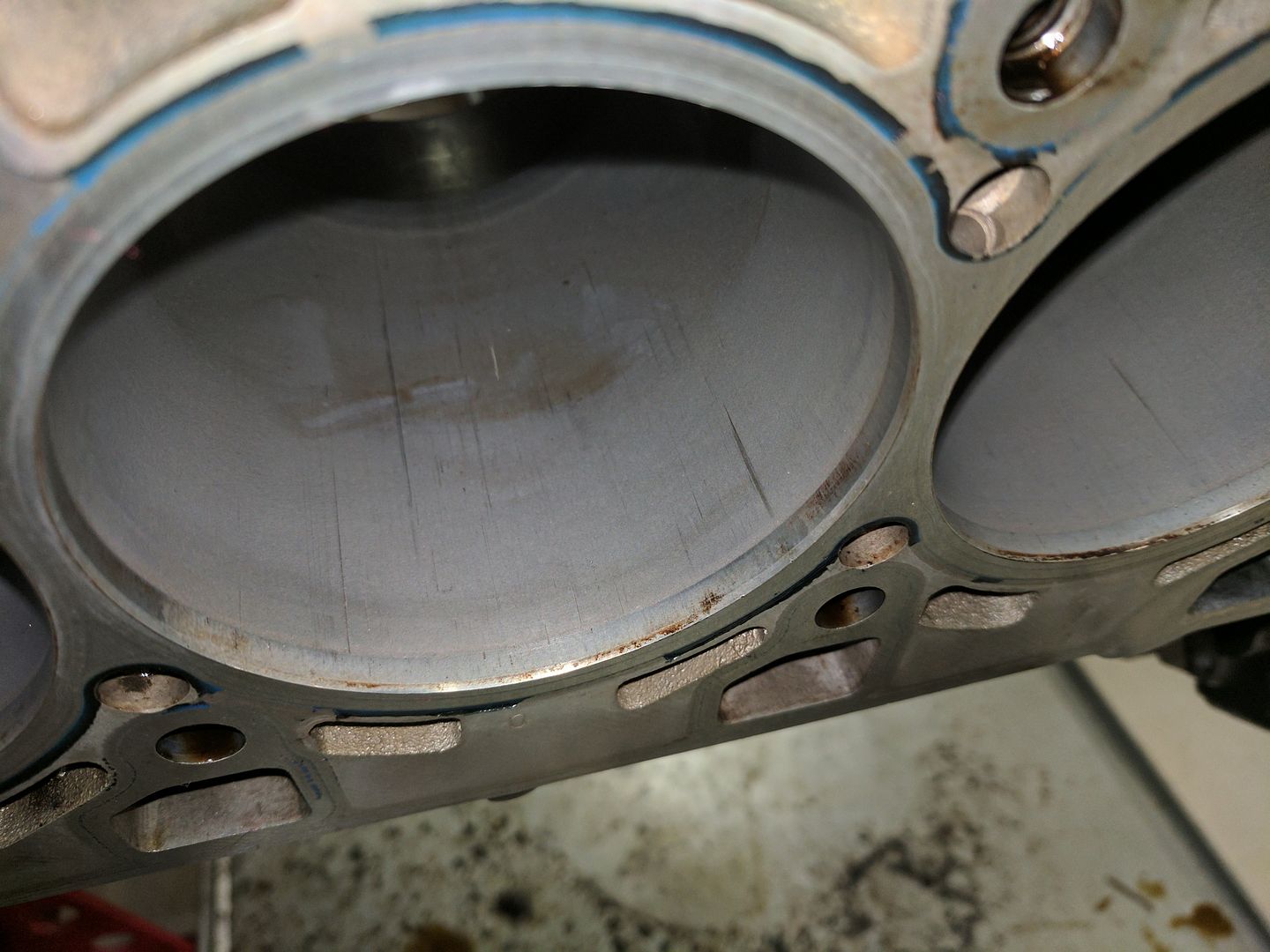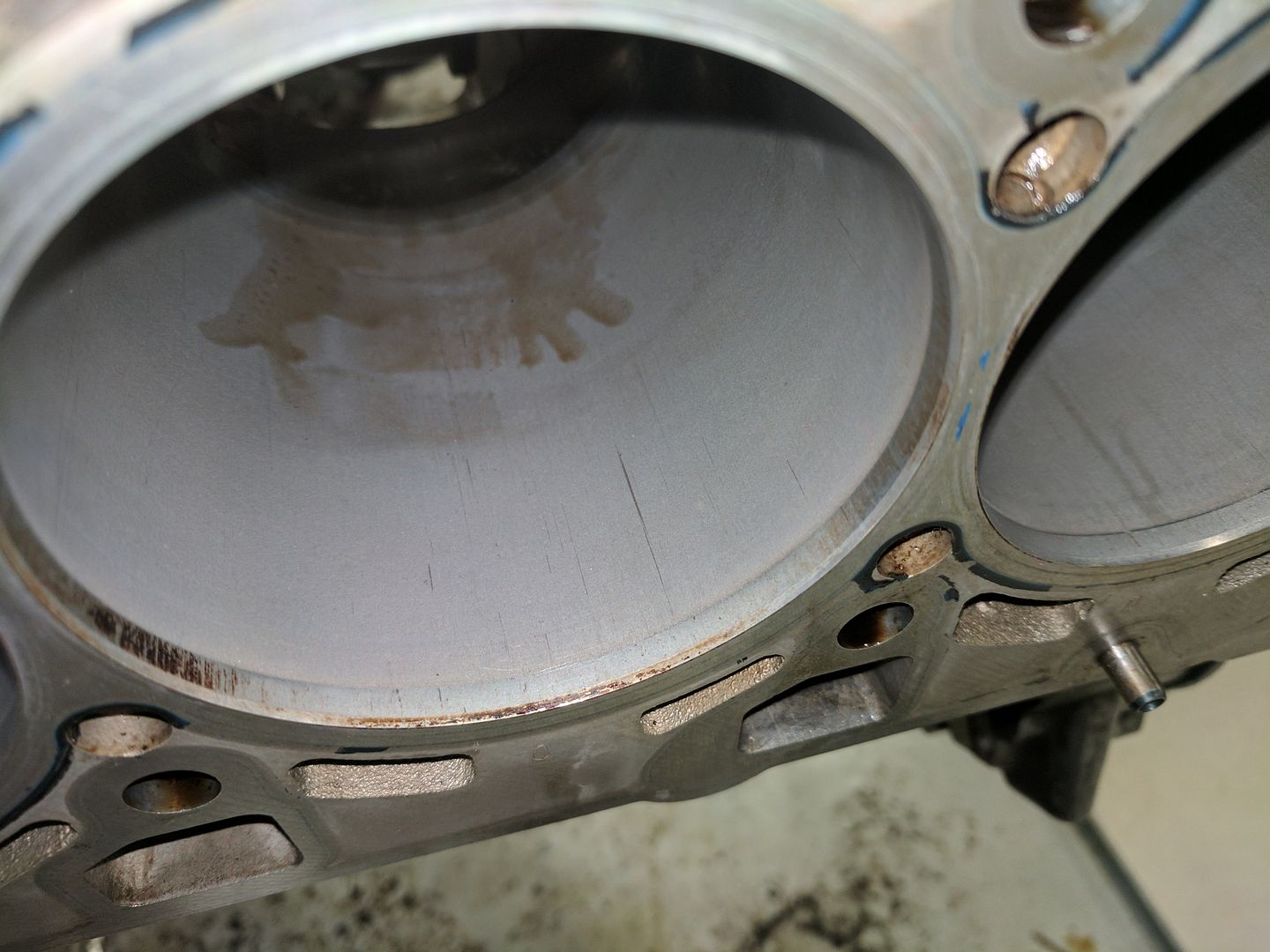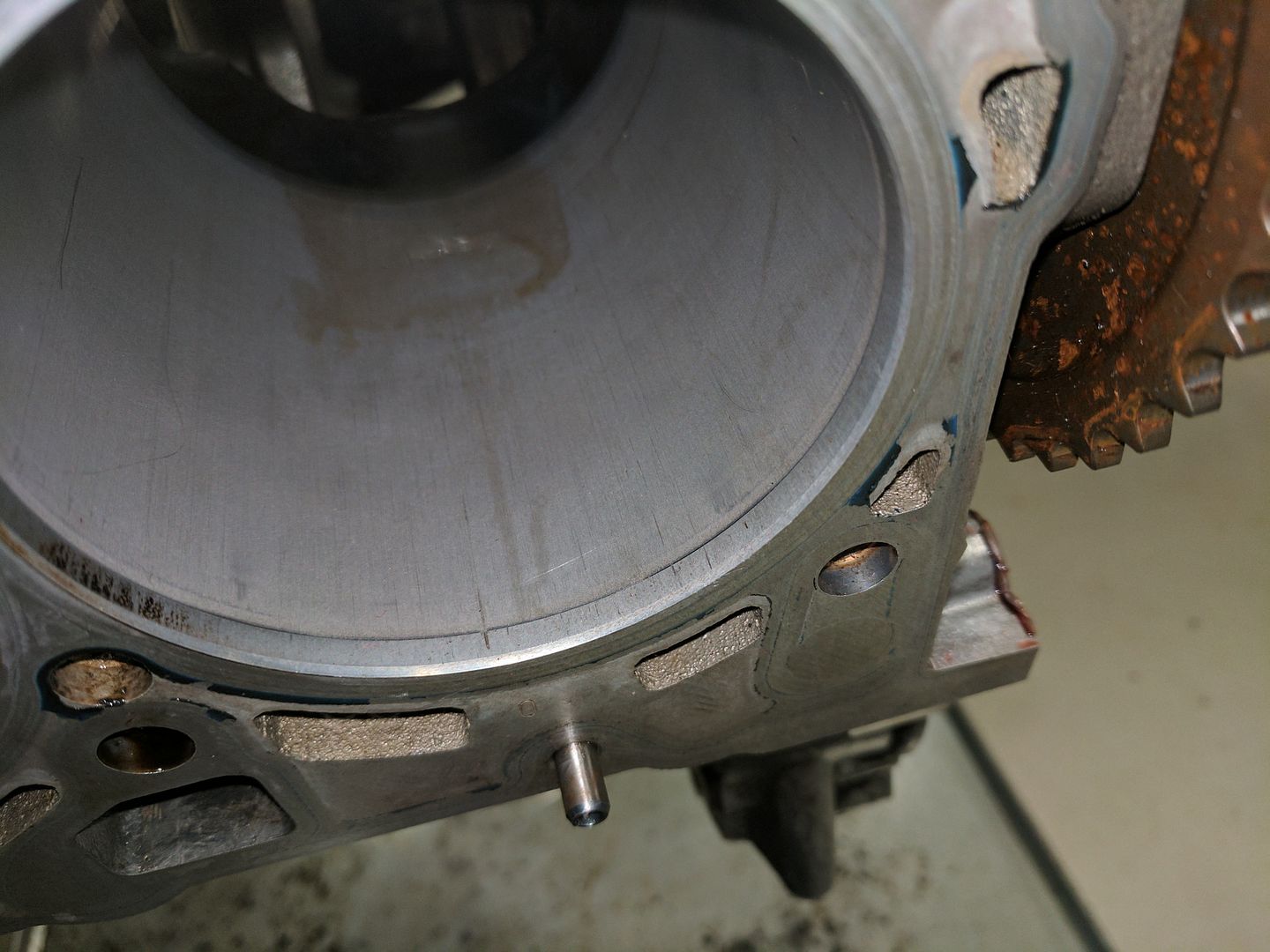 CLEAN THE CYLINDERS REALLY GOOD WITH SOLVENT.

Place plug at bottom of cylinder to protect crank and oil squirter.

Apply paste to all of the area the piston rings ride. You can see the change in cylinder appearance at the bottom in this photo.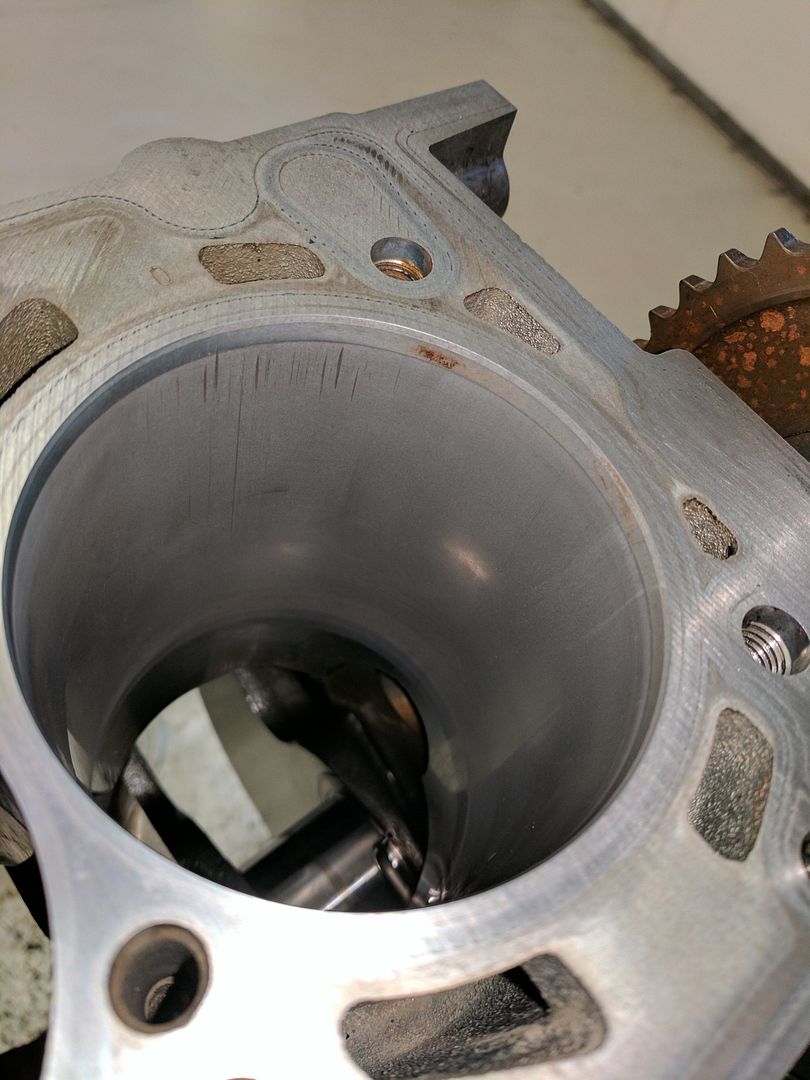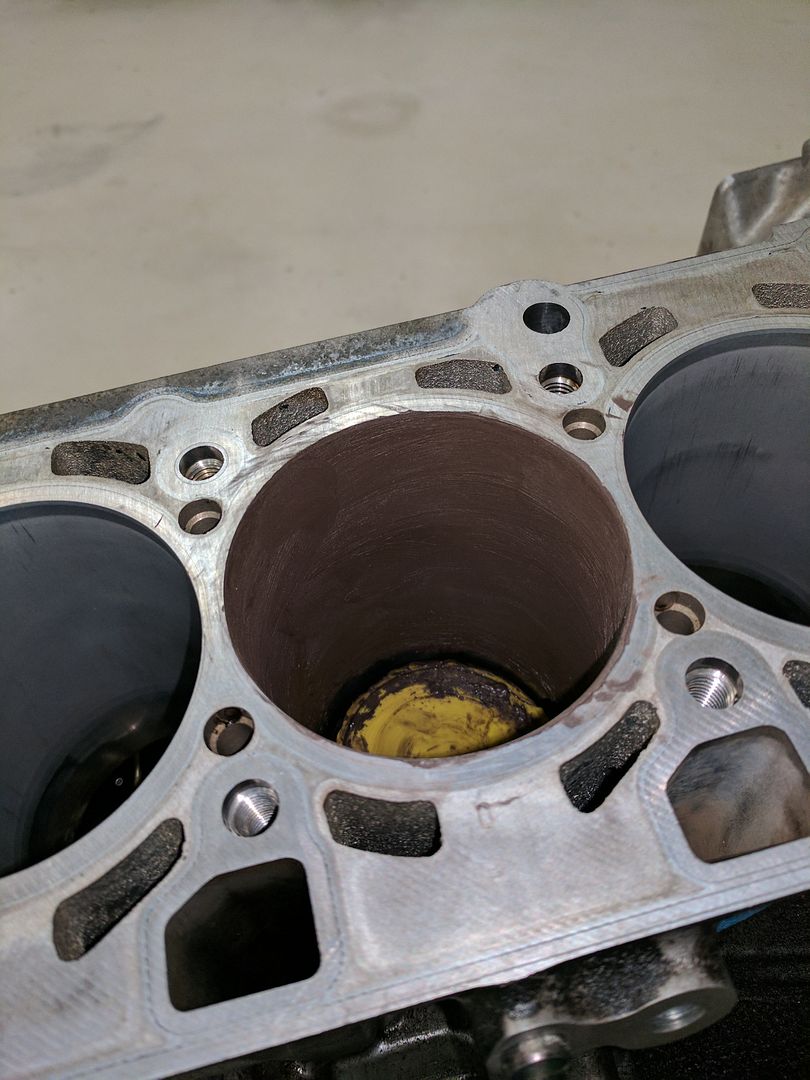 Use WD40, Auto Trans Fluid, or honing oil and apply it to the felt on your hone. Then slather paste onto the felt directly.
Place the hole in the cylinder, at the top and turn your drill on to approx 200rpm and proceed up and down approx 60strokes/min (
) That means every second you should be at the top of the cylinder again. DO THIS FOR ONE AND A HALF MINUTES TO TWO MINUTES. It's important to note this procedure is self-limiting so you can't really OVER do it, but in the interest of being consistent....
When i got to cylinder 5, i noticed the hone started to "chatter" or shudder a little. That means apply more oil to the felt pads.
I did have one felt pad start to come off so i stopped and redid the whole hone and finished the last 3 cylinders.
Here it is complete.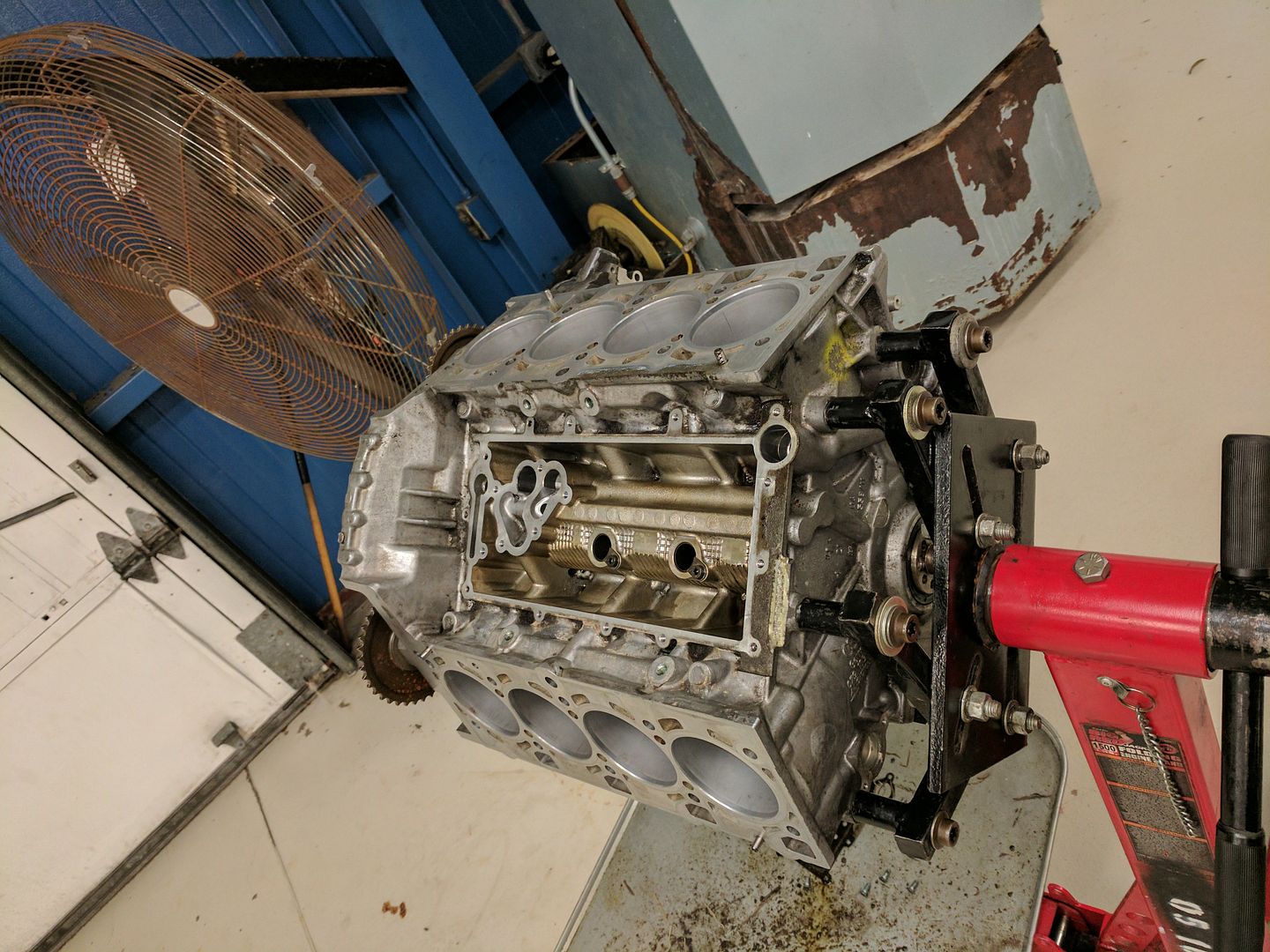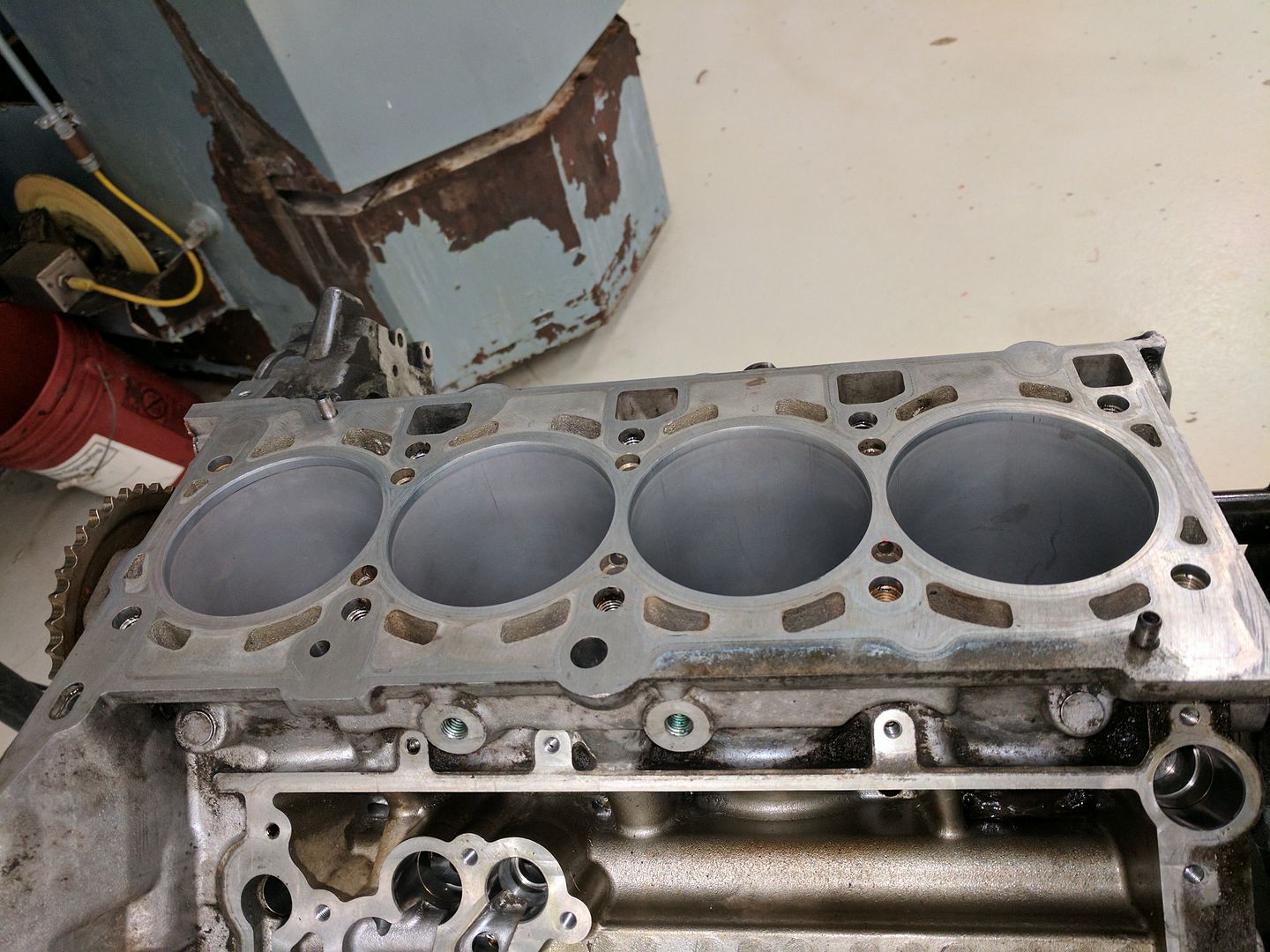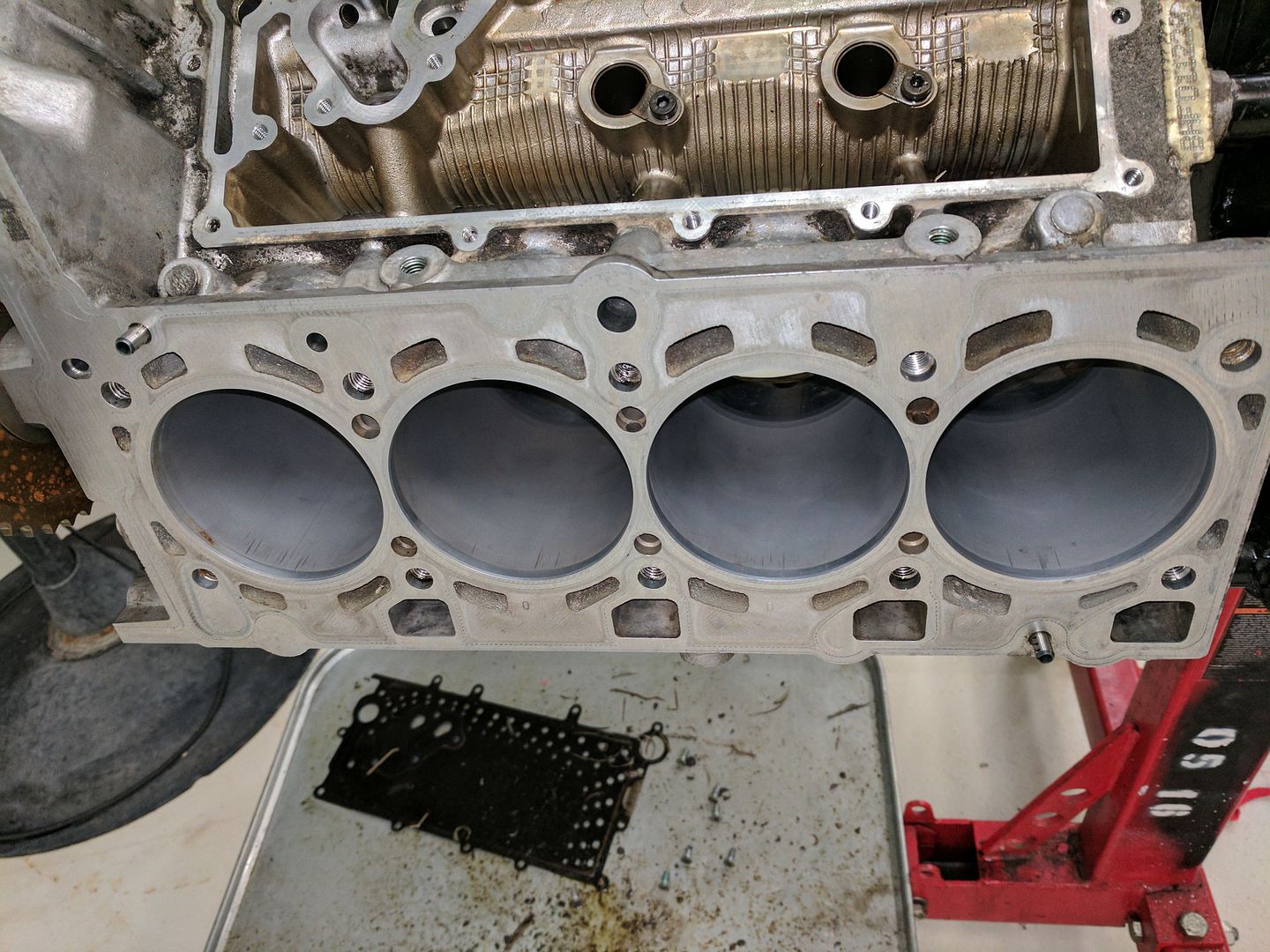 SHOUT OUT TO: NEILPAKU FOR SENDING ME SOME OF HIS LEFTOVER AN-30!!