Youíll need minimal mechanical ability for this one and 1+ qt of the proper gear oil. This is even easier than changing your oil.
I used Redline MT-90 75W/90 Synthetic fluid.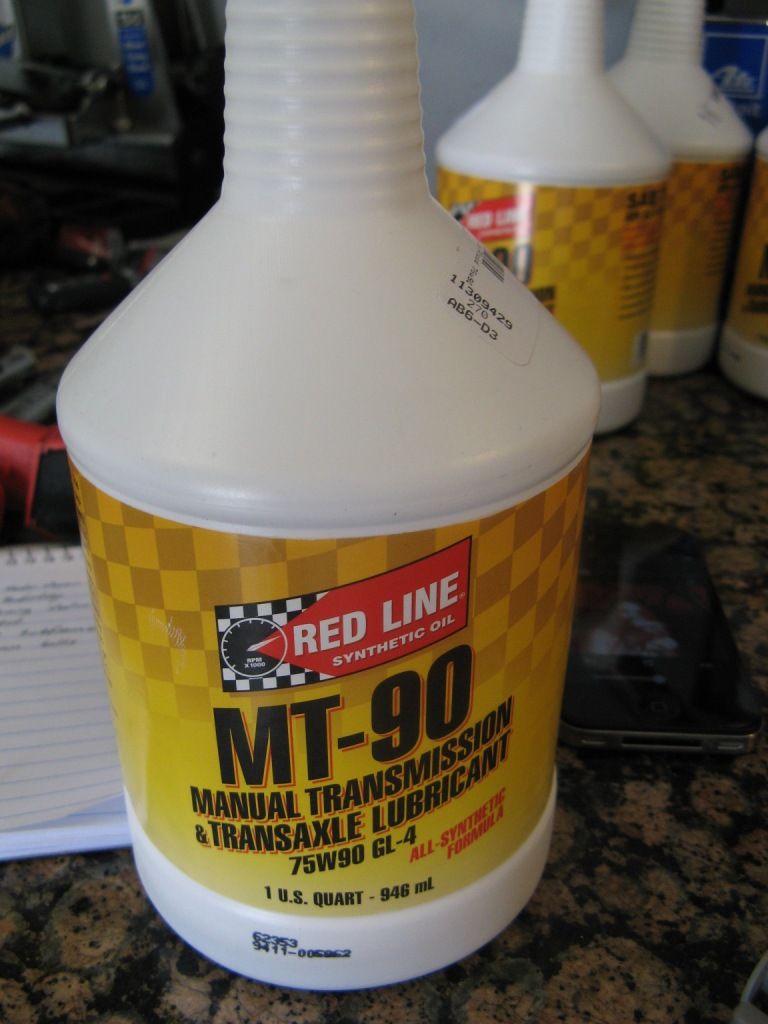 Step 1: Get the car up levelly on four jackstands . You need the car level in order to fill the diff properly.
Step 2: Remove the fill plug (red) using a 10 mm allen. Remove the drain plug (blue) using an 10 mm allen as well. Always remove the fill plug first, because if you open the drain plug first and the fill plug ends up being stuck then youíre Fíd.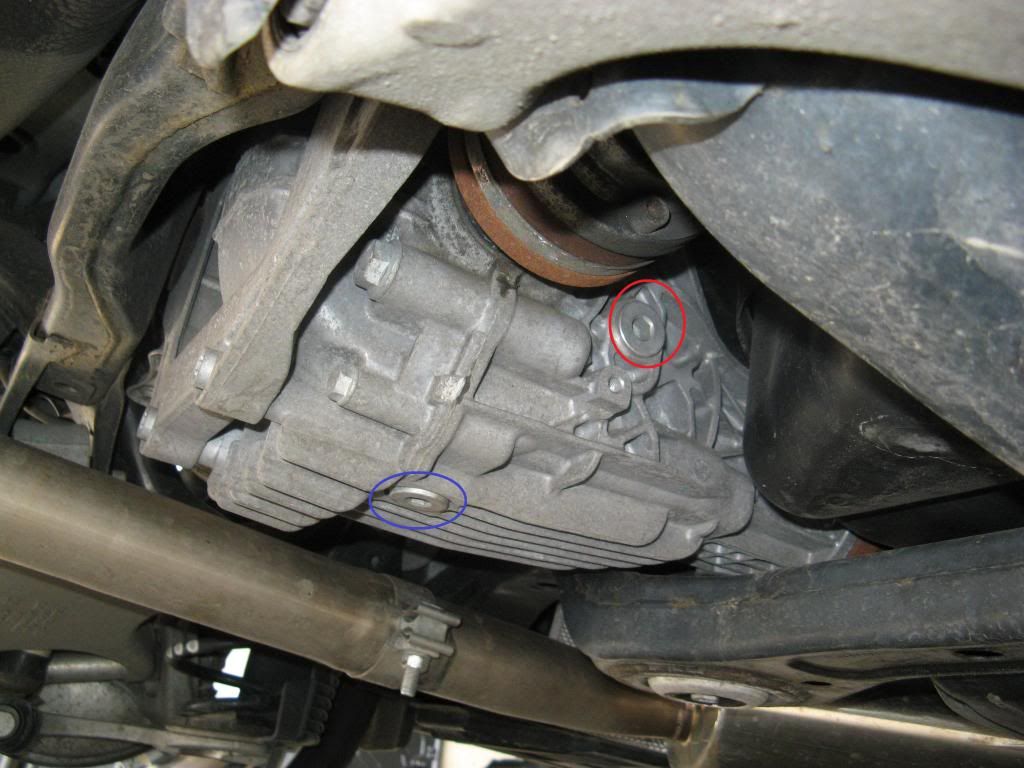 Step 3: Drain the fluid into a pan.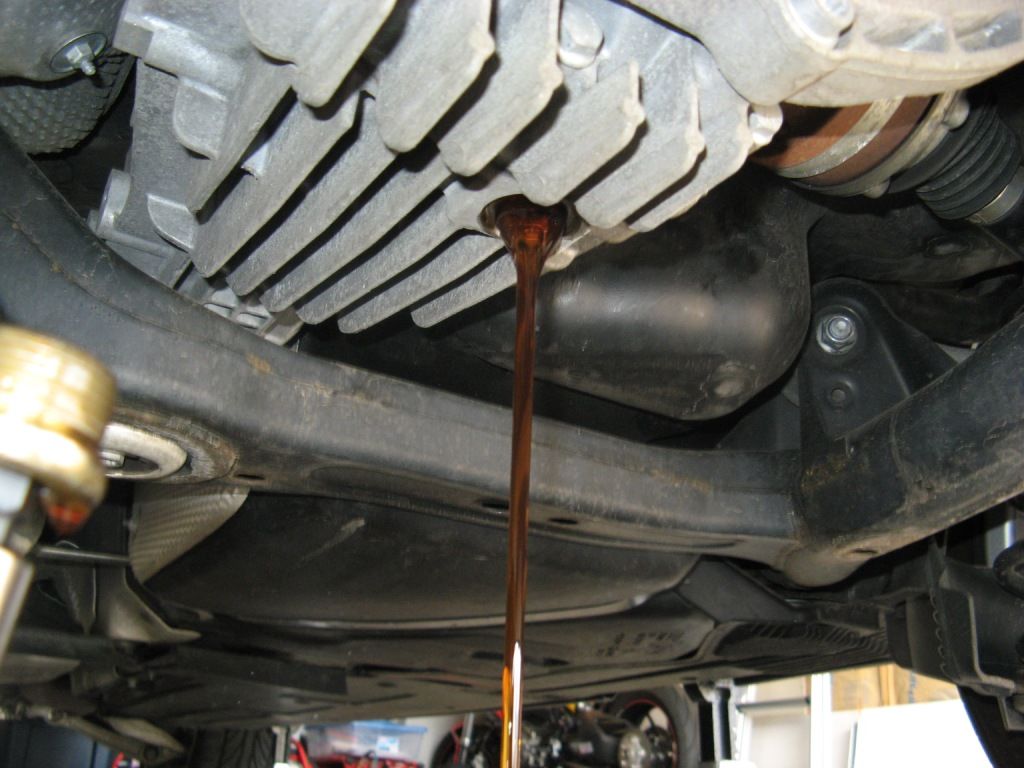 Old fluid wasnít looking too good (This is actually my trans fluid). I took a pic of the diff fluid as well but it looked identical. I labeled the fluids in the photo so you can tell the difference. Very tough to tell the difference at first glance.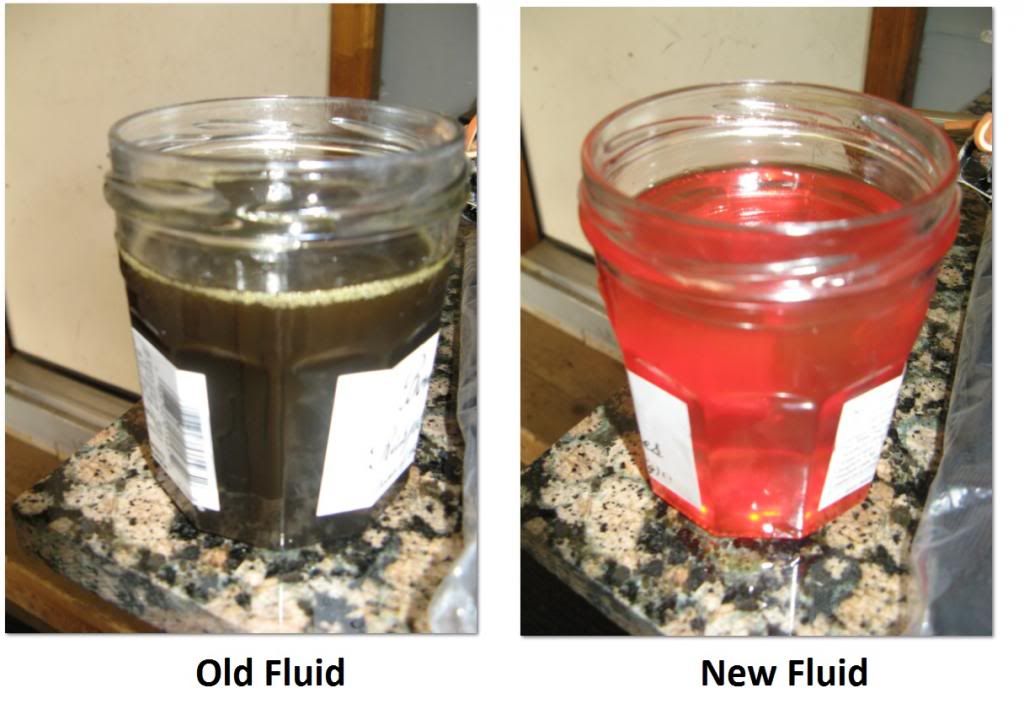 Step 4: Once empty, reinstall the drain plug. This is the only car Iíve ever owned that didnít have a crush washer on these plugs. I have no idea what the torque is but I torqued it to 32 ft-lbs. Seems about right for this size bolt.
Step 5: Pump fluid into the diff through the fill hole. I use my trusty syringe which holds about a half qt of fluid.
Step 6: Keep filling until you get a steady stream of fluid draining out the fill hole. Mine took just over 1 qt.
Step 7: Reinstall the drain plug (again no crush washer). Again I have no idea what the torque is but I torqued it to 32 ft-lbs because that seems about right for this size bolt. This is obviously a non critical bolt and torquing it is good practice but not all that critical. I spray everything down with brake cleaner when I'm done so that if a leak ever happens it will be evident.
Step 8: Lower the car if youíre done.
I do this on all my cars every 30k miles. Audi recommends never doing it and says the stock fluid will last the "lifetime" of the differential. Of course the "lifetime" of the differential will be severely shortened if you never replace the fluid. If you do it every 30k miles it will basically last forever. Total cost for 1 qt of synthetic fluid is about $8-9. Not sure what the cost of a new differential is for sure, but it seems it's probably more expensive than a quart of gear oil every 30k miles.