OK SO AFTER MONTHS OF PLANNING I HAVE FINALLY PUSHED THE START BUTTON ON THE PROJECT.
Its been three weeks going now and I couldn't wait to share with you guys. So the projects is well underway and the plan is to get things done in the next week and before Thanksgiving have everything cleaned up and completed
So to start, I wanted to get a new look for the car, so I turned to body kits. I wanted to get somewhat of a B7 look with a sporty look like the RS4. So I searched and decided to do this.
Before the negative posts let me answer some questions:
--So why the B6 to B7?
Well, this is just like buying a body kit, with more work involved. I want to change the styling; I always liked the B7 look and love the RS4 front. As far as cost, I got some good deal on parts, I sold my old parts, and the body shop which I used before is helping me on painting costs.
--Why just the front?
Doing the rear would require doing the whole car and that would mean as much as a used b7.
--So what about the rear?
I am doing a votex rear that compliments the front mesh. Its going to be molded in!
--Why not spend money on performance!?!?
Getting APR Stage I for now, more to come once I get more $$$ saved up!
--Why post another b6 b7 conversion?!?
Well this project is different from anyother! No one has put a deval bumper on a b6 before! Nor has any one done the votex with this combo. I have the votex lower sort of molded, but still kept the lip, with the oem bumper. Its one piece now.
--Why Deval?
I wanted the RS4 look. The rs4 bumper is wide, thus requiring the whole car to be widebody which would cost too much
UPDATE: Deval bumper requires alot of work and I had the body shop fix it and align it for me. It is not the best bumper out of the box, but it came out awsome. The fog brackets that come with it, suck! My shop made custom ones for the fogs and to hold the bumper to the car better.
SO THAT OUT OF THE WAY, still open to opnions and question!
I NEED TO THANK THE FOLLOWING PEOPLE BECAUSE WITHOUT THEM IT WOULDN'T BE POSSIBLE! (Only audizine.com sponsors are listed)
-Howdy_Quattro for inspiring the project and answer my questions. One of the biggest helpers!
-Local body shop- Couldn't be possible without! Great people to work with!
-NGNG, adeelkhan323, and others on this forum: thanks for answering my questions!
-EUROGEARUSA for the front bumper
-Greg @ DTHAUS For the rear and engine covers! Thanks for your help!
-Local Audi Dealers
-Pure Motorsport for the rims
-Tirerack for tires
-Goingfast.com for the cupra lip
-And anyone else that I forgot to mention!
So now to what I am doing:
- Deval RS4 front
- B7 fenders
- B7 hood
- Cupra Lip
- Votex rear
- LED Headlights (Tried depo ones=failed, Helix ones worked after rewiring)
- 18" RS4 Gunmetal Wheels
- Bridgestone Potenza (235/40R/18)
- LED Interior/License Plate
- Touchscreen GPS/DVD Headunit
- Tinting window, headlights, fog lights, side makers
- Maybe LED tails
- Lip Spoiler
- Carbon Fiber Overlaid Engine Covers
- Custom door sills being produced
- RS4 Sway Bar
- Painted Calipers (Black) with ring decals
- APR Stage I (more later)
- Others Parts include radiator support, misc. bracket and bolts, reinforcement bar, new release cables/lock for hood.
Also a lot of modding is required to get the lights to fit (need to wire them to harness) and to get the bumper to fit perfectly. The hood and fenders bolt right on.
STARTED WITH THIS: Week 0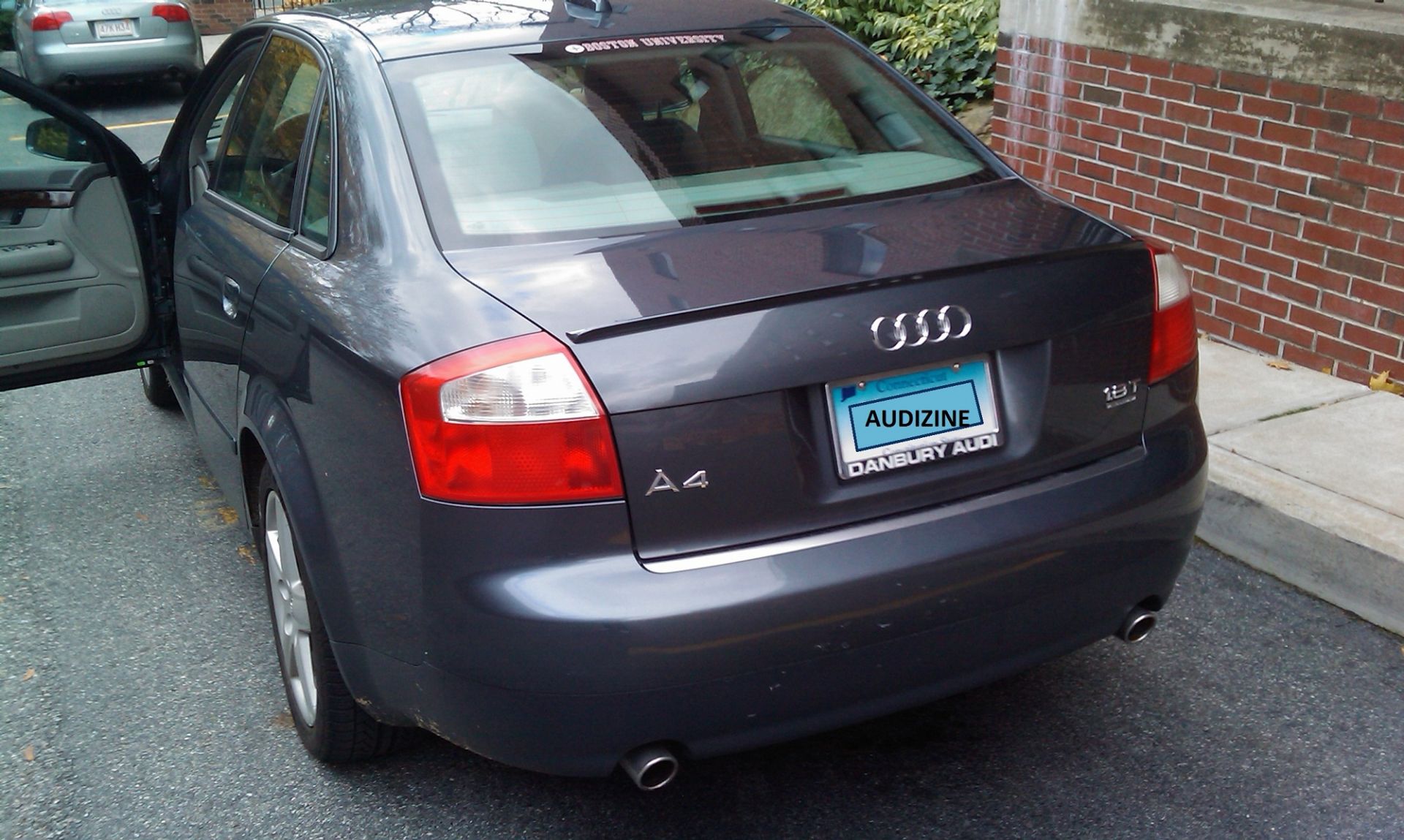 SO THIS IS WEEK 1-2:
Just getting everything ready and starting to fit things on. Also started rear
-Fender and hood bolt right on-had to get new lock and cable for hood lock
-Had to cut down to fit the radiator support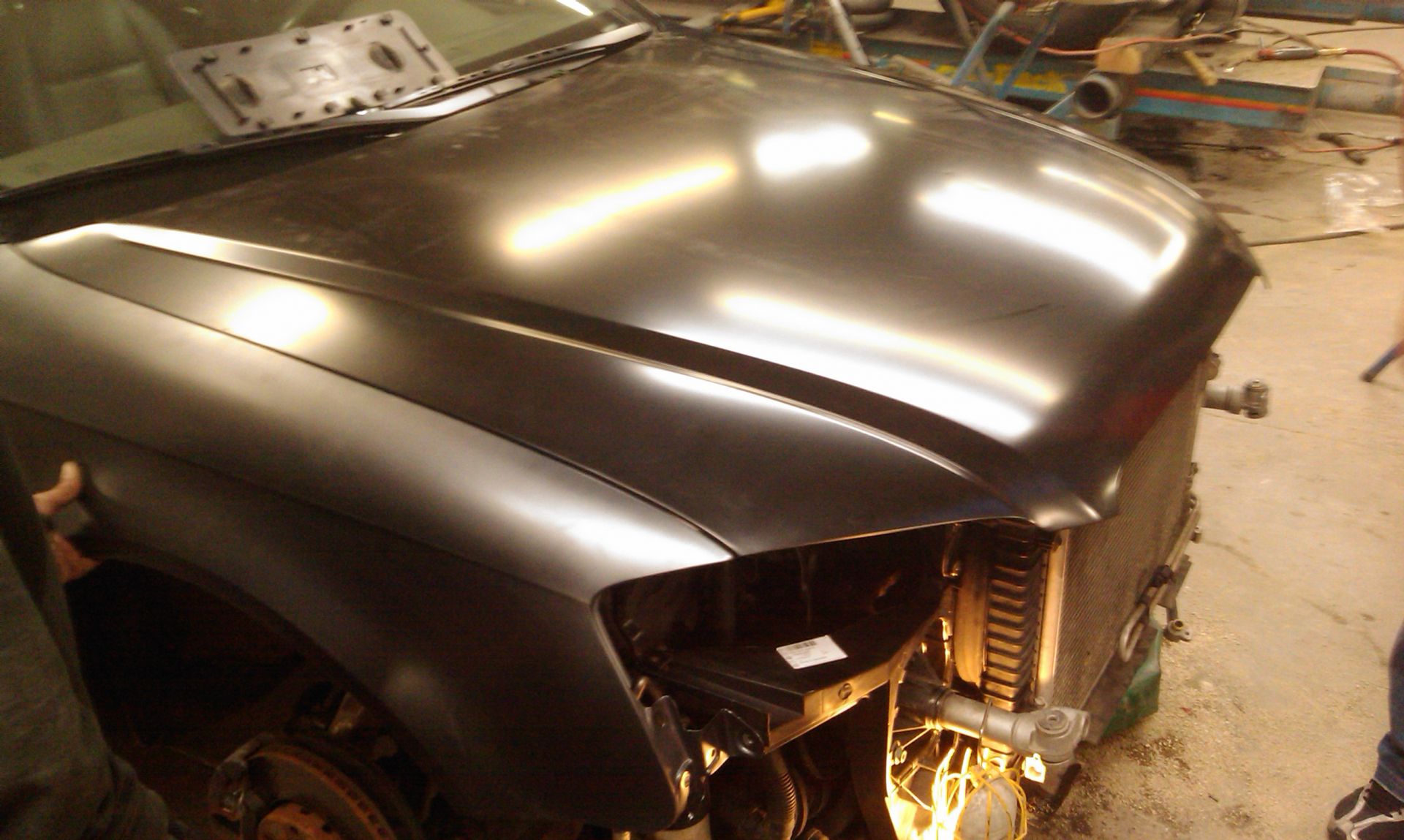 WEEK 3: Fitting headlights and Front Bumper.
Need to hardwire headlights and have to mod the reinforcement bar to fit and to for the bumper to fit. Radiator support finally fitted in.
WEEK 3.5: Both headlights fitted, front bumper almost fitted. Need to figure out how to put squarters in and fit the sides of the bumper better.
Week 6...
You can see the rear votex bumper molded to the existing bumper in the back lol!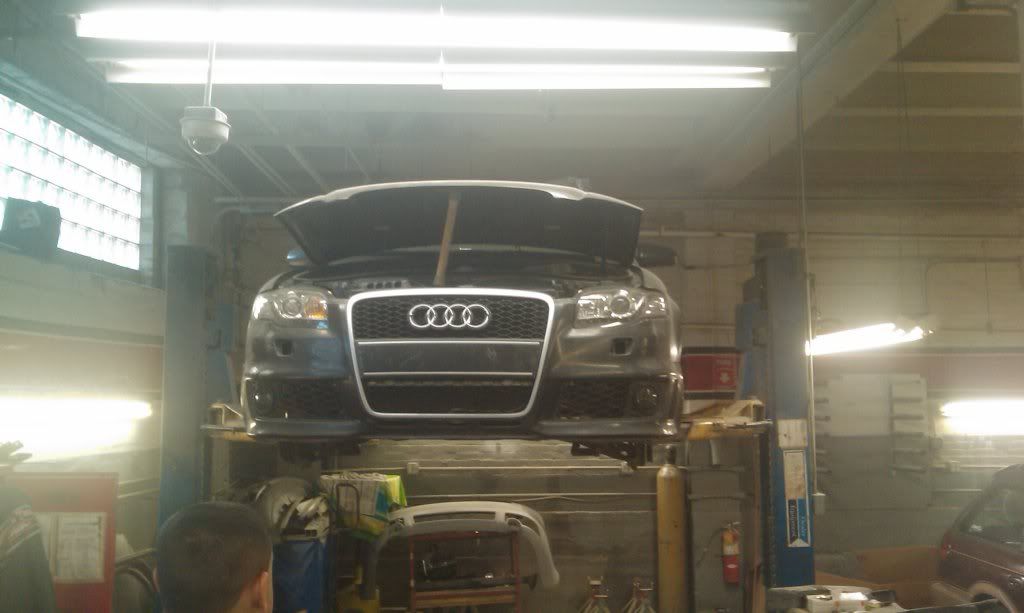 AND THE RS4 RIMS ARE IN!
WEEK 7
**TEASER PIC OF THE REAR***
Looks like I might need bigger exhust tips!
Fitted the headlights
(Dont work yet!!!)
WEEK 8
Spent my saturday morning rewiring the headlights
Took for ever, but after 4 hours of cutting and crimping, I got them to work and installed the hid kit as well to the headlights and fogs. All lighting is done!
RESULT (Teaser pic only for now lol)
Helix S5 Style Led Headlight
ALMOST DONE!!!!!!!!!!!
Just got it all finsihed up! Only thing left is tinting on Wed. After that I will have much better pics up! Here is what I have now!!!!
little wash up
Rear
JUST GOT TINTED! (20% ALL AROUND)
CLOSE UP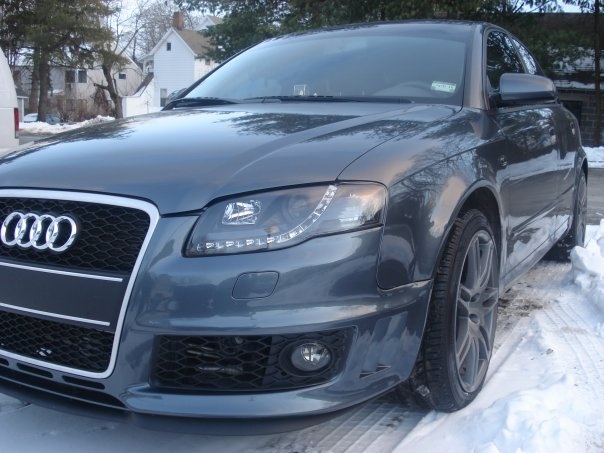 RS4 Like Tips
[IMG]
tips
by
parimal1989
, on Flickr
[/IMG]