Chrome extension to get photobucket pics to show up: https://chrome.google.com/webstore/d...alioapbifiaedg
This is very easy, and should take a first timer no longer than 30-40min. After that, you should be able to do it in 15 min. When people modify their turbocharger, the stock diverter valve will need to be upgraded to either a Bosch 710n or one of the many aftermarket units. The stock dv is not capable of handling boost pressure above stock settings and will rip. It is not a question of "if", it is a question of "when". In most cases, it does not last more than 2 weeks. The upgrading of the diverter valve is needed even if it is just the stock turbo being flashed/chipped for more pounds of pressure.
In this DIY, I am servicing my Forge 007 DV. This diverter valve needs to be serviced at least once a year, along with all other Forge diverter valves. Others don't. But this guide will show you how to replace your stock one if necessary.
On a scale from 1-5 (5 being the hardest), this is a 1
Tools:
Flathead screwdriver
Screw Clamps
Mobil 1 Synthetic Grease (or any Lithium or Lithium based grease if using servicable dv)
Clean rag (if cleaning dv)
Zip Ties
First, you want to be able to raise the front end of your vehicle. I was doing other work on my car, so I had all 4 corners on jack stands. A Rhino Ramp would work just fine. After you get the front end raised, take off your belly pan. (No pics for removing the belly pan, but it is not that difficult. If this is your first time doing it, you will come to know how easy it is).
The diverter valve needs to be reached from the bottom of the car. It is located on the passenger's side, attached to the intercooler plumbing. You really can't miss it.
Loosen the clamps. [note: If it is still the stock unit, pry off the stock clamps just to make the tubes loose enough for the dv to slide off. Apply silicone spray/WD-40 if needed. For the vacuum line, just cut above the clamp and don't even worry about that clamp. That 1/4" of vacuum line will not even be missed.]. After you loosen the clamps, you can slide the dv out. Also remove the vacuum line by removing whatever is clamping it down (I use zip ties for mine). You can loosen the intercooler rubber piping and move it to the side if you need more working room.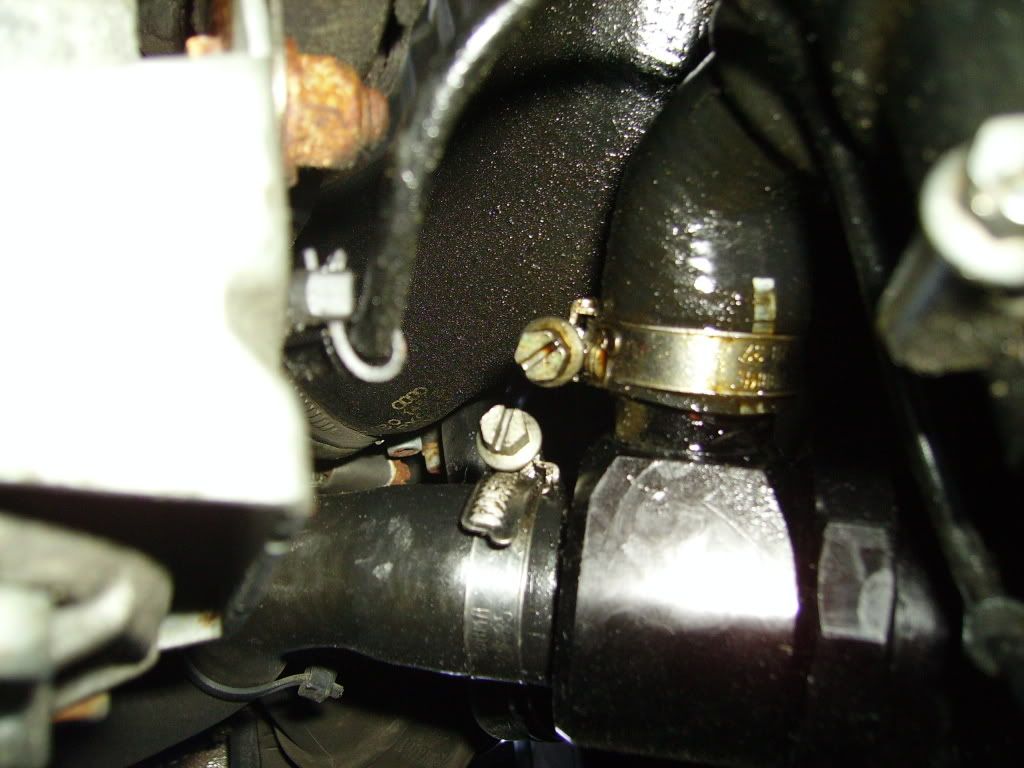 You will be left with this
If you are just replacing the stock dv with a 710n one or an aftermarket unit which does not need servicing, just reinstall new dv. Use new screw clamps where the OEM ones were and zip tie the vacuum line to the nipple of the dv in place of a clamp. If you need to service your dv, continue........
If this is the first time you are installing your Forge dv or any other unit which requires servicing, you should grease it up before intitial install. Forge Motors says that you don't need to at first, but that is not true. It will cause you issues in a mater of months from not being properly lubed. You will also need to service your dv at least once a year (I do it twice).
Here are the spring settings for the Forge DV (use the proper spring):
Green - 5-15 PSI
Yellow - 15-23 PSI
Blue - 23-30 PSI
Red - 30 + PSI
Here is what you are working with (I am using the yellow spring)
If you are servicing your dv, you want to take it apart and wipe the entire unit down with a rag. Now it is time to regrease the unit (for first time installers, the same thing applies here). You want to apply a thin layer of Mobil 1 synthetic grease (a lithium or lithium based grease will work just fine)to the entire inside walls of the dv. Then you would also want to apply the same amount on the outside of the piston of the dv. After that, a very small layer on the top rim of the dv (usually, you can just spread the excess grease after you place the piston back in).
Now, place everything back together.
Reinstall the same way you took it out. Use clamps where necessary and zip tie the vacuum line to the nipple of the dv.
*Disclaimer: Neither I, Audizine nor any of it's members are responsible for any mishaps which may incur with this DIY.