First off Id like to say thanks to zrowcool and werewolves182 for paving the way with information and the most important, inspiration! I got lots of help from werewolves182 as well as other members allowing me to compile a solid parts list and procedure.
[B]Status: Finished
SEE Page 6 or post # 201 for the update 6 years later![/B]

Picture and information will be added frequently.
I will be replacing the automatic transmission found in my 2001 Audi A4 1.8T AWM with a manual transmission from a 2000 5spd 1.8T A4.
I will try to make this thread as DIY'like as possible, including random things needed/procedures. This thread will contain information pertaining to the swap and it will serve as a reference. Me and others will be adding more information as things progress.
The swap will take place in my garage with jackstands and NO LIFT!
The transmission will just be dropped out with nothing else. The subframe will be lowered so an alignment is recommended afterward. I had all parts together in about 2 weeks.
***UPDATE: After you finish the swap, here is the DIY for making your
cruise control
work!!
http://www.audizine.com/forum/showth...Swap-%28DBW%29
Reverse light DIY
http://www.audizine.com/forum/showth...a-5-speed-swap
-First off im throwing this out there to put some more emphasis on how important this is!
Put the battery to starter wires on the correct post, which is the post with the 13mm nut, and the plastic spacer behind, it WILL start a fire if you try to put your battery on with the cable on the 8mm post. Ask me how I know ;)
-To address the commonly known pilot bearing issue and where it might go, an alternator bearing will be placed inside the flywheel to act as a pilot bearing for the input shaft. This bearing has an outer diameter of 43mm and inner diameter of 15mm.For the bearing to fit, the end of the crank will be shaved down 4mm. This can be purchased from
www.zorkos.com
, PN#A-6941
The 06A and 058 blocks have the same pilot bearing solution. Both cranks look the same on the end it terms of how and where the pilot bearing is mounted and the pilot bearing has the same part number. It works because all flywheels for the 1.8t are made to fit over the existing protrusion from the rear of the crank which is 43mm.
-You will utilize the stock automatic transmission mounts, but a 2.8 drivers side transmission bracket is necessary. (PN# 8D0399113AG) Be sure to also get a transmission bracket for the passenger side from a manual car as well.
-While the transmission is out, things that should be replaced are...
*Rear crankshaft(main) seal-(germanautoparts.com)
*(6) Driveshaft to transmission bolts
-I would recommend buying the JHM $40 linkage upgrade to make installation easier.
-The items that you will be not changing but that are still utilized.
*Brake fluid reservoir
*Master Cylinder
*Starter
*Gas pedal/pedal bracket
-The B5 has a mounting spot for every part being added on (pedals, clutch master cylinder). As for the vacuum line that is needed from the brake fluid reservoir to the clutch master cylinder, there is a crimped nipple on the side of the reservoir that will be cut open to run the line from that to the other cylinder.
-You can keep your stock cluster, but you need to recode it and your ECU for a manual or else you will have fault codes.
-Most items purchased came from a junked car, germanautoparts.com , summitracing.com, Harbor Freight tools, local dealership
Threads to reference:
*** Another 5spd swap for more info.
http://www.audizine.com/forum/showthread.php/420732
http://www.audizine.com/forum/showthread.php?t=271678
http://www.audizine.com/forum/showthread.php?t=294554
http://www.a4mods.com/index.php?page...tml&category=1
http://www.audigeeks.com/forums/index.php?topic=94.0
http://www.cardomain.com/ride/2964519/2
(thanks djwimbo)
http://audi-diy.blogspot.com/2007_10_28_archive.html
(halfway down)
Parts acquired:
-$450 Complete 1.8t 5spd transmission
-$75 Shifter box with knob and shifter surround
-Clutch hardline that runs from the clutch master cylinder to slave cylinder
-$50 Brake/Clutch Pedal
- Slave cylinder
- Clutch master cylinder
-$50 5spd driveshaft
-$140 (2) CV Axles for a manual transmission (I just picked up some 2.8 ones since I am 2001 MY)
-$950 Clutchmasters FX400 clutch with steel LWFW (Ringer-racing.com)
*(New flywheel/pressure plate bolts needed)
-$60 2.8 Drivers side transmission bracket (dealership) PN# 8D0399113AG
-$60 Passenger side transmission bracket from 5spd car
-$5 (6) Driveshaft to bellhousing bolts (dealer)
-$40 Rear crankshaft seal (germanautoparts)
-$19 Pilot Bearing from
www.zorkos.com
PN#A-6941
-$2 Two Feet of 5/16th Vac Hose for pedal-brake reservoir line
Tools:
-Transmission Jack
-2' Jack stands
-Jack
-12pt. bolt set for the CV axles
-17mm 12pt. socket for automatic flywheel bolts
-T45 Torx socket to remove brake reservoir/thing behind it to access room for the clutch hardline
-T55 Torx for Torque Converter
-Torx Bit set
-Clutch alignment tool (comes with clutch)
-$25 17mm Allen/12pt Drain tool-http://www.germanautoparts.com/Audi/A4/Transmission/251/1
-Various sockets, extensions, allens, wrenches
-Impact wrench, air ratchet
-Torque wrench
-Angle Grinder
-Power bleeder (not necessary)
-Pump for trans fluid to go into the housing
-Drain pan
Fluid:
-$12 1 liter can of Ate Type 200 Dot 4 brake fluid
-$30 3 qts of Redline MT90
-$10 1 qt of Redline Heavy Shockproof
-Moly grease for input shaft
-CV grease for CV contacts and driveshaft
-Brake cleaner
-Blue loctite
My total cost of parts came out to around $2000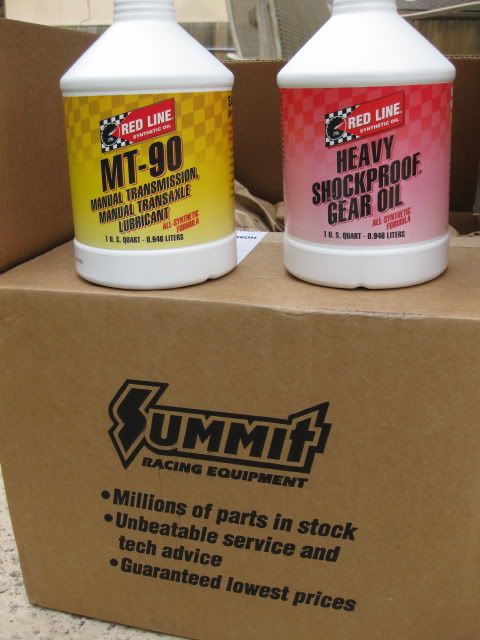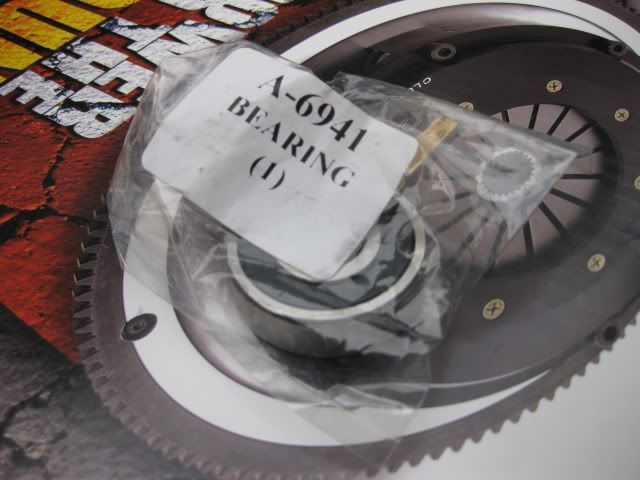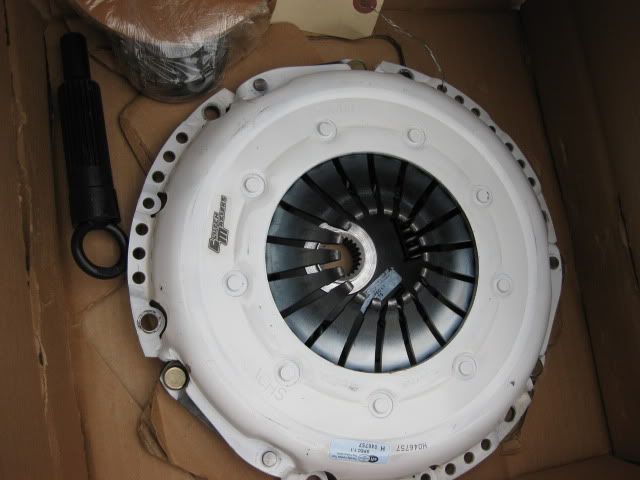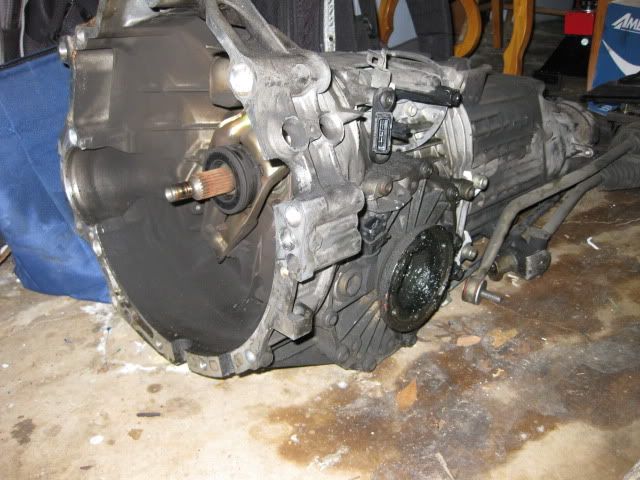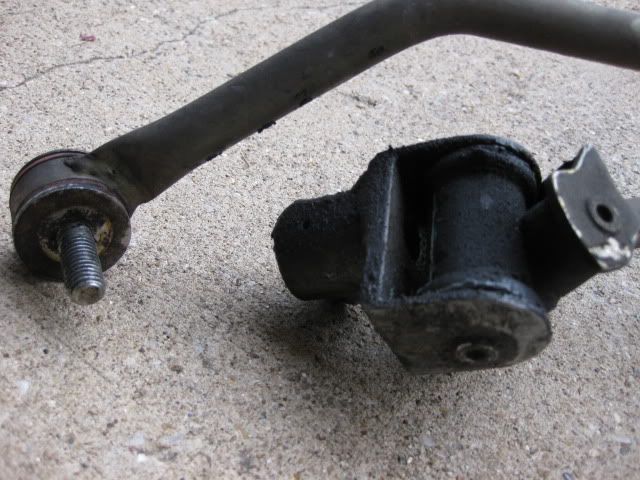 ^^Shifter linkage, held on with one small bolt for the shaft, and the other is held in with an allen bolt
^^Shifter Box, held in by 6 nuts
^^Hardline, connects slave cylinder and clutch master cylinder (behind pedal), goes through false firewall bottom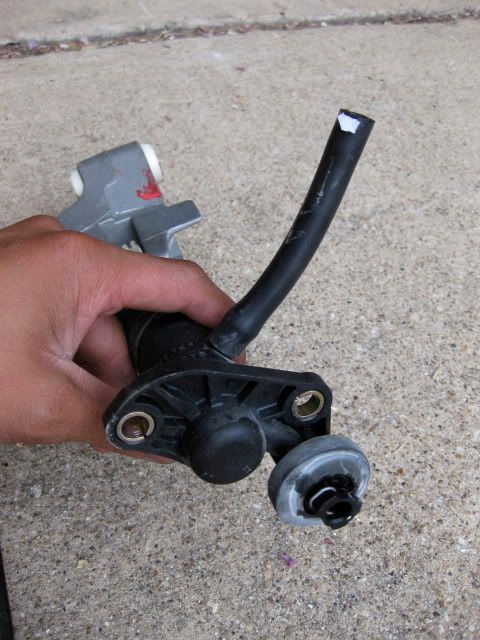 ^^Clutch Master Cylinder, picture shows hose going to brake reservoir and the hole for the hardline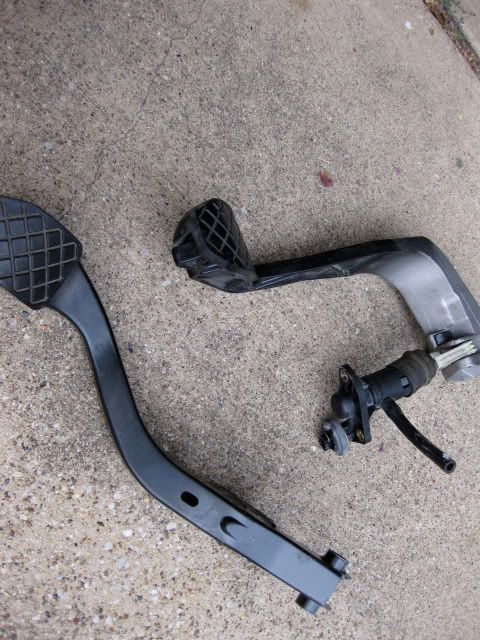 ^^Manual brake pedal and clutch, both held in by a bolt that has clips on the end