Skip to the bottom for a quicker 1 to 5 review. Read all if you want to find out the trouble I went through.
So I finally have a chance to review KwickSilver here in South San Francisco. I searched around and have not found any decent reviews for them. I know PIAADOLL gave them a great review for fixing her curbed rash but here's my story/experience.
I went in to the shop and spoke to Jonny about getting my wheels fixed of;
1. Curb rashes on 3 wheels
2. 1 Bent wheel
3. Repaint all 4 to Hyper Silver
He said it's do-able and because I have hyper silver, it'll be $150 a piece giving a total of $600 for all 4 and that it might not be a perfect hyper silver color. I told them that I would have gone to the Union City company but it was too far. He reassured me that everything would be fine.
So I drop off my wheels on a Wednesday to Ken other other owner and he said all would be taken care of in a week. He asked what Jonny quoted me and I told him $600 because of the hyper silver.
Anyway, week comes by and I call to see if they were ready. Ken tells me that they're painting the wheels now and that it might be ready by Friday. Friday comes, and I call again and they ask for more time. I give them more time because I wanted the job done right.
2nd week I call again on a Wednesday and I was told that it was not ready and that they needed more time--maybe the next week. 3rd week I call and they said they are really swamped and that they've painted 2 of the weeks and need to pain the others. 4th week I call again and they said 1 more week. At this point I was starting to get annoyed. Everytime I call they keep pushing me off and I've been patient and tell them take 1 more week.
So I tell them that I'm going to pick up my wheel on Friday (which will be exaclty 5 weeks and 2 days since I dropped them off), and I didn't care if they were all done or not because I was going to take it somewhere else. They said it should be ready. That Friday comes and I get a call from Jonny telling me that they painted the last 2 wheels and that they need time to dry. I told them you have the weekend and that I'm picking it up on Monday. Total of 6 weeks now.
Monday comes and I go to their shop. I look at the wheels and they look fixed but the color looks way darker than what it was--it wasn't hyper silver--more like gunmetal. He told me that they're not as bright as my original but that they were all done perfectly. I look at the tires and noticed that 2 of my tires had been eaten on the corners--1 of them pretty bad. He mentioned that they rotated it on 1 so that the eaten tire was outside.
I was annoyed with them already and didn't want to leave my wheels with them any longer so I said whatever, I'm taking my wheels and knock off $50 for taking a month. Jonny agrees and I pay him $400 on the card and $150 in cash.
I got home and looked at my spare and was just pissed off that the color isn't even close so I call Jonny back and told him that the color was completly off and to knock off another $50 and that I'm tell myself that I paid $500 to paint my wheels this new color to make myself feel better. He did so.
So here's what was done;
1. Curb rashes on 3 wheels
RESULT: fixed perfectly, can't find the curb rash
2. 1 Bent wheel
RESULT: It looked fixed but if you sit back and stare at it, you'll see that it's not perfectly circular. See pictures farther down
3. Repaint all 4 to Hyper Silver
RESULT: Not even close! See pictures below
ADDED BONUS: now have 2 tires that have the sides eaten up. More explaination below.
SO NOW THE PICTURES
FIXING THE BEND;
As for the bend fix. It was close but to be honest, you can still see the slight bend (look between the 12 o clock and 1 o clock spoke);
(
http://s189.photobucket.com/albums/z...rrent=bend.jpg
)
Same wheel. Sit back and look at the top of the wheel and tell me that that is perfectly circular (look between the 12 o clock and 1 o clock spoke);
(
http://s189.photobucket.com/albums/z...rent=bend1.jpg
)
Same wheel, no red around it (look between the 12 o clock and 1 o clock spoke);
(
http://s189.photobucket.com/albums/z...t=DSC_0046.jpg
)
COLOR:
I was pissed and what is in the quotes (" ") are from the email I sent them.
"There were blemishes everywhere and to be honest if you don't know how to do hyper silver, you do more than 1 coat. Black base, let it dry, paint silver, let dry, and paint silver again a few more times. What I got was very amateur. Yes, the paint looks OK but you quoted me for Hyper silver not gunmetal--well not even close to gunmetal. So I get quoted for Hyper silver price and pay for garbage? That sounds unfair."
"If you don't know what hyper silver looks like it's the one in the center--my spare."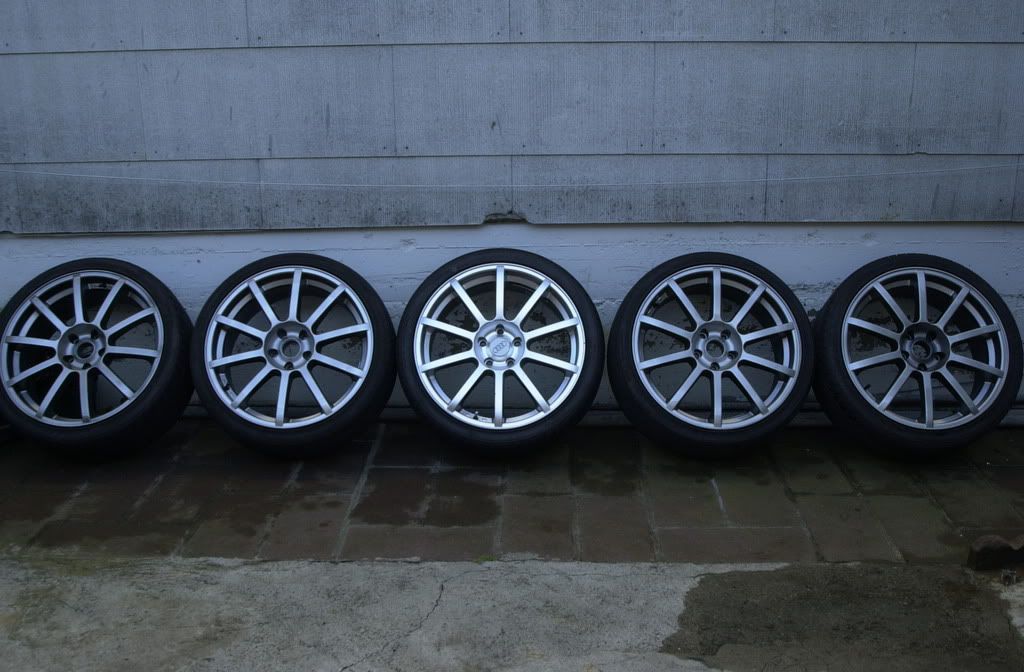 (
http://s189.photobucket.com/albums/z...t=DSC_0002.jpg
)
"Below, the 1st 2 on the left are not Hyper silver--the right is my spare;"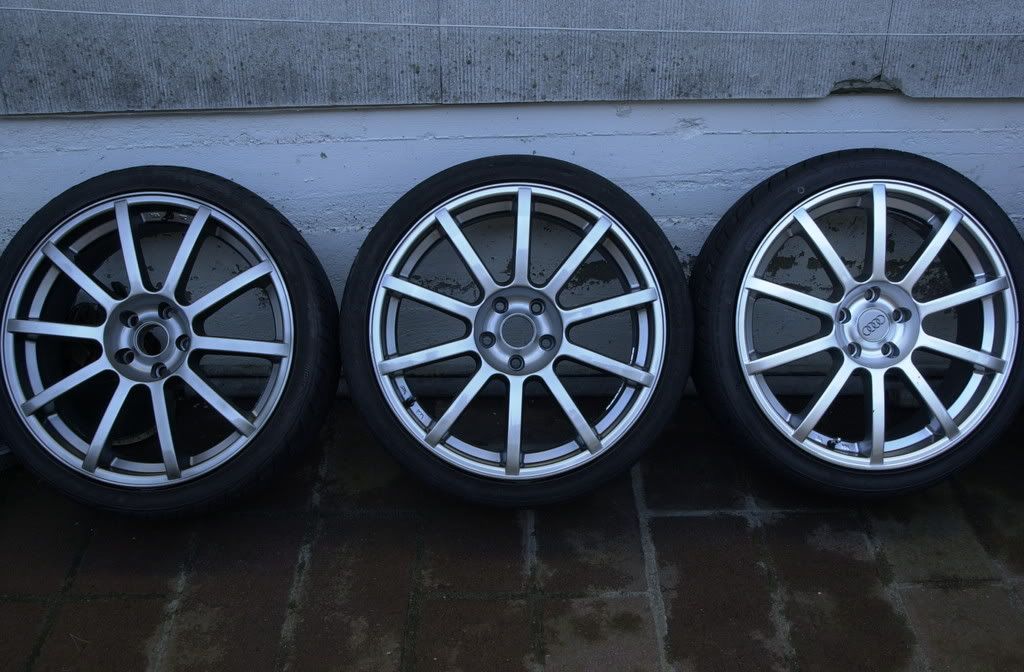 (
http://s189.photobucket.com/albums/z...t=DSC_0003.jpg
)
"Far left is my spare hyper silver and 2 far right is not hyper silver;"
(
http://s189.photobucket.com/albums/z...t=DSC_0004.jpg
)
"So now lets figure out what a highly tuned 4 wheel drive Quattro does to wheels. Below are my 17" wheels with tires. Quattro or any 4 wheel drive car that has no problems will eat the tires out evenly." Note that I had the 17s on when my 19s were getting re-done. My 17s were on up to 30K and swapped with the 19s and the 19s ran for a good 20K because I'm at 50K now. Notice the even wear on the 17s.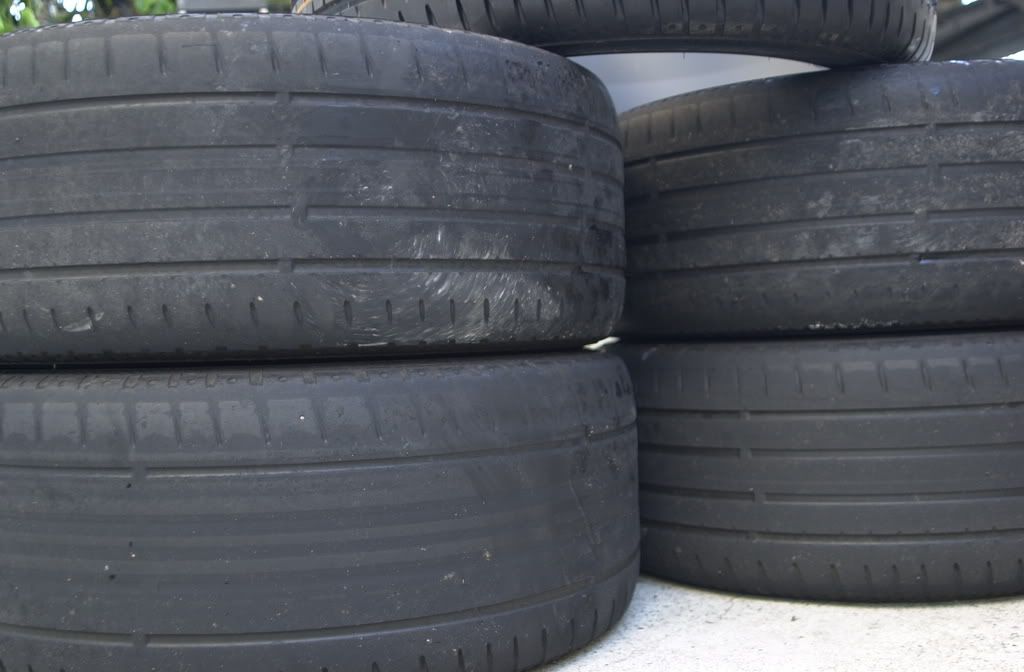 (
http://s189.photobucket.com/albums/z...t=DSC_0040.jpg
)
"Below is what a piece of shit, garbage dropped, bad cambered, 2 wheel drive Japanese car will do to tires--eats up the tires. Notice the uneven wear on the tire." <-- i was pissed off and all i saw were japanese cars in their garage and parked outside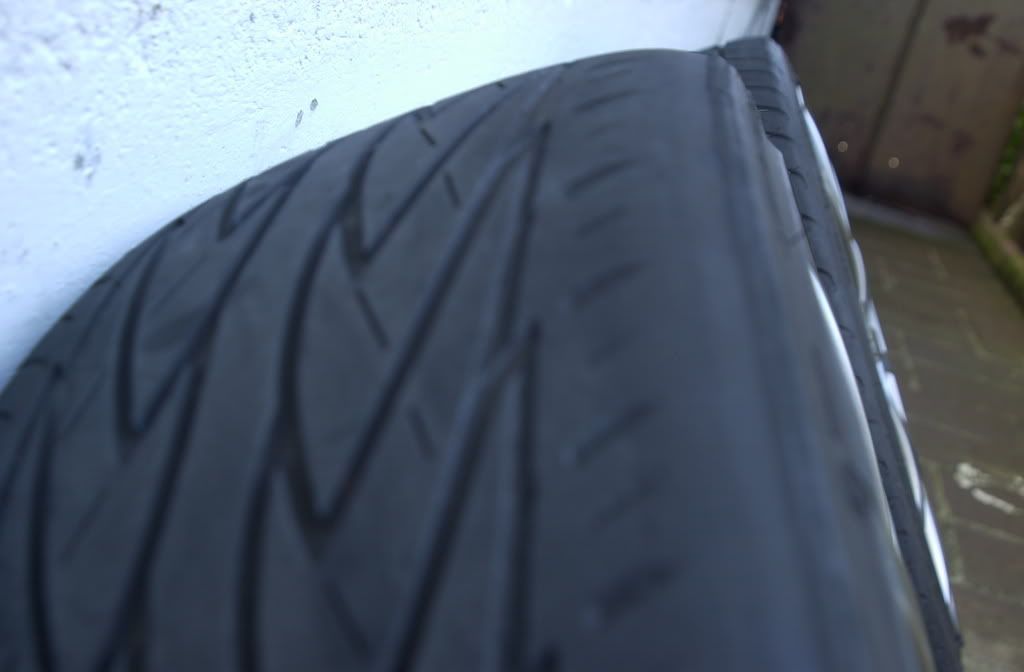 (
http://s189.photobucket.com/albums/z...t=DSC_0006.jpg
)
"Below is the other wheel that also got eaten up. Not sure if your camber is fucked up tow in or tow out but you need to fix that piece of shit car you put these tires on before you kill someone."
(
http://s189.photobucket.com/albums/z...t=DSC_0031.jpg
)
Below is how the tires should have looked going out after the job was done--notice the even wear (shot from 1 of the other 2 wheels that was done and not the spare) ;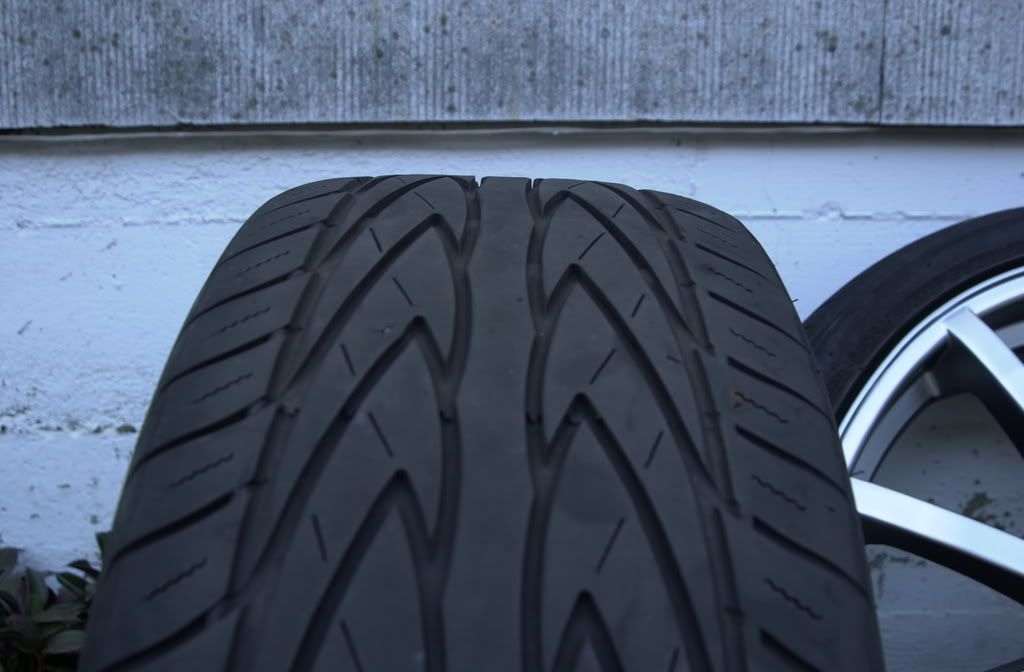 (
http://s189.photobucket.com/albums/z...t=DSC_0029.jpg
)
So then I look at the rest of my wheels and see what else is missing--umm my valve caps!
"So what happened to the other 2 tires? Oh by the way, I know the silver neck and caps are kool below. I like them too. I don't like the black ones you left me with." <--yah i know sarcasm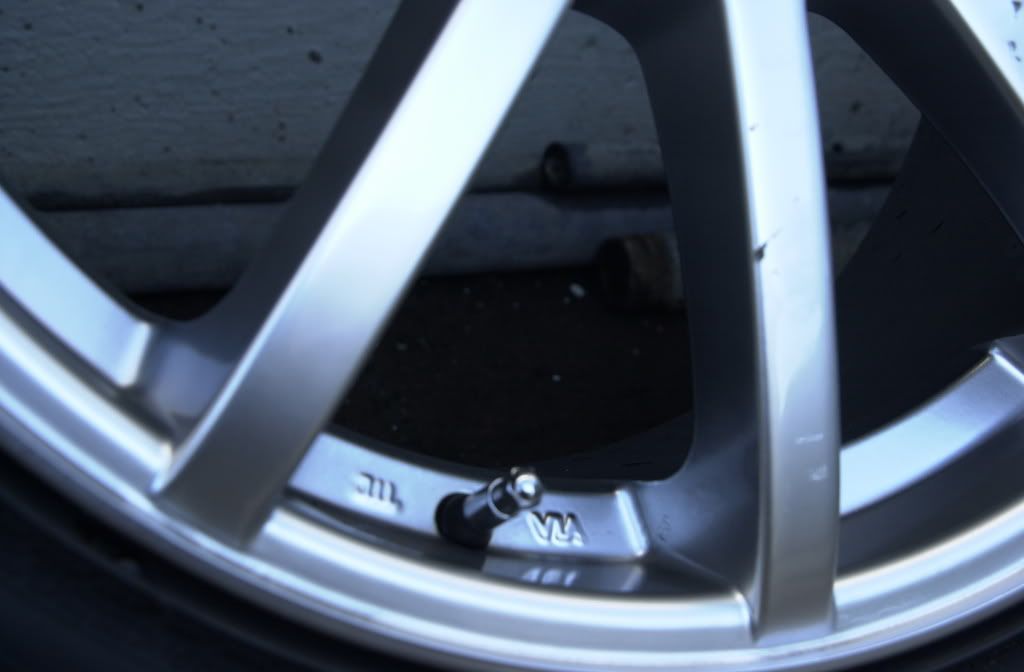 (
http://s189.photobucket.com/albums/z...t=DSC_0009.jpg
)
"You can have the black caps below back. I don't want to take anything home that isn't mine." <--more sarcasm cuz i was really PO'd
(
http://s189.photobucket.com/albums/z...t=DSC_0010.jpg
)
"So now lets figure out how much you would pay for garbage work like this if it was you? You get quoted $600 and you get work that's not even worth half of that. What would you do if someone dicked you around? You'd be pissed off too unless you like getting walked on. If you think that the price I paid was fair then we have issues. Is there anything you're going to do to correct this? If not, then this is pretty much the same review I'm going to put up online. Just some of the sites this review will go on;
(listed a bunch of sites the review will go on)
You have my number, but if you don't you can call me at xxx-xxx-xxxx and let me know when I can pick up my valve caps. I'll wait to hear from you tomorrow. Have a nice day. "
So I get a call from them and they said they wanted to try and work with me. No offer to redo my wheels but they offered to get my spare wheel painted to match the other 4. WTF?!?! That's just like saying, "I shot my right foot and now I have a limp! Well, lets shoot the left foot so it'll match!". Buncha amateurs I tell ya! I let him know that the color at this point doesnt make a difference and that I'll keep telling myself that i paid $500 for a "darker color" and I'm mainly concered about my tires. Conversation;
THEM:
We didn't do anything with your tires. Your wheels dont fit any of the cars here anyway.
(even though 2 tires are perfectly fine and the 17s that I've had for the longest don't show the same wear. so either they're telling me my car needs to go to the shop and get aligned--oh wait. how do we plan to align wear on the inside of the tires when the rotation of the tires puts 1 eaten up tire in the front and 1 eaten up tire in the back. id unserstand if the wear was left and right.)
ME:
You had the tires off the rims, you could have mounted them to any wheel
THEM:
We didn't do anything like that and why would we use your tires when we have so many other high end spare tires here from other customers
(wtf? so are you admitting you you THOUGHT about putting other tires on? btw, my tires are TOYO PROXES 4 and are $175 each minimum so now i have to go replace both if i want to be safe)
ME:
well, then at this point, it's going to be your word against mine and I will apologise if I'm accusing you of something you didn't do since I have no solid proof. I'm just pissed off at the whole ordeal and would rather not use you guys again. I'll keep telling myself that I paid for $500 to paint my wheels a different color and not stress over it again. I need my valve caps back
THEM:
We're sorry but we have so many wheel caps that we don't keep track of them. You can pick them up anytime.
(WTF?! again?! So you take a wheel apart and throw sh1t around and expect not to put everything back the way it was? good thing I never gave them my center caps)
So what should my wheels look like?
Hypersilver before being painted;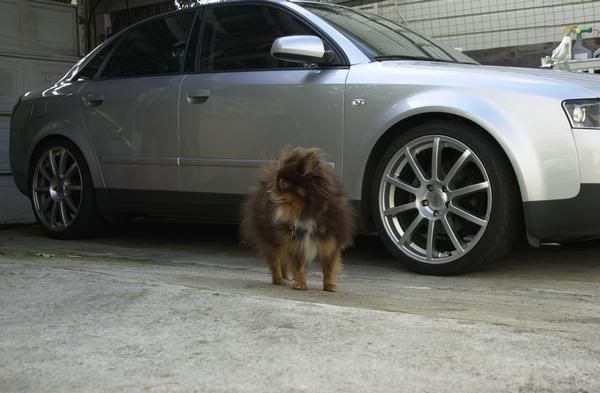 Will add shots to what the AFTER looks like. Can't find a good one atm.
__________________________________________________ _______________
QUICK AND DIRTY REVIEW (1 to 5, 5 being the highest)
;
My oppinion after my experience
CUSTOMER SERVICE: 2
low score because of no calls, got the run around after calling every week but they picked up the phone everytime I called and the "assumed" items above
FIX WHEEL RASHES: 5
i can't find a wheel rash on the lips that i put in--see I'm not biased
FIX BENT WHEEL: 3
not fully circular but they tried. i told them it was ok that it wasn't a full circle
HYPERSILVER PAINT: 0
don't care if it's the perfect orange color on all 4s. I asked and got quoted for hyper silver not Orange or purple or gunmetal, or green or any other color--it's not hyper silver
PAINTJOB: 2
when i got to the shop, Jonny told me they painted 3 at the same time and then 1 a few days before i picked it up. Not what they told me over the phone. Paint looks like it matched but there are a few blemishes if you look at it. It looks like 1 coat of the hypersilver or whatever color they put on because i accidentally scrached the paint near the lug nuts when putting it on my car and it doesn't look thick
OVERALL EXPERIENCE: 2
I'd rather go back to Union City--Wheels America even if it's far than go through all this crap again. And no, I could have been more presistant and told them to match it exactly to hyper silver but no thank you. Figured I'd cut my losses and inform everyone
BOTTOM LINE:
Would I recommend them? Nope. Even if they fix the curb rash perfectly and matched 4 wheels with the color they thought was what I wanted, I still went to too much hassle. Should I have left the wheels with them to be re-done to what I wanted? Yes and no. "Yes", they need to fix it and get it right. Hell "NO" I'm not leaving my equipment with them any longer! God knows what else they would have done! I'll lie to myself or keep telling myself I paid $500 to have THAT color on my wheels and not deal with them. Worse case scenario, these will be my 19 winter tires--yah, 19s aren't going to be good in the snow, but don't think my car will hit the snow after this year.
So now you have my review and experience. Take it or flame it. Doesn't matter to me.